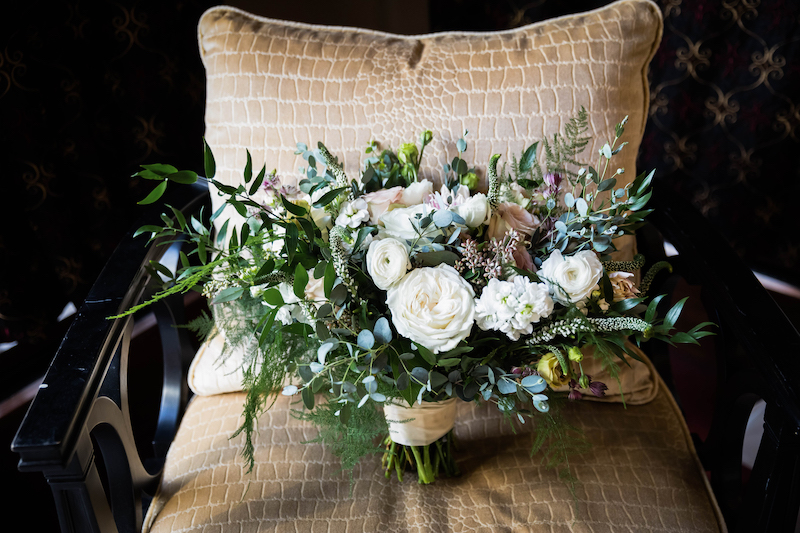 What to Consider When Picking Your Wedding Flowers
Written by Stephanie Jewell | Photography by Rachael Schirano Photography
Believe it or not, your choice of flowers may be one of the most impactful aspects of your wedding décor. Flowers have the power to really set the mood and evoke a magical atmosphere. The bridal bouquet is the floral element that everyone is sure to notice — the guests are going to be giving you all of their attention as you walk down the aisle and your bouquet is going to be right there with you, front and center.
Thinking through your bridal bouquet can be a great way to begin the process of determining your overall floral design. But it's not as simple as just picking out a few kinds of flowers you like and leaving it at that. Did you know that there are several different shapes for bouquets? Are you thinking about any extras you may want to incorporate into your floral arrangements? Do you know which members of your wedding party get flowers? Your florist can walk you through all of these details, but coming in with a few ideas of what you may want is always helpful.
A SHAPE FOR EVERY STYLE
First things first — what style of bouquet do you want? Your florist may tell you that there are many ways to customize your bouquet to your style and shape is one of them. Ask to see examples of different kinds of bouquets and look at plenty of pictures ahead of time to get to know your preferences. Bring several photos to your floral appointment. You may not know the name of every flower or arrangement technique, but a picture is worth a thousand words!
If you're looking for a larger bouquet, there are several options to consider. For a dramatic look, choose the cascading style, which includes longer flowers and greenery spilling out and down from the center to create a voluminous waterfall effect. Another related style is the pageant (sometimes called presentation) style, which features long-stemmed flowers gathered together, meant to rest in the crook of your arm. You can also opt for the hand- tied style, which features a mix of flowers and greenery loosely tied together with a visible ribbon or twine, achieving an organic "freshly picked" boho look.
For the classic bride, the round shape is timeless, featuring one or two types of flowers gathered in an arrangement that looks good from any angle, with stems wrapped completely in ribbon or with other adornments. Brides wanting a smaller bouquet can opt for the nosegay or posy style, which tends to feature just one or two types of flowers in a small rounded bundle that can easily be held in one hand. This look is popular for bridesmaids, leaving one hand free so they can help the bride with anything and everything in a pinch!
Shape is not the only physical element you have to take into account when thinking about your bouquet. You also have to pay attention to how big the bouquet is in relation to your body. For taller brides, the sky's the limit — go for a cascading look or an overflowing bundle if you want. For shorter brides, it's best to go for a smaller look. You don't want your flowers to overshadow your face or cover up a large portion of your dress!
MATCH YOUR LOOK
Your bouquet never stands alone — it is always seen with your wedding gown as a backdrop. Because of this, it's important to match your bouquet to the style of your dress. If you are wearing a more ornate dress, full of beading or intricately patterned lace, think about choosing a simpler bouquet so that your dress takes the spotlight. This may mean that you choose one color for the flowers or use fewer blooms. With a more modern, simple gown, you can either match the minimalistic look with a simple bouquet or you can go a bit more dramatic with the flowers. If you'd like the bouquet to take center stage, go ahead and mix many different kinds of flowers or use several colors together.
When you meet with your florist, be sure to bring along fabric swatches or detailed photos from your dress and your bridesmaids' dresses. That way, he or she can see the exact color palette. For instance, your florist may use a different shade of flower to match a champagne- colored dress than he or she would for a bright white dress. And a pink bridesmaid dress may mean something quite different to you than to your florist.
Besides matching your general aesthetic, you want your flowers to make sense given your venue and the time of day you're holding your wedding. An outdoor daytime wedding is perfect for bright and sunny blooms like sunflowers, tulips and peonies. The sunlight and open spaces allow those flowers to shine!
In contrast, if you're having an evening wedding indoors, you need to keep in mind how your bouquet may look under the venue's lighting and alongside the interior décor of the space. Does the lighting in your tall and spacious church allow all the details in your bouquet to be noticed? Is there colored carpet, tile or draping in your hotel ballroom? All your wedding plans should intertwine in some way or another. While you don't need to necessarily match your flowers to the design elements of your space, it's good to be mindful of them so they don't clash with each other.
SEASONAL BLOOMS
No matter what aesthetic you are going for, the time of year that your celebrations occur play a huge part in your flower choices. If you have your heart set on daffodils, hosting your wedding in the fall is not going to bode well for your floral hopes. While many flowers are available throughout a large part of the year, there are some specialty blooms that you can only get during one season. Talk to your florist about which flowers you have in mind, and be ready to take his or her suggestions for alternative blooms that give you the look you're going for. For instance, garden roses or hydrangeas can often substitute for peonies, which are beautiful, but only available for a very short amount of time.
Don't think about seasonal availability as a limitation — embrace it! Try not to get attached to the particulars. Once you give your florist some inspiration photos and color schemes, let him or her run wild and use their professional knowledge to work floral magic. Chances are, your florist achieves a look that goes beyond your expectations.
WHO GETS WHAT?
After you decide on the shape, size and blooms for your bridal bouquet, you need to think about flowers for the other people who are helping you celebrate your big day. Of course, the bride gets the most dazzling bouquet, but who else gets bouquets, corsages and boutonnieres?
There are no hard and fast rules for this, so choose whomever you would like! But keep reading for some of the traditional guidelines.
BOUQUETS
Typically, each bridesmaid gets a bouquet that mimics or takes inspiration from the bride's bouquet. You never run out of great photo ops when you and all your friends have beautiful blooms to show off. If your flower girl doesn't have anything else in her hands (like a basket or a sign), it's a cute idea to give her a mini bouquet as well. She'd love being your mini-me!
CORSAGES
Corsages are meant for the women in your family or any woman you would like to honor, including ceremony readers and other guests who have a special place in your big day. Whether you give corsages only to immediate family members (such as mothers and grandmothers) or you offer them to all your important cousins and aunts, be sure you are consistent with providing them to relatives on both sides of your families. You don't want anyone to feel left out.
You may see women wearing corsages in different ways — some pinned onto dresses, mimicking how men wear boutonnieres. Many women pin the corsage on the left shoulder of their dress. But they may worry about snagging or ruining a delicate gown. An alternative is to opt for a bracelet-style corsage that is typically worn on the left wrist. Or you can ask your florist if he or she offers a magnetic option to minimize the risk of damage to expensive fabric.
Both wrist and pinned versions can look beautiful, so it's best to go with whatever makes your special ladies feel most comfortable. You may find it helpful to talk to the mothers to see which style they would prefer and which option they think would work best for everyone.
BOUTONNIERES
Grooms and groomsmen typically wear boutonnieres, also known as buttonholes, which are pinned to their left lapel. But other men involved in your wedding can receive boutonnieres as well, including fathers and grandfathers of the couple, ushers, other family members and even the ring bearer. This is a special way to give a small thanks to the important men in your life.
SPECIAL TOUCHES
It's easy to overlook the way your bouquet is held together, but don't forget the finishing touches. Most bouquet styles have visible stems, which means that your wrap choice matters, and personalizing this part of your bouquet opens the door for creativity and allows you to show off what makes you unique.
The standard option for wrapping your stems is a satin ribbon in the color of your choice. But why not go beyond the traditional look? You can choose other materials to wrap your bouquet. Try burlap or twine if your wedding is rustic, velvet if you're going for a elegant theme or lace from your mother's wedding dress for a personal tribute.
Another way to upgrade your bouquet is to attach glitz or family heirlooms to the wrap. Going for a glamorous aesthetic? Ask your florist to attach some sparkly accessories like gemstone brooches or appliques. Or perhaps you'd like to honor your family history by incorporating some heirlooms into your bouquet. It could be a piece of your grandmother's handkerchief, a locket passed down from generation to generation or even cufflinks from someone special.
After the celebrations are over, consider preserving your flowers so that you can insert them into a scrapbook or keep them as a token from your special day. Of course, there are professionals who can preserve your flowers to ensure the best quality. Do some research for the best professional preservationist that can encapsulate your flowers and wedding day memories for years to come.
Your bridal bouquet is one of the most visible aspects to your wedding day look, so take the time to think through all of your available options! Your florist can be a wealth of knowledge for you as you decide on all of the details. Remember to take advantage of him or her as a valuable resource as much as possible. By putting in extra love and effort, you can add major floral flair to your big day.
---