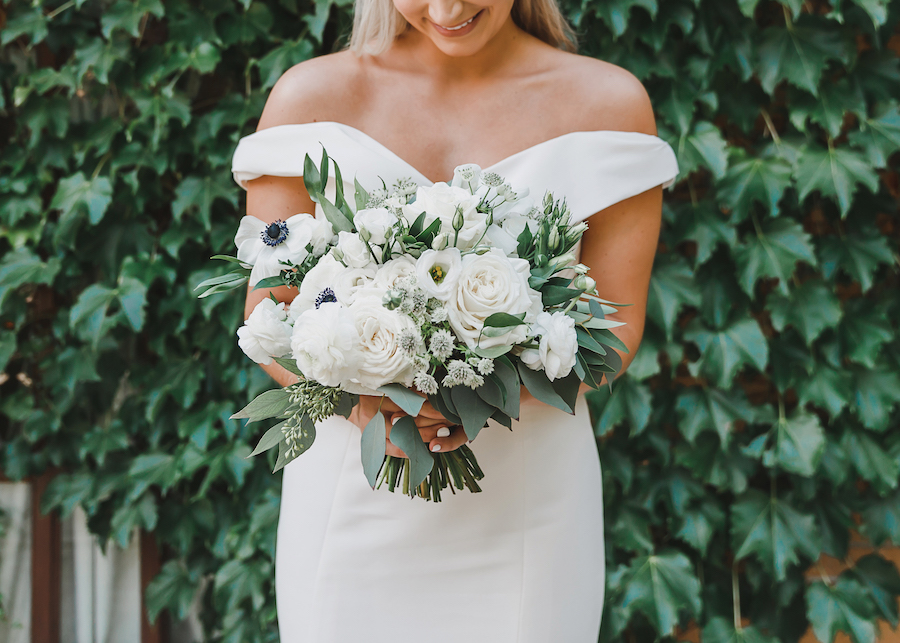 Which Bouquet Style is Right For You?
A talented florist will guide you into the perfect flower choices for your budget, season, and style. But when it comes to bouquet size and structure selection, there are options to consider! 
CASCADE
As the name suggests, a cascade bouquet resembles a dripping waterfall, typically with a focus on florals in the center and tapering into greenery and foliage around the edges. Elongated and dramatic, this type of bouquet creates a drape down the front of the arrangement, often covering the holder's hands.
Photo: Emily Elizabeth Photos
PAGEANT BOUQUET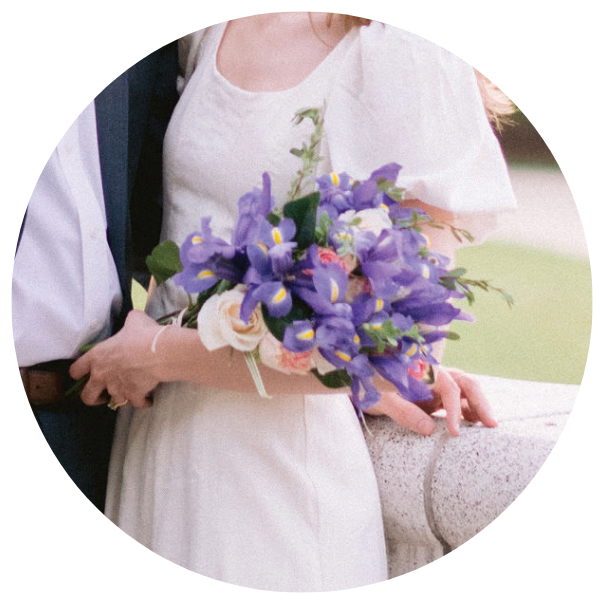 Also known as the presentation bouquet or arm sheath, the pageant bouquet is designed to be carried in the crook of the arm, almost like an infant. This creates a vintage and effortless look without being too dramatic.
Photo: Danielle Heinson Photography
POMANDER
A pomander, also known as a kissing ball bouquet, is a unique and unconventional style of wedding floral. Instead of the traditional handheld bouquet, a pomander bouquet is designed as a sphere and attached to a ribbon or chain, allowing its carrier to wear it like a wrist corsage or handbag. These ball-shaped arrangements can be entirely made of flowers, but often they incorporate extra decorative elements like jewels, lace or family heirlooms. Pomander bouquets are particularly popular among those wanting a bit of sparkle and individuality. They are also a fantastic option for flower girls, as they are easy to hold.
Photo: Kate Scott Photography
HOOP
A hoop bouquet, also known as a floral wreath, is a modern and trendy alternative to traditional wedding bouquets. It involves arranging the flowers and greenery on a circular hoop or ring, creating a beautiful and unique floral display. The hoop used for a hoop bouquet is typically made of metal, such as aluminum or copper, but can also be made of wicker or organic materials. A hoop bouquet adds a contemporary and artistic touch to wedding floral arrangements, providing a distinctive alternative to traditional, handheld bouquets.
Photo: Alana Lindenfeld Photography
POSY BOUQUET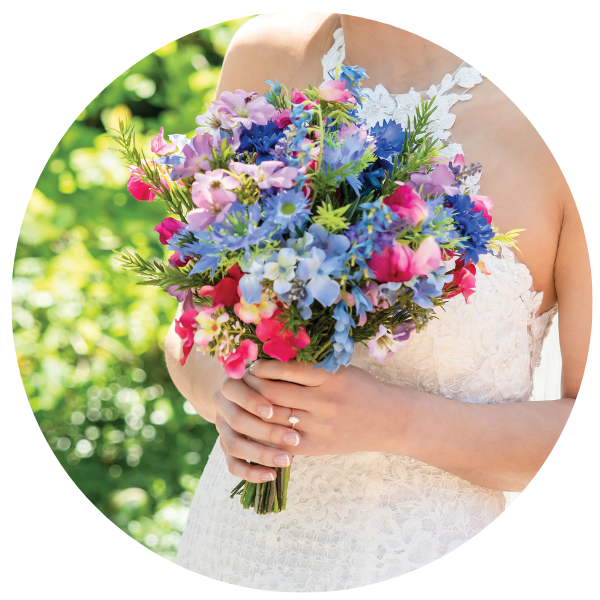 A classic and timeless choice is the posy bouquet. Ever popular, this bouquet is small enough to be held with one hand and often incorporates more florals than filler foliage. The size also makes it great for wedding attendants, flower girls or petite soon-to-be-weds.
Photo: TWA Photographic Artists
HAND-TIED BOUQUET
The hand-tied bouquet thrives on fluidity. Its boho feel includes a mix of loose stems and greenery working in harmony. As the name suggests, these bouquets are hand- tied together at the stems with ribbon, twine or another fabric and do not rely on floral wire or foam to hold anything in place.
Photo: TWA Photographic Artists
ROUND BOUQUET
Round bouquets are perfectly spherical orbs, oftentimes using a single type/color of flower in abundance. If using more than one type of flower, this style of bouquet still typically remains in a similar monochromatic color palette or texture. These bouquets are tightly structured and honor the natural splendor of circular shaped flowers.
Photo: City Savvy Imaging
NOSEGAY
The nosegay is a traditional and popular bouquet option, consisting of a tightly packed bunch of flowers all cut to a uniform length and tied off with an accent wrap. The result is a chic, small and not overwhelming bouquet for a bride to hold. Typically, this bouquet style focuses on one flower or color, also possibly including a few more blooms to complement.
Photo: TWA Photographic Artists
---
Now that you know what kind of bouquet you want, find your perfect floral designer here!