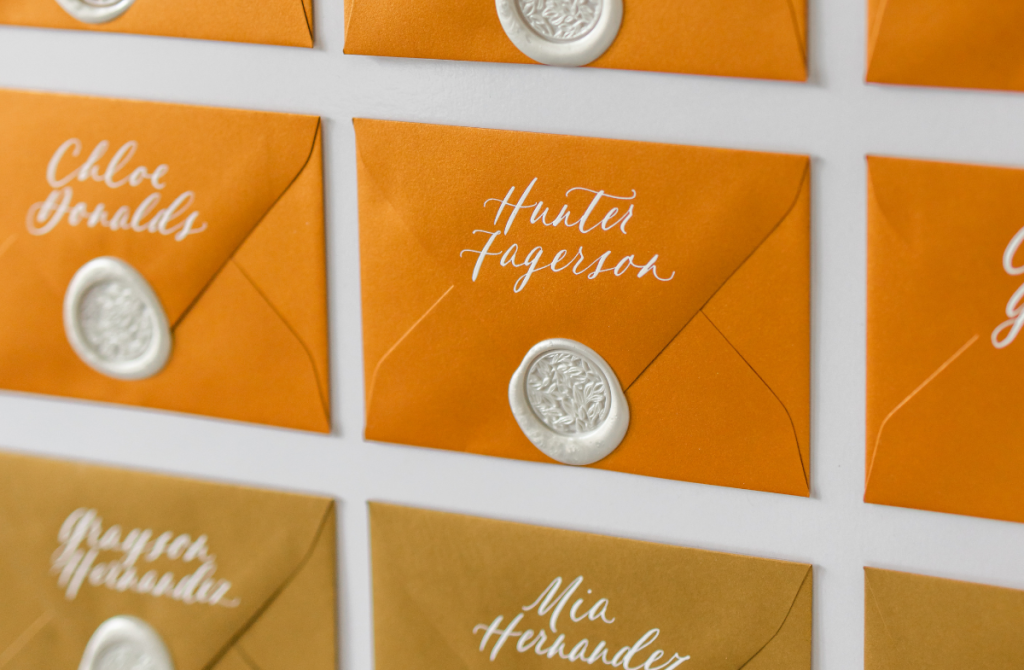 11 Seating Charts We're Loving
If you're in the middle of your wedding planning, you know what's coming: The Seating Chart. The RSVPs are piling up, and that one task needs to be tackled – sooner rather than later, if we're being honest.
It's a task that many dread, but it doesn't have to be. We've rounded up 10 of our favorite seating charts that we've featured in real weddings or styled shoots right here on chicagostyleweddings.com.
Without further ado – the seating charts of your dreams!
---
1. Ombre Sunset
Stunning ombre seating chart in desert tones with calligraphy from XO Art & Design, designed for the "Moroccan Sunset" shoot, a 2023-2024 Designers' Challenge contender.
2. Reception Reflections
Epic Events' elegant mirrored seating chart at Mari & Michael's Morgan Manufacturing wedding.
3. That 70's Chart
Brightly-colored seating chart with a 70s vibe, from Claire & Amelia's Lytle House wedding.
4. Love Notes
Beautiful floral-accented envelopes by Emery Ann Design at the "Through Sepia-Colored Glasses" shoot, a 2023-2024 Designer's Challenge contender.
5. Cheeky and Monochrome
This black & gold sass-infused seating chart for Kim & Khloe's monochromatic theme.
6. Tee'ing Up
Playing up their country club venue, Delaney & Ross opted "fore" a golf-themed seating chart.
7. Cheers!
Let's get this party started! This champagne wall for Kellie & Richard's Lake Geneva wedding truly set the scene for bubbly celebrations ahead.
8. Love on the Table
A little something for guests to bring home, Leah & Seth's seating chart array doubled as coasters.
9. Greenery Obsessed
Bringing a touch of nature to their industrial venue, Jillian & Ashley opted for an ivy-wrapped seating display.
10. Mesmerizing Acrylics
Captivating, hand-painted acrylic blocks from Satin Chair instructed guests to their seats at Brooke and Nick's Venuti's wedding.
11. Best Buds
The sweetest touch! Hand painted bud vases by Nerissa B Modern Calligraphy for "A Romantic Weekend in Santorini"
---
Find more seating charts and other personalized details (custom drinks, anyone?) in our Ideas Gallery.