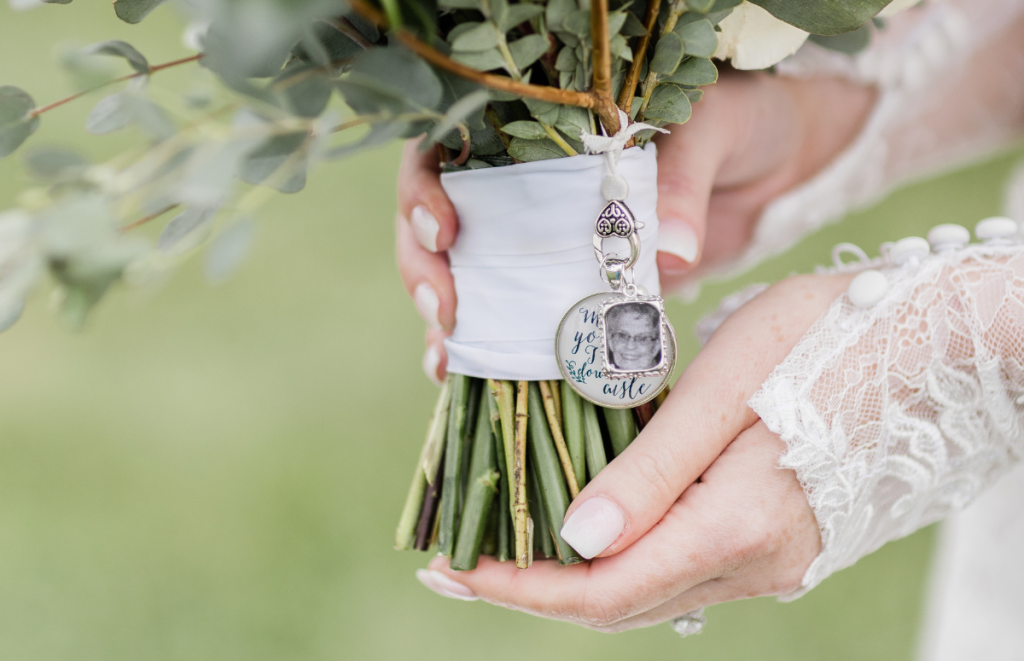 How to Incorporate Lost Loved Ones into Your Wedding
Feature Photo by Photography by Lauryn
Your wedding day is a time of celebration, but it can be challenging to feel truly joyous in the absence of a loved one. However, incorporating meaningful moments or gestures into your wedding can be a beautiful way to honor their memory. Whether you opt to commemorate them publicly or privately, consider including their impact on you in some way.
SAVE A SEAT
Even though they may not be present physically, your loved one can still have a special place at your wedding. Consider placing a framed photo, corsage or another meaningful item on a designated seat during your ceremony to honor their memory and acknowledge their absence.
MEMORIAM TABLE
Create a special space at your reception by setting up a table filled with framed photos of the person or people you are honoring. Display a selection of your favorite photos and consider using their wedding photos, if applicable, for an extra special touch.
LIGHT A CANDLE
The practice of lighting a candle in honor of a loved one who has passed away is a time-honored tradition found across many cultures and eras. It is a meaningful way to symbolize the ongoing connection between this world and the afterlife. Consider keeping a candle lit throughout your wedding day, or speak to your officiant about incorporating a candle lighting ritual into your ceremony.
HEIRLOOMS
Keep the memory of your late loved one close to you on your wedding day by incorporating their heirlooms or sentimental trinkets. You can wrap their handkerchief or rosary around the bouquet handle, or attach a locket with their photo to your bouquet, dress lining or suit lapel.
IN LIEU OF GIFTS
As traditional gift registries are declining in popularity, consider asking your guests to donate to your late loved one's favorite charity instead of bringing gifts. You can include a sign at the gift and guestbook table that requests a donation in place of gifts, along with a note that explains the significance of the charity to your friend or family member.
ON THE MENU
If you want to honor a passed loved one who had good taste, consider incorporating their favorite dishes or drinks. Whether you use Grandma's favorite cookie recipe to complete your dessert table or name a cocktail after Dad's go-to bar order — whatever it is, your guests will enjoy this thoughtful nod.
---
We have even more tips on how to incorporate kids, pets and ideals into your big day.