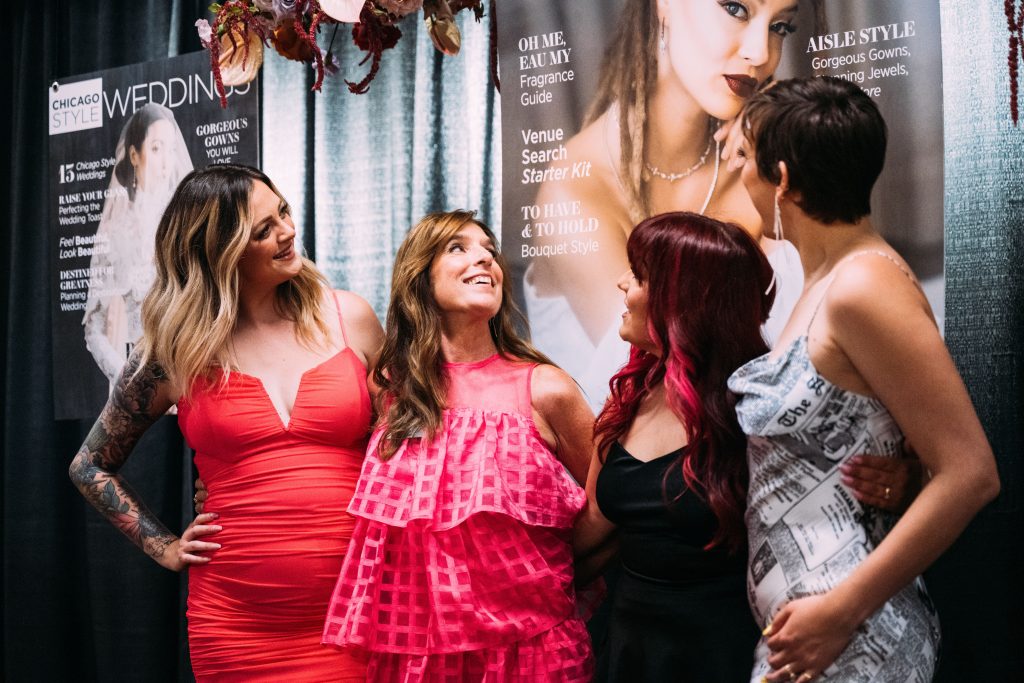 Chicago Style Weddings 2023 Issue Release Party at Morgan Arts Complex
On July 12, 2023, the Chicago wedding scene was abuzz with excitement at our Chicago Style Weddings magazine release party. At Morgan Arts Complex, we welcomed over 400 industry professionals, real Chicago newlyweds and wedding enthusiasts to celebrate love and the art of matrimony.
The Perfect Place
Morgan Arts Complex, one of Chicago's hottest new venues, set the stage for our celebrations. With its modern and welcoming atmosphere, the venue perfectly complemented the artful essence of our celebration. Seeing this new venue was a first-time experience for many of our guests, and they were utterly blown away!
Morgan Arts Complex, created both as an event venue and an art gallery (Hilton | Asmus), surrounded our guests with works from renowned artists like David Yarrow, Christian Voigt and Bedri Baykam. We were especially excited to share exclusive first look at the venue's "Banksyland" exhibit, showcasing the enigmatic works of Banksy.
Setting the Scene
The celebration wouldn't have been possible without the brilliant planning of Alexis Wells-Loneman from 6ixStory Events. Together, we crafted a truly special ambiance by curating sponsorships that showed off some of the city's finest vendors.
With impeccable event design by 6ixStory Events and remarkable floral displays by Ashland Addison, the venue transformed into a captivating wonderland. Chic rentals from Marquee Event Rentals and AFR Furniture Rental provided an array of seating and celebrating settings. The tabletops were made complete with linens from F&S Linen.
How Entertaining
Flow Entertainment set the soundtrack for the night and kept things lively, while sound set-ups from AV Chicago ensured everything ran smoothly. But guest entertainment didn't stop there! Against a floral photo booth backdrop (also designed by Ashland Addison), MK Event Photo captured smiling faces all evening long. Nearby, Doodlebooth provided hand-drawn portraits to guests, and Laine Too offered a host of interactive experiences, including glitter temporary tattoos, DIY spa samplings and custom-printed beverages.
Bon Appetit
Washing all that goodness down,
Harry Caray's Restaurant Group
and Morgan Arts Complex provided beverages and bar service – including 2 specialty cocktails: Blushing Bride and MAC Attack. For an energizing alternative to alcohol,
Dapper Brews Coffee
brought their coffee cart along for some much-needed caffeination.
Looking Good!
Our
Chicago Style Weddings
team wanted to look and feel our best, so we enlisted the help of
Glam Atelier
and
WarPaint International
. Glam Atelier did the hair styling for our whole team, while Glam Atelier and WarPaint International divided makeup artistry duties. Altogether, we were ready to shine and reveal our new issue to the world!
Throughout the evening, 
Zach Caddy Photography
captured the smiles and laughter that filled the air – which you can peruse below. Also be sure to check out the party highlights in video form below, shot by
The Black Tie Studio
.
---
Thank You to Our Sponsors
Like what you see? Connect with our sponsors here.
---