Honeymoon Winners – Kim and Stevan
Congratulations to Kim and Stevan, our latest honeymoon winners! The couple will enjoy a complimentary honeymoon to Dreams Dominicus La Romana in Dominican Republic after their wedding, provided by Apple Vacations. Read their love story below.
Photo above by: Adams Photography
Kim and Stevan's story started over 10 years ago at Butler University in Indianapolis. They met on the first day of freshman year during orientation. And of course, it was as most love stories begin, guy likes girl, girl thinks guy is too much and then avoids guy. Luckily, Stevan sensed this and decided to give Kim some space. Since they were both pharmacy majors, they began to see each other more often around campus. Soon, they became friends and a year and a half after, their relationship became "official."
After enduring six years of pharmacy school, the pair shifted into a long-distance relationship for two years as they accepted jobs in different states. But in 2018, they were reunited when Stevan secured a job that allowed him to be with Kim in Lincoln Park. Through the years, they have had many adventures beginning with fraternity/sorority formals now turned to friends' weddings.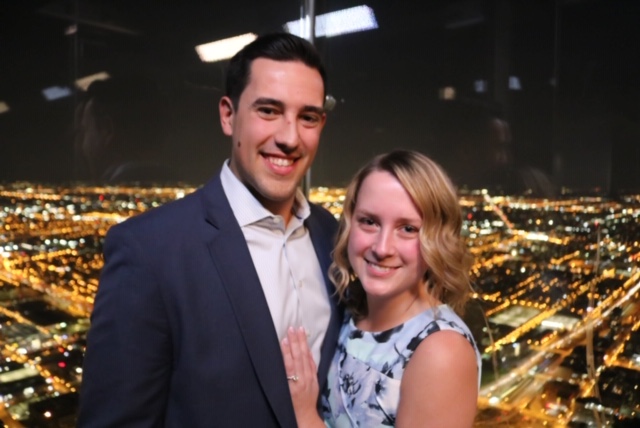 Photo by: Niki Marie Photography
After living together for about a year, Stevan planned a surprise proposal. He began by "stealing" one of Kim's rings to get the size and designed the ring at Howard Shapiro at Sullivan Watch and Jewelry Company. He also made a lunch date with Kim's father to ask his permission. In May 2019, he rented out the Skydeck of the Willis Tower under the ruse that Kim was taking him there because Stevan loves deep dish pizza and they have been wanting to do the "deep dish pizza with a view" experience. After taking a picture together on one of the ledges, Stevan proposed and their families came out to surprise them! The only downside was Kim did not get pizza that night, but she did the next evening.
Kim and Stevan are (hopefully, given COVID-19 circumstances) getting married in November 2020 at St. Simeon Serbian Orthodox Church, with a reception to follow at The Mid-America Club in the Aon Center. They still plan to get married that day even if they have to postpone the reception since it is their 10-year dating anniversary! Some of their Chicagoland vendors include: Adams Photography, Yours Truly Media, Fig Media, Sogna di Vita Salon, Events by Artful Decor, Ryann Lomas Makeup and Hyatt Regency Chicago. They are looking forward to their day even if it may look different than originally planned! They would like to thank Chicago Style Weddings and Apple Vacations for this wonderful surprise. It will be the perfect way to relax after these uncertain times!
Photo by: Adams Photography