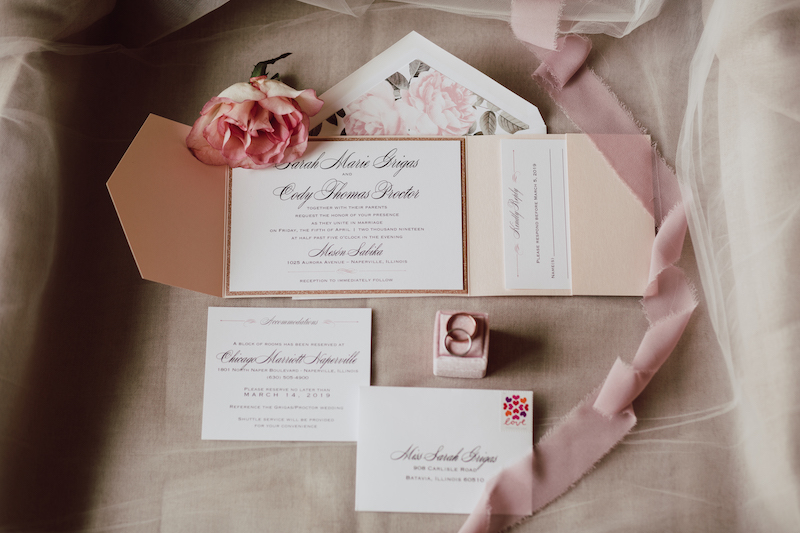 Your Wedding Invitation and Stationery Guide
Written by Micaela Fischer | Photography by Cinder and Vinegar Photography
If you're still buzzing from your engagement high, there's a good chance you have not given your wedding stationery a great deal of thought yet. Sure, you know the invitations have to go out at some point. But that should be easy enough. After all, your guests just need to know the when and where of your big day, right? If only it were that simple. Believe it or not, there's more to wedding stationery than just slapping some information on your save-the-dates.
It's time to demystify this crucial component of your wedding planning so that you are set up for success from the moment you put your first stamp on your save-the-dates until you sign the last of your thank-you notes.
WHAT'S THE BIG DEAL?
Why put so much time and effort into your wedding stationery? For starters, it's a precious memento you're likely to keep for the rest of your married life. Plus, it is usually the first major completed milestone in your planning process, as well as one of the last remaining souvenirs after the dust from your wedding finally settles. You want your invitations to be a true reflection of your personalities and set the tone for your wedding celebration.
Furthermore, your invitation suite is the very first element of your wedding that your guests experience. You want to make a good impression. From the moment they open the envelope, your guests are already forming ideas about what your wedding may be like. In other words, your guests take a lot of cues from the kind of stationery you send them.
Stylized script with a sophisticated flourish? They are bound to think formal. Distressed paper with floral prints and twine? Probably going to guess shabby chic. Your stationery can help clue your guests in about what they should wear and even their gift choice. Let the colors and themes of your wedding help guide your design.
INVITATIONS BY THE NUMBERS
Start thinking about how big your guest list is going to be to get an idea of how much stationery you may realistically need. But remember, the number of invites you send out is not equal to the number on your guest list. If you're inviting 150 guests, you do not need 150 invitations. You probably have a great deal of families and couples that only need one invitation per household.
Also keep in mind, however, that it's a good idea to have at least five to 10 extra invitations on standby. You never know when you may wake up one night in a cold sweat with the sinking realization that you completely forgot to invite dear Aunt Martha up in Minnesota. If such an occasion arises, those extra invitations are going to be a lifesaver and can help you avoid the unnecessary costs associated with multiple invitation orders. But apart from any last-minute stragglers, you also want to make sure you have a few copies of your stationery suite to save for yourself. When your wedding day finally arrives, don't forget to grab one to be photographed at your venue!
TACKLING THE TIMELINE
While you may be chomping at the bit to get your stationery suite underway, you're probably wondering when exactly you should get the ball rolling. Traditionally, save-the-dates are sent out eight to 12 months before the wedding date. Don't send save-the- dates to guests unless you are certain fthat you are inviting them to your wedding. Your more formal invitations are typically mailed about eight to 10 weeks before the wedding — but this is not a hard and fast rule. If you are planning on having a destination affair, for example, informing your guests earlier is always appreciated so that appropriate travel arrangements can be made.
Consult your vendors to see when they need a final head count and then tack on a few extra weeks to give yourself some leeway. As much as we would all love for people to RSVP on time, chances are you're going to have to do some last-minute follow up with some of your less punctual guests. When you finally send out your invitations, consider any elections or holidays that may slow down delivery. You may have to bump back your mail- out date to make sure your invitations arrive on time. The same applies to guests who live abroad.
Today, it's rare to find a couple who has a complete list of contact information and addresses for their entire family and friend group. To ensure you're ready to go when it's time to send the save-the- dates, make sure to start gathering information early. Your parents and grandparents can be great resources when collecting names and addresses. And don't be afraid to give someone a call to make sure you have the proper address. It saves time in the long run by preventing you from getting the ever-dreaded returned invitation with little time to get the address right before your wedding.
WHAT'S INCLUDED?
The shining star of your wedding stationery, the invitation suite is a package that includes the design of your invitations, as well as all of the little details that make them uniquely beautiful (every tie, every ribbon and every stroke of the fountain pen). Your invitation suite includes an outer envelope, many times an unsealed inner envelope, the invitation, a details card, a response card and a response card envelope. Additional materials like printed maps, menu cards and hotel information can also be included in your suite.
It can be a bit overwhelming, so let's break down the basics:
Envelope – Use an outer and inner envelope to identify the invited guests.
Invitation – Indicate the who, what, when and where of your big day.
Details Card – Include your hotel accommodation information, wedding website and additional guest information. Split into multiple cards if needed.
Response Card – Give guests a way to RSVP to your wedding. It can also be used to gather dinner selections and the number of guests attending from each household.
Response Card Envelope – Include postage for guests and the host's address on the envelope. You want to make sure your guests can reply to your big day as easily as possible.
When placing the invitation suite into the main envelope, all elements should be on top of one another according to size, with the smallest pieces in the front and the largest pieces in the back. Slide everything into the envelope with all text facing upward so that when recipients open your invitation, they are able to read it with ease.
Once your invitation suite is ready to drop in the mail, take a sample invitation to your local post office to verify if additional postage is required prior to mailing them out. Depending on the size, shape and weight of your invitation, additional postage may be required. The last thing you want is to come home to a mailbox full of returned invitations since you didn't include enough postage.
After your invitations are sent, there are a few other elements you may want to think about to round out your wedding stationery. These elements include your ceremony programs, table cards, seating chart, menus, favor tags, as well as your thank-you notes. Work with your stationer to keep your overall look and design consistent throughout your big day.
WHEN THE UNEXPECTED HAPPENS
If you find yourself needing to postpone your wedding due to the uncertainty surrounding a public health crisis or another unexpected emergency, don't fret! You can handle this hiccup with determination and grace.
It is now commonplace to either issue a new save-the-date if you haven't already sent out your formal suite of invitations, or send out an updated postcard or invitation with a new date if you have sent out your formal invitation suite. Make sure to have open communication and let your guests know as soon as possible if the date is changing.
On the updated invitation, it is also a good idea to direct guests to your wedding website in case there are further adjustments. Situations can change in an instant and you may find that your postponement turns into a smaller celebration than you originally anticipated. It never hurts to follow up with a courtesy call as well, especially if the timing of the postponement or change is getting uncomfortably close to your original date.
DON'T FORGET THE THANK-YOUS
Although it may seem like a tedious task, it's incredibly important to send a thank-you note to all of your guests no more than three months after your celebration. These should be personalized, handwritten notes to show your love and appreciation for everyone who made your wedding such a special event. Take this time to thank everyone individually not only for their kind gifts, but also for all of the amazing memories they helped you make. Don't forget to send thank-you notes to your vendors as well! After all, they were instrumental in making sure your wedding day was perfect, too.
Hand-writing every single thank- you note may sound like an endless endeavor, but it doesn't have to be distressing. Try carving out a time each week after your wedding when you can get a handful of them completed. Writing them in increments is much easier than trying to get them done in one fell swoop. You may even turn an otherwise dull job into a sweet activity to do with your new spouse over Saturday morning coffee.
While there is a lot involved in creating your wedding stationery, the process doesn't have to be overwhelming. Find a professional stationer who can give you the customized invitation suite you envision. He or she can guide you through the process from concept to delivery. Set yourself up for success by getting a head start and taking things one step at a time, and you will be sure to get your guests' seal of approval.
---