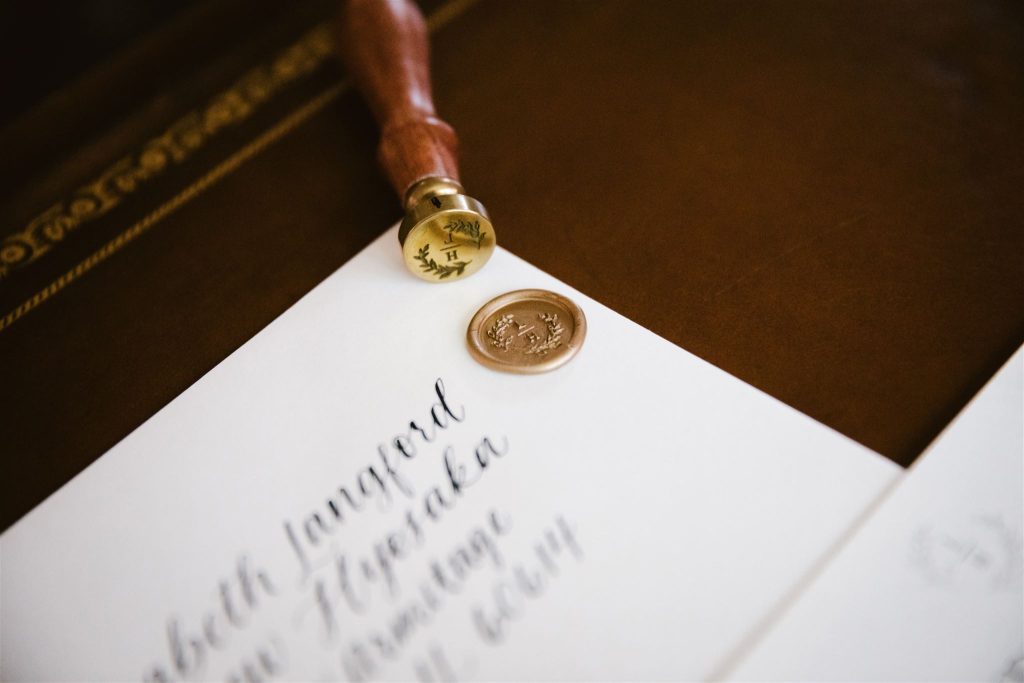 Expert Advice on Thank-You Notes
Photo by Rachael Schirano Photography
You've just had the wedding of your dreams surrounded by some of your favorite people, many of which showered you with generous gifts. How can you ever properly express your gratitude? It might seem like a small gesture, but handwriting personalized thank-you notes goes a long way. Good, old-fashioned thank-you notes are greatly appreciated, whether you received a gift in the form of an item, money or the presence of someone.
As a starting point, we asked industry professionals what their rules of thumb are for sending thank you notes.
TIMING
"Thank-you notes can be time-consuming, so I recommend couples send them out as they receive gifts, even if it is before the wedding. A timely thank-you note lets the gift giver know their gift made it to the recipient and was appreciated. They aren't left guessing if their card and check got lost in the mail or if the gift made it to the gift opening. Sending right away also means fewer thank-yous to write post-wedding. While some etiquette says you have up to a year to send your thank- you notes, I think it is impolite to wait that long. I tell couples they have three months, so plan accordingly!
I recommend dividing and conquering the thank-you notes. Do them in small batches once a week for a couple of weeks and they will be done before you know it. Some couples find it useful to divvy up notes by who knows the gift giver. That allows you to personalize the note a bit more."
– Gretchen Culver, Owner, Windy Mini Weddings
WHAT TO WRITE
"Thanking your guests should not be just about a physical gift that was given, but also the time your guests spent celebrating this milestone with you. For example, if your guests had to travel to attend your wedding, that should be acknowledged.
If the guests did give a physical item or monetary gift, it is often nice to share with your guests how you plan to utilize the gift to further show your appreciation. For example, "Thank you for the beautiful crystal bowl. It will look so lovely on our holiday table for years and years to come!" You could also show gratitude toward monetary gifts by saying, "Your generous gift will be put toward a china cabinet that will hold our family heirlooms. We can't wait to show you when you visit us!"
Take the time to handwrite your message, if you can, because a handwritten note is another special way to show your loved ones that your message of gratitude is personalized just for them."
– Kelley Nudo, Client Manager, Momental Designs
STATIONERY
"While many couples like to send their thank-you cards on stationery made with a wedding photo, it is not worth delaying writing your thank-you notes just to get your pictures back. We recommend making your stationery suite before the wedding so you can knock out your thank-you notes as soon as possible."
– Megan Estrada, CEO, NSWE Events
"My thank-you hack is to purchase flat cards (not folding). Ideally, there is a monogram, name or "thank you" printed on top to take up a bit of space. The white space to fill in will be minimal so a few sentences will go a long way! Much better to have a filled card than a folding note that looks empty with the same amount of verbiage."
– Nora Sheils, Co-Founder, Rock Paper Coin; Founder, Bridal Bliss
---