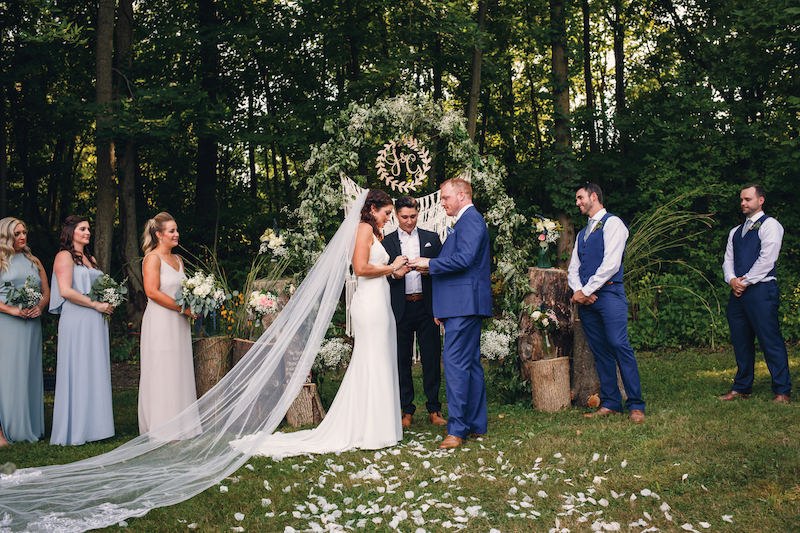 Practices Makes Perfect: A Rehearsal Dinner Guide
Written by Lynn Tangorra | Photography by Cinder and Vinegar Photography
You have spent months planning this amazing party. Every box has been checked, every flower ordered and every name card given a place, but there's just one thing left to organize — the rehearsal dinner. This is definitely a common tradition that cannot be skipped, unless you want the wedding party trying to figure out what they are supposed to be doing on the fly.
Rehearsal dinners are the perfect place to have a little fun and relieve some stress before the big day. For once, someone else can tell you where to stand and how things should run. At least for the rehearsal part.
WHOM DOES THE GUEST LIST INCLUDE?
First things first: the guest list. Before picking a venue or choosing a menu, decide who should be a part of this evening besides the wedding party.
There are no rules. Other than members of the wedding party, who typically bring a spouse or guest, out-of-town guests are generally invited since they have traveled for the special occasion. The officiant and the immediate families of the couple also attend. Your guest list really depends on the budget and on how big you would like your soirée to be. Have a conversation with whoever is footing the bill to determine how large the guest list should be.
WHO PAYS?
Traditionally, the groom's parents host the rehearsal dinner. Nowadays, more and more couples are deciding they can pay for the dinner themselves with maybe a little help from Mom and Dad. If the families both feel strongly about helping host the dinner, let them split the bill. Just make sure they are aware of how many guests you want to attend and the type of venue you've chosen.
HOW FORMAL SHOULD THE DINNER BE?
It generally depends on the preference of the couple. Typically, if a couple is having a formal wedding, the rehearsal dinner is a more casual, laidback event. Just because an event is casual, though, does not mean you need to forego formal elements. This is an opportune moment for the families to spend some quality time together before all of the excitement begins for the big day. However, you don't want your rehearsal dinner to compete with your wedding reception. Typically, it's a smaller event than your actual wedding.
Some couples opt for low-key venues, such as someone's backyard or a bowling alley. It varies based on how intimate you would like the atmosphere to be. You want your guests to be relaxed and enjoy themselves, especially since most of them may not know each other.
WHERE SHOULD I HOST THE DINNER?
Location may be one of the easiest choices to make. Pick something that is the most convenient for you and your guests. This makes it less stressful on the wedding party and immediate family. Most participants want to relax after the ceremony rehearsal and not spend a good chunk of time carpooling to the next location. Unless you are set on hosting your dinner at a certain venue, find someplace within walking distance or a very short car ride from where the ceremony will be held.
WHEN SHOULD I START PLANNING THE DINNER?
It is suggested to book a rehearsal dinner location within a few months of deciding on your wedding venue. Since many restaurants host both weddings and rehearsal dinners, desired dates often book up quickly. To stay on schedule, have a general idea of who is attending by about three months out.
SHOULD I SERVE CAKE?
Many couples opt for serving a meal that will not be duplicated at their wedding. Family style is a popular choice as it brings in a relaxed and casual feel to the meal, which often correlates well at a rehearsal dinner. Additionally, family style does not require guests to decide on their meal ahead of time so it often feels less like hosting a second wedding. Since most couples serve cake at their wedding, the rehearsal dinner is the perfect time to try something different.
WHAT ABOUT TOASTS AND GIFTS?
The rehearsal dinner is a perfect place for the couple to address friends and family to thank them for the time spent in helping make the upcoming day so special. This is also a great time to thank the wedding party for their involvement. If the groom's family is hosting, it's expected that they will give a speech. The bride's parents can also say a few words if they feel prompted.
If you don't have time to add a little something extra to the schedule for the wedding, get creative and set aside some time to have it at the rehearsal dinner. This could include slideshows of the couple, any sort of readings, or just fun stories family and friends want to share.
Most couples use this time to hand out wedding party gifts, and special gifts of appreciation to Mom and Dad. Gifts can be as elaborate as jewelry or cufflinks, or as simple as a grooming kit to a bag stuffed with essentials like tissues, lip gloss and a robe for getting ready. It is up to the couple on how much they want to spend on their respective parties.
WHAT ABOUT DECORATING THE VENUE FOR THE REHEARSAL DINNER?
Décor should never compete with your reception, but if you like to decorate, decorate away! Many couples use their rehearsal dinner to highlight their story versus highlighting a general theme.
If you choose to host your rehearsal dinner outside, hanging lights could be an intimate, classic option. Long tables are recommended to encourage a family-style meal setting. If your event is very casual and the venue is already beautiful, you don't have to prepare any decorations or spend the time setting up.
Place cards are unnecessary unless you would like to ensure people mingle with guests they don't know.
WHAT ABOUT ALCOHOL?
Alcohol can be expensive, so paying for an open bar depends on who is paying for the evening. You can choose not to have an open bar and, if you would like to offer alcohol to your guests, you can speak with the venue to see about packages.
Some hosts offer to pick up the tab for beer and wine, while guests are responsible for purchasing mixed drinks if they want them. Never feel obligated to provide alcohol. Don't forget, you are already paying for their meal. Some may choose to not have alcohol because they don't want things to get too rowdy, especially with the wedding party who have to be up early the next day.
SHOULD MY PHOTOGRAPHER ATTEND THE REHEARSAL DINNER?
If you have a little extra wiggle room in your budget, you may choose to have the photographer capture some precious moments of family and friends at the rehearsal dinner. Some photographers prefer to attend the rehearsal because it gives them a chance to find the best angles to shoot the bridal party, especially the bride and groom. It is also nice to have more candid photos of the dinner and guests mingling as extra mementos.
Plus, if you have a large family, you can get photos with everyone during the extra time. Yes, even Uncle Stan! That way, you don't have to spend too much time worrying about scheduling all of the photos during the reception when you are trying to visit with everyone. Not many couples choose to do this, but if it's something you can afford, go for it.
Remember, the night before your wedding should be relaxed and stress- free. The dinner is meant to be a time for family members and friends to come together to celebrate the joining of two families. Take the time to plan something that feels right for you and your significant other without trying to top what you have planned for your wedding celebration.
---