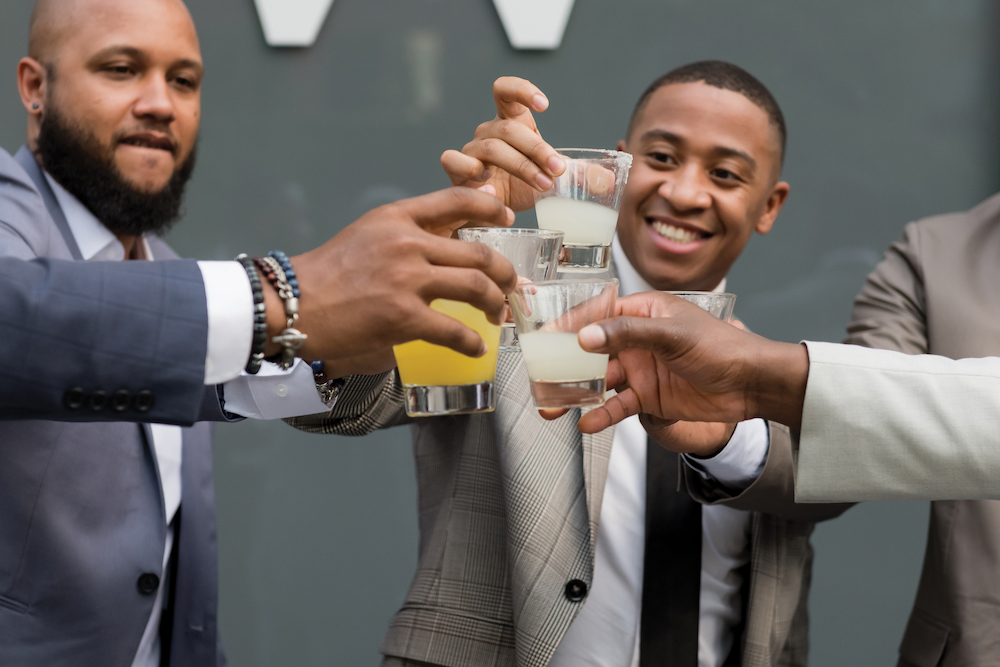 Types of Pre- & Post-Wedding Events
Photo: Ed & Aileen Photography
The ceremony and reception get a lot of attention — as they should! — but there are a lot of other events surrounding a wedding. For a full celebration, pre- and post- wedding parties are not to be overlooked. Get the soirées started with these options … and keep them going! You certainly don't need to take part in all of these, just do whatever fits you, your relationship and your culture best!
Bridal Shower or Couple's Shower
The bridal shower is a daytime party hosted by friends and non-immediate family. No planning needed for the nearlywed! This event often is a ladies- only festivity in the form of a luncheon, tea party or light hors d'oeuvres social. A shower is a great opportunity to embrace a theme and light-hearted games that you might love, but not want to incorporate into the wedding itself.
Traditionally, this occasion celebrates the bride herself. But it's not uncommon to replace thesr with couples' showers, a joint event celebrating both partners.
WHEN: One to two months before the wedding
Bachelor Party and Bachelorette Party
Your wedding is all about your relationship with your future spouse. But the bachelor / bachelorette party allows some time to just celebrate you as an individual. You will be joined with your partner for the rest of your life, but this is a party for you. This celebration involves you and your closest friends in one final revelry of being single (legally speaking). This celebration can be anything from one fun night out on the town all the way to a multi- day destination adventure.
The quintessential bachelor/bachelorette party involves a same-sex guest list, but some couples — especially ones with a blended friend group — may prefer to have a joint party, which can be just as fun! So don't be afraid of this alternate option.
WHEN: Six to eight weeks prior to the wedding
Welcome Party
For couples anticipating a lot of out-of-town guests, the welcome party is a great way to usher in your big weekend. This event gets your guests together to break the ice and set the scene for fun. Consider a cocktail party at the hotel's bar, a private room at a nearby restaurant or a casual backyard cook-out. Your wedding day will be busy, so this is the perfect opportunity to spend some quality time with the family and friends you don't see often.
WHEN: One or two nights before the wedding
Rehearsal Dinner
The rehearsal dinner is the last official celebration before the wedding itself! As the name implies, this dinner occurs after the ceremony rehearsal. Usually, the rehearsal dinner is for immediate family and the wedding party (and anyone who is involved in the ceremony itself), but invitations can also be extended to out-of- town guests. The groom's parents traditionally host the rehearsal, although it is just as frequently hosted by the couple themselves. Locations for rehearsal dinners vary, but private rooms at restaurants or private residences are top options.
WHEN: The night before the wedding
(PRO TIP: We've rounded up the best of our area's rehearsal dinner spots here!)
Sangeet
A Sangeet is a colorful Indian pre-wedding tradition in which family joins to sing, dance, eat and celebrate the upcoming marriage festivities. Compared to western tradition, a sangeet is similar to a rehearsal dinner, but even more vibrant and lively. This celebration centers around music and involves choreographed dances, ornate attire and freeform dancing — wishing the best for the couple while joining the two families together with joy.
WHEN: The day before the wedding
Aufruf
An Aufruf is a Jewish ceremony hosted at a synagogue on the Saturday before the wedding. Aufruf translates to "calling up" in Yiddish, and the customary ceremony tradition involves just the groom, but more liberal synagogues have expanded to include both partners. The ceremony calls for the groom (or the couple) to recite a blessing followed by the congregation showering him (or both partners) with candies as a symbol of sweetness and fruitfulness.
WHEN: Saturday before the wedding
After Party
Depending on your reception venue's hours or noise restrictions, your party might have to close down before you're done celebrating. To keep the party going, many couples have an after-party held at a hotel room, nearby bar or a friend's house. Your parents and grandparents can head back to get some rest while you and your close friends continue on into the night with loosened ties and kicked off shoes.
WHEN: After the reception ends
Day-After Brunch
You're recovering from a long weekend with a packed timeline; consider the day-after brunch as a relaxed closing to it all. An informal buffet-style brunch works great for this, as guests can come and go as they please. Depending on how the night ended, this allows guests to say their goodbyes and not feel rushed. Plus, who doesn't love some coffee and pastries among loved ones?
WHEN: Morning after the wedding