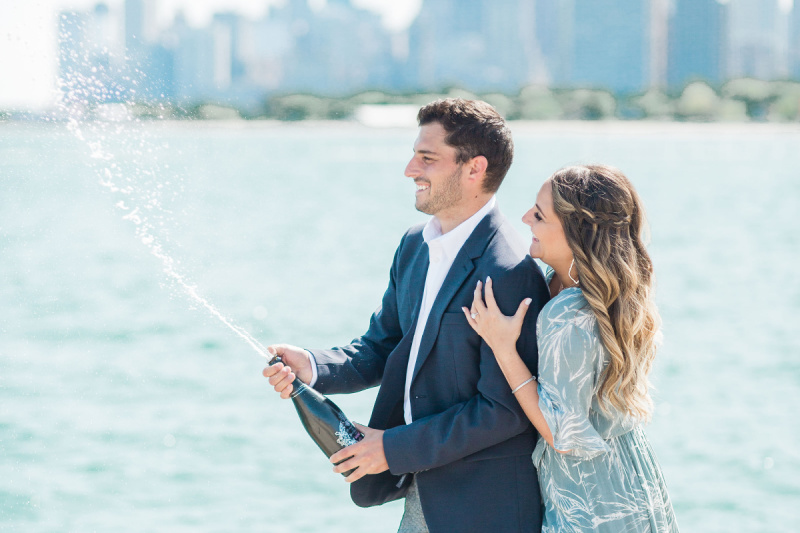 Written by Bailey Heldmar & Christina Oddo | Photography by Photography by Lauryn
As you're busy planning and prepping, it's easy to forget about all the events leading up to your big day. From an engagement party to a day-after brunch, each event is a chance to celebrate your love story with your nearest and dearest. But more events also mean more questions. Who should you invite? Where should you have it? Who's supposed to host, plan and pay for them all? We have rounded up the most common wedding-related events, along with the tradition and etiquette for each. Keep in mind that none of these events are required (besides the ceremony, of course!), but the more celebrations the merrier!
ENGAGEMENT PARTY
You said "yes," which is definitely cause for celebration! There's not a rule for who hosts the engagement party, but it's usually the parents of the couple. However, many couples choose to plan their own. Held during the first few months of the engagement before the stress of wedding planning kicks into high gear, the party is a fairly casual affair. Although if everyone is in on the surprise, you may head straight to your engagement party after the proposal!
You don't have to invite everyone that you plan to invite to the wedding; in fact, it's customary to keep the guest list to just family, the wedding party and perhaps a few other close friends. However, don't invite anyone to the engagement party that you don't also plan to invite to the wedding. Speaking of invitations, an engagement party doesn't require formal, mailed invites. Evites or even a Facebook event are an acceptable and easy way to get the word out.
Host your engagement party at home or at your favorite restaurant to keep cost and planning to a minimum. It's still early, so save your budget for the big day! Many restaurants and bars have rooms available to rent for large groups that are perfect for engagement parties. If you host at home, ask a few close relatives to pitch in with food prep and decorating.
No matter what size your party is in terms of number of guests, make sure to assign someone (a reliable close friend or family member) to take candid photos throughout the night. And it's also fun to have some sort of guest book, or even a place where guests can write down a quick tip or advice about wedding planning.
While most guests will likely bring a small gift, it's not mandatory at the engagement party. Some guests might take a peek at your registry if you already have one, but don't feel obligated to register before the party. A card and nice bottle of wine are an appropriate engagement party gift.
BACHELOR & BACHELORETTE PARTIES
Hosted by the bridesmaids and the groomsmen, bachelor and bachelorette parties take place closer to the wedding — think two months to two weeks before. While it's tradition to have them on the same weekend, don't stress if you and your sweetie celebrate your final days as singles on different dates. It's more important to find a time that works for everyone in your individual wedding parties. While not everything about the party has to be a surprise, your friends should take on the majority of the planning for this event. After all, it's a time for you to relax, let loose and forget about wedding planning.
The guest list for the bachelor and bachelorette parties is by no means limited to only those in your wedding party; feel free to include other close friends and siblings. This is another event that does not call for formal invitations. In fact, a group text may be the easiest way to determine everyone's schedule to start planning!
Whether your friends have planned a night on the town in your hometown or a weekend getaway to a different city, the most important thing is to have fun at your bachelorette or bachelor party. Whether you go out for dinner and dancing, enjoy mani-pedis and a wine tasting, take in a local sports game, explore a new city or simply lounge by the pool, there are endless ways to celebrate your upcoming wedding with friends!
One point of contention for bachelor and bachelorette parties can be the cost. As a rule of thumb, the wedding party should treat the guest of honor to a night out; however, if travel is required, the bride or groom should cover her or his own expenses, with the exception of a nice dinner or a few drinks on their friends at the destination. And if you do opt for a weekend getaway, don't be offended if some of the invitees can't attend; there are plenty more opportunities to celebrate you.
Bachelorette parties are notorious for being recognizable in public because the entire group is wearing matching sashes, shirts or hats. Make sure to let your wedding party know if there is anything (a wearable item, wording on a shirt, planned party destination) that would make you uncomfortable, so there's no tension during the weekend of the festivities.
BRIDAL SHOWER
Another event that takes place in the last month or two before the big day is the bridal shower. True to its name, the bride is showered with love and gifts at this traditionally daytime event. As for the host, it can be anyone from your maid of honor to your mom or another close female relative.
Historically ladies only, the guest list should include family, the wedding party and other close friends of the bride. A classic wedding shower is brunch at the host's home; opening presents would follow light snacks, refreshments and maybe a few games. If you're imagining something less traditional and a little more relaxed, have the festivities at a restaurant or an art class.
As with many events on this list, the female-only rule is increasingly broken by couples that choose to have a joint shower. As with a traditional wedding shower, a relative or the couple's close friends would host a coed event at their home or favorite local spot. Whatever kind of event you choose to have, mailed invitations are expected.
Make sure to register for wedding gifts before your shower because guests will look to it as a source for what to gift you at the shower. Often the shower hostess will coordinate the purchase of a larger, more expensive item to be gifted by a group of guests. Alternatively, some brides opt to have a lingerie shower where guests are asked to gift lingerie or sultry sleepwear for the honeymoon. While this doesn't require a registry, be sure to list your sizes and perhaps a few preferred brands on the invitation.
REHEARSAL DINNER
The groom's parents traditionally host the rehearsal dinner, which is always held the night before the wedding. After the couple and their wedding party rehearse the ceremony at the venue, they'll head to dinner to celebrate with their closest relatives and friends. While the father of the bride, best man and maid of honor will give speeches the next day at the reception, the rehearsal dinner is a time for other guests to share their fond memories and well wishes for the couple. You might consider putting together a slideshow or video of you as a couple to watch after dinner.
Like the engagement party, you don't have to invite everyone to the rehearsal dinner that you invite to the wedding. The guest list should always include the wedding party and immediate family, but many couples choose to invite extended family and other close friends as well, and often guests who have traveled for the wedding and are staying overnight. In the case of a destination wedding, it's a courtesy to invite all guests to the rehearsal dinner.
Since the main event is the next day, most couples opt to have a more casual rehearsal dinner that complements the wedding. The rehearsal dinner is a time for everyone to mingle and enjoy each others' company before the production of the wedding day. Be sure to thank guests from near and far for attending and being a part of your celebration as you rest assured that everything is set for the big day.
The venue could range from your parents' backyard to your favorite restaurant. Whatever you choose, the rehearsal dinner is the perfect time to infuse a little of your personality as a couple into the wedding weekend. Was your first date at a taco truck? See if you can rent it for the event! Did you bond over a love of craft beer? Host the rehearsal dinner at your favorite brewery. If it's a destination wedding, think about a restaurant that showcases the local cuisine.
Paper invitations are customary for the rehearsal dinner and are sent after you receive wedding RSVPs. Guests do not bring gifts to the rehearsal dinner, but the night before the wedding is a good time to give thank you gifts to your wedding party, especially if it's something you'd like them to wear during the ceremony. It's the perfect opportunity to thank your wedding party in person for being part of your celebration.
CEREMONY AND RECEPTION
The main event! Although tradition states the bride's parents host the wedding and reception, like many traditions, this one no longer holds firm. Many couples choose to host their own wedding, the groom's parents may offer to host or all three parties could chip in a little bit to pull off your dream wedding. The wedding ceremony and reception should need no explanation, but there are a few details that often need clarification.
The guest list is historically the same for both events, but some couples choose to have an intimate ceremony followed by a larger reception. Although it depends on the couple's style, the ceremony and reception will be the most formal of all your events, which means mailed invitations are a must. The typical wedding stationery suite will include an invitation, reception card, an RSVP card with pre-addressed envelope, directions to the venue, an accommodations card for out-of-town guests, as well as any other information you think your guests will need.
Whether you hold the ceremony and reception at separate venues or at a location that can accommodate both, it's helpful to have a day-of coordinator.
Even if you choose not to have a wedding planner, most event spaces have an event coordinator that keeps things running smoothly while you enjoy your special day to the fullest. Similarly, you wouldn't want your mom or best friend running around the venue putting out fires instead of celebrating at your side.
Guests should bring gifts from your registry to the wedding. Register for gifts at a variety of price points at a few different stores so that every guest can find the perfect gift at a price they feel comfortable with. If you don't need or want physical gifts, you can also ask that guests contribute money to a honeymoon fund. Although this trend is still catching on, there are a few websites designed to help.
DAY-AFTER BRUNCH
Whoever hosted the ceremony and reception may also host a brunch the day after the wedding. Especially common for destination weddings, the informal and completely optional party is for wedding guests to say a final goodbye to the newlyweds before they jet off to their honeymoon. Of course, a brunch is just one more event to add to an already busy wedding calendar; nobody will question if you choose to skip this event and start the honeymoon a little early (or you just want to sleep in).
Invitations to the brunch can be an added insert in the wedding invitation, but a digital invitation is equally appropriate. While destination weddings typically call for inviting everyone that attended the wedding, in other cases, it's acceptable to invite only the wedding party, immediate family and out-of-town guests as a courtesy. Common places to host a morning-after brunch are at the host's home or at the hotel where most of your guests stayed.
Fitting the more casual atmosphere, the day-after brunch can be a come- and-go event. Let guests know that they should feel free to stop by anytime within a two- or three-hour period to offer any final congratulations. A buffet or an à la carte menu are easy ways to feed your guests without much stress; offer light breakfast options like muffins, quiche and fruit that do not require a sit-down meal. While a mimosa or Bloody Mary bar is always festive, be sure to have plenty of coffee and water!
If you take anything from this, it should be that there are a few rules that can't be broken. Talk to your family and friends well in advance about what events are a must and which you'd rather skip. Discuss who might be willing to host and what you'd like to take on yourself, and set budget expectations for each event. Most importantly, remember that every event is supposed to be a celebration of your unique love story!