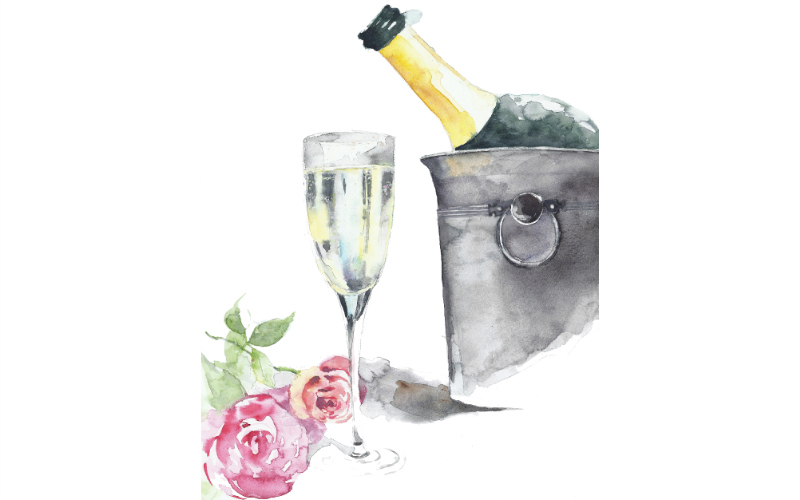 Modern Guide to Gratuities
By Meghan Bishop
If there's one gray area in the wedding world, it's paying gratuities. Long-standing etiquette says ones thing and modern trend says another. We say: if you loved your service—show it with a tip.
Whether your vendor owns their business or is an hourly employee matters little. Gratuity says "I'm so thankful for the extra care you showed to me," and giving shouldn't be determined by who the boss is. It's determined by the quality of service. Here's a list of the vendors you should plan to tip because of their onsite expertise at the end of your very long, very fabulous big day.
WEDDING PLANNER
Traditionally, it has been thought that you don't need to give your wedding planner anything for a tip. But, considering they're the one vendor who has done the bulk of the work on your wedding—we say, why not? Did he/she knock your socks off by pulling off your wedding flawlessly? Was there a ton of extra work involved that wasn't discussed when pricing was set? Whatever the case may be, you can feel comfortable giving between $100 to 10% of their fees in cash or a gift in the same amount to show your gratitude.
TIP: $100 to 10% of fees
PHOTOGRAPHERS & VIDEOGRAPHERS
In our opinion, your photographer and videographer will be the most important vendors you choose. Each photographer on the day of your wedding should be tipped $100- 200, and second shooters $50-75.
TIP: $50-200 per person
CEREMONY MUSICIANS
Not sure what to give the string trio that played your wedding march? What about the choir that sang as you lit your unity candle? If it was a professional group, 10% of the entire amount charged to be split amongst the musicians. If it's a civic or church group and they didn't charge, give a donation either to the group or the church—just as you would a religious officiant.
TIP: 10% of fee to be split among musicians
RECEPTION MUSICIANS OR DJ
Every guest was on the dance floor and your party was non-stop all night! You should tip $25-50, per musician. For the DJ—he/she is the one person responsible for the entire flow and energy of your event. We think they deserve a whole lotta love for guaranteeing a good time. MUSICIAN TIP: $25-50 per person
DJ TIP: $100-200
OFFICIANT
Your dad's friend is a judge, your neighbor got registered online, your junior high school pastor, or your pastor now that you are an adult has accepted the job of conducting your service— etiquette says no cash should be given. Instead, give a thank you card and a gift card or a donation to the house of worship if affiliated.
TIP: A donation and thank you note will do.
CATERING STAFF
This varies depending on the region of the country you are in. In the Midwest, a 20 to 22% service charge is usually added to the catering contract. But if you are super happy with the service, you can give the catering manager a lump sum to distribute among the wait staff. You can get the anticipated number of wait staff from the caterer beforehand to help you prepare.
TIP: $20-50 per person (and check your contract)
BARTENDER
Your bartender will deal with a bunch of guest craziness the evening of your wedding (i.e. "There is tooooooo much coke in my Jack"). Bartenders who work on a catering staff team make a higher hourly wage than what you'd expect in a restaurant so you can tip them the same as the other catering staff. No need to go above and beyond, unless you really want to.
TIP: $20-50 like the other catering event staff
DRIVER TIP
Your driver will wait outside for 30 minutes as you say your goodbyes to your friends and family and make sure your take-away plate is in the car for your midnight snack before he drives clear across town to your desired place! Proper tip is 15-20% presented after arrival.
TIP: 15-20% of fees
RENTAL STAFF TIP
This one is optional. Rental drop off delivery people sometimes get $20-50 per person depending on how much they are bringing in and having to set up. Most of the time you have a team of 2-4 depending on the size of the order and they will be the last ones out of the space at the end of the night.
TIP: $20-50 per person
HAIR STYLIST & MAKEUP ARTIST
As important as pictures are, your hair and makeup professional will help ensure you look the best! Hair and make-up professionals should get 15-20% of the total bill.
TIP: 15-20% of services
---
THINGS TO REMEMBER WHEN TIPPING…
Some vendors may have gratuity included in their contract–if this is the case, no tip is necessary. Read your contract to be certain. Also, if a vendor does not fulfill what was expected, don't feel obligated. And if you want to reward a vendor that you didn't get a chance to see or interact with, don't underestimate the power of a sincere thank you card with a little token of your appreciation inside. Tipping is something you should be prepared to do (a lot of) on your wedding day.
The caliber of the professionals you hire will determine the amount of tips you should budget for.