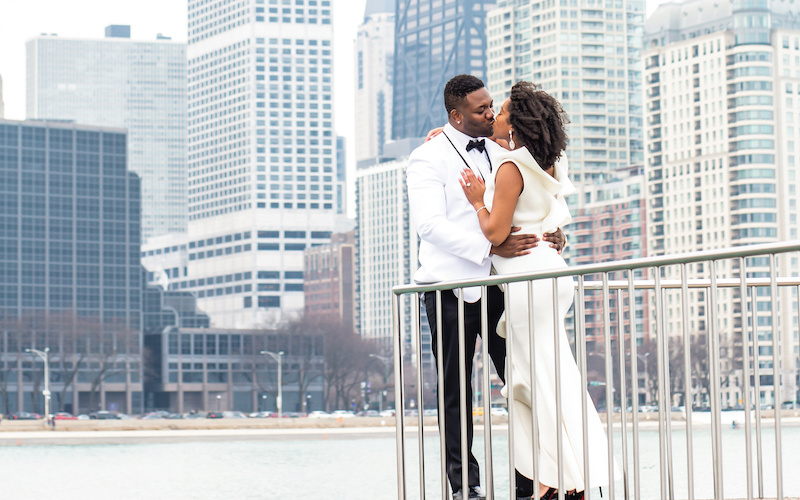 7 Reasons to Get Married in the Chicago Area
Written by Kelsey O'Shaughnessy-Podgorski | Photography by TWA Photographic Artists
Local Love
When it comes to the wedding world, there is no better place to say your vows than Chicago and its suburbs. With everything from skyscrapers to farm fields, our beautiful region has so much to offer. Read on to discover why Chicago is simply the best.
1. EVERY SEASON IN CHICAGO IS BEAUTIFUL.
Though the weather around here can be somewhat unpredictable, you can always count on the gorgeous seasons to provide a beautiful backdrop for your wedding and your photos. Summer in the city is sunny, bright and colorful, and outdoor venues and rooftop locations open up to welcome events with warmth and comfort. When the fall colors take over, the city and the suburbs ignite with oranges, reds and yellows. It's a gorgeous scene and the perfect time to enjoy a wedding in a very natural setting, like a farm or orchard.
Winter white just can't be beat when it comes to stunning wedding pictures. Imagine a ceremony in front of a fireplace and the twinkling lights of downtown Chicago glistening through the windows. Spring is full of possibilities and blossoms. It's a romantic time in the city, where everything is blooming and people are bursting to get outside. Pretty spring peonies are perfect for a wedding at a golf course or private estate.
2. YOU CAN GET MARRIED UP, DOWN, IN OR OUT.
Options abound in the Chicagoland area when it comes to venue styles, allowing you to select what fits your personality best. Imagine views from the top of a skyscraper as you say your vows or the way the lights look across the city as you dance the night away. Nothing says sophistication quite like a wedding a thousand feet in the air. On the other hand, the area also features many gorgeous rustic venues that can have your feet planted firmly on the ground. Unique farms and wineries dot the region, letting nature take center stage as you enjoy an outdoor ceremony and a personal reception.
If you're looking for something totally different, the region also offers opportunities to get married on the water. Gorgeous private yachts and charters let you enjoy Lake Michigan and other beautiful lakes nearby while you float right into married life.
3. CHICAGO IS BASICALLY THE GOLDILOCKS OF CITIES.
When your friends and family arrive in town for your wedding, it's not hard to get lost in a large city. However, you don't want them twiddling their thumbs, bored out of their minds as they try to find something to do either. In a city like Chicago, there's always something happening nearby.
Tons of restaurants, shops and museums are within walking distance of local venues. One of the city's top-notch sports teams is always playing. Each neighborhood offers its own unique flair and fashion. Encourage guests to get out and explore, or provide a fun map showing the different sites your guests may like to see. It's like a mini- vacation for your friends and family — even if they're only coming in from the suburbs.
To top it all off, there is a plethora of options when it comes to transportation. Uber and Lyft are prominent in the city, so people are never too far away for a ride. The L and the Metra are also great options, especially if a city native is helping to guide guests. If all else fails, there are tons of cabs just waiting to be hailed.
4. YOU CAN'T BEAT OUR FOOD AND DRINKS.
In the last decade, Chicago has become something of a foodie destination. With world-renowned restaurants and amazing chefs preparing unique and delectable meals, there is something for every palate. Venues and restaurants offer everything from the most exquisite and sophisticated plated meals to fun, family-style favorites to delicious small-bite options. Spice things up by selecting some of your go-to options from your favorite restaurants. It allows guests to get to know you a little better and you get to eat all your faves on your big day.
Maybe you're interested in having some fabulous fare served with a side of a fun. Have a food truck stop by your event to offer late-night tacos, barbeque or even donuts. Guests will have fun with this casual treat and will be guaranteed to remember your wedding. Chicago is also home to many amazing breweries, like Goose Island, Two Brothers and Revolution. Offer guests a taste of the local flavor with a great beer flight showcasing your favorite local brews.
5. WE HAVE HISTORY.
If you're interested in something with a little history, enjoy a timeless event in one of our famed museums or landmarks in and around the city. Friends and family will enjoy exploring as much as they enjoy the wedding. We have everything from amazing museums and beautiful views downtown to the fun zoos and botanical gardens in the suburbs. Before or after your wedding, excite guests with a wonderful architectural tour, highlighting some of the city's most famous buildings. Enjoy a walk through Millennium or Grant Park to enjoy some historical green spaces, or take in one of our celebrated art galleries.
6. IT'S EXTREMELY PICTURESQUE.
There are a million beautiful spots in Chicago for pictures — everywhere from the Honeycomb to the sign in front of the Chicago Theatre to North Avenue Beach. Talk with your photographer about the best places to visit in the city for photos to capitalize on all that this gorgeous town has to offer. No matter where you end up, you're pretty much guaranteed a beautiful skyline view and a unique backdrop. Don't forget to take a few "magic hour" shots with the famous buildings in the background. It's a moment you won't forget and a shot you'll want framed in your living room forever.
7. IT'S HOME.
Whether you were born and raised here, or you're a new friend, it's not hard to find your place in Sweet Home Chicago. This is the place where acquaintances become friends and friends become family. No city is quite as unique and amazing as Chicago, and we can't think of a better place to start your happily ever after.
---