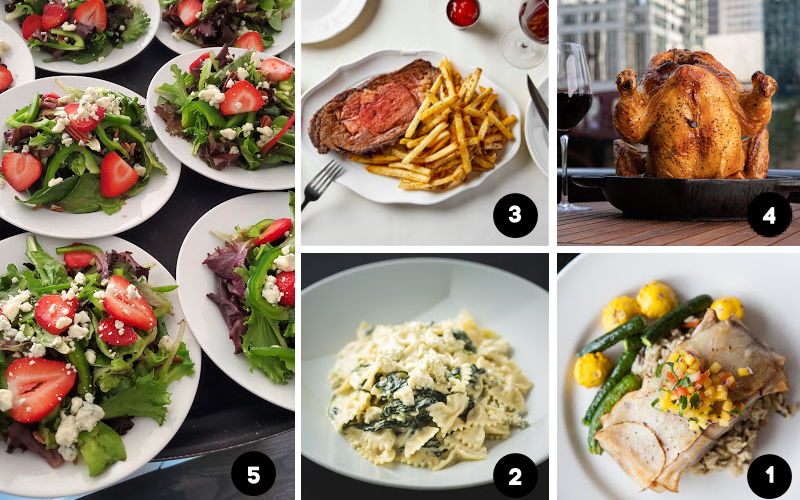 Give My Compliments to the Chef: Featured 2020-21
Chicago's culinary scene is unmatched and attracts some of the world's top chefs. By pairing a sincere passion for food with pure talent, these Chicago culinary artists are sure to elevate your wedding day meal. Not only will you be served a work of art, but your guests will also talk about the delectable meal for years to come.
Gabriel Ortega
Executive Chef, Holiday Inn Chicago Mart Plaza River North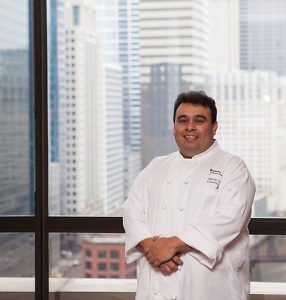 Gabriel Ortega, Holiday Inn Chicago Mart Plaza River North's executive chef, has enjoyed cooking since he was 16, first learning to cook with his mother. At 17, he began washing pots and pans at L'Escargot, eventually working his way up to becoming an executive chef at the age of 24. As he further developed his passion, Ortega moved on to The Ritz Carlton, The Drake Hotel Oakbrook and The Westin Chicago Northwest. Today, he continues to implement French-inspired ingredients and techniques into his menus. Furthermore, he enjoys volunteering his cooking talents to charities and currently teaches a culinary class in the hopes of galvanizing the next generation of great Chicago chefs.
1. Dish: The potato-wrapped salmon pairs beautifully with wild rice, roasted squash and mango relish.
---
Greg Carso
Executive Chef, The Metropolitan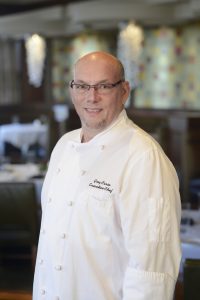 With 30 years of experience, Greg Carso, executive chef of The Metropolitan, offers a wealth of culinary knowledge. He attended Chicago's Washburne Trade School and Paris' École de Cuisine La Varenne before establishing himself at Levy Restaurants. Then he tapped into the culinary world of private clubs before settling into his current role at the bustling city club housed in the iconic Willis Tower. The Metropolitan frequently awards Carso with accolades, such as Rookie Chef of the Year, the Shining Star Award and the Super Star Award. He continues to evolve by embracing cutting-edge techniques and always indulges guests with world-class cuisine.
2. Dish: Sautéed spinach in a creamy gorgonzola alfredo sauce is dusted with smoked paprika and presented abed fresh farfalle pasta.
---
Aaron Browning
Executive Chef, Tortoise Supper Club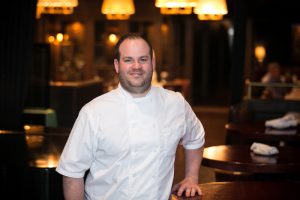 After graduating from the Kendall School of Culinary Arts, Aaron Browning worked under the famous Windy City chef Jean Joho at Everest before going on to work at Restaurant Fedora in Lyon, France, then Brasserie Jo in Chicago. In 2006, he opened Koda, a critically acclaimed French bistro on Chicago's south side. Browning then became the chef de cuisine at Tavernita before landing his current role. Under executive chef Browning's direction, the menu at Tortoise Supper Club is a timeless combination of classic and creative. You can find everything from scratch-made soups to wow-worthy steaks, chops and seafood.
3. Dish: The 16-ounce queen's cut prime rib flaunts a Northwoods dry rub, horseradish cream, rosemary au jus and frites.
---
Cedric Harden
Executive Chef, River Roast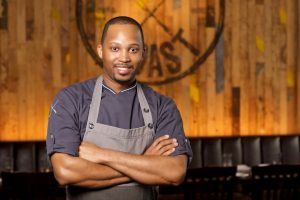 Executive chef Cedric Harden is the leading force behind the culinary program at River Roast. After studying culinary arts at Le Cordon Bleu Cooking and Hospitality Institute of Chicago, he worked his way through kitchens at Joey's Brickhouse, Le Lan, SOUL and Wolfgang Puck Catering, plus built up a seven-year tenure as sous chef at UrbanBelly, Belly Shack and BellyQ. Most recently, he served as executive chef at III Forks. Today, Harden aims to cook food that people want to talk about together while eating. With a strong focus on Midwestern comfort food, he thoughtfully creates shareable dishes that are meant to capture the love and warmth for which the region is known.
4. Dish: An applewood-smoked roast chicken dazzles the palate, alongside a heap of River Roast potatoes.
---
Silvia Leon Torres, Maya Rotman-Zaid, Nicolas Martinez
Executive Sous Chef, BellaRu Catering Owner/CEO, BellaRu Catering Executive Chef, BellaRu Catering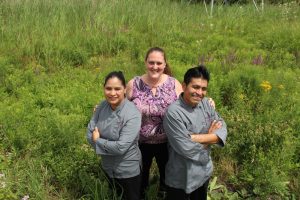 Maya Rotman-Zaid, BellaRu Catering and Mis Dos Magos owner and CEO, graduated summa cum laude from The Restaurant School and honed her skills holding many positions in the food service industry over the years. Chef Nicolas Martinez grew up in Puebla, Mexico, by his mother's stove. She taught him to forage off the land and cook with his heart. In contrast, Chef Silvia Leon Torres focused her culinary eye on traditional Mexican cuisines passed down for generations. Working as a team helps create recipes and menus from around the world — from ethnic to elegant — for BellaRu Catering and Mis Dos Magos.
5. Dish: The summer strawberry salad is a feast for the eyes and mouth with a bright array of gorgonzola, farm-fresh peppers and poppyseed vinaigrette.