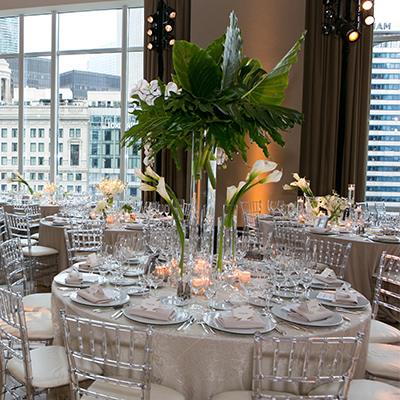 While every part of your wedding day has opportunities to be unique, wedding receptions are the place to let your personalities truly shine. Receptions give you a lot of freedom to play up your color scheme or theme. But if you are a bit intimidated by the wide world of wedding décor, you're not alone! Choosing just the right furnishings and decorations to capture the feel you want for your reception is no easy feat – but it's far from impossible. Read on to find out how to pick out the right décor to achieve the wedding reception you have been dreaming about.
Know Your Style.
If you have not decided on an aesthetic for your wedding yet, that's priority number one. Pinterest can be your friend when it comes to getting inspiration for your wedding reception, but sometimes it can also make things more difficult. It's all too easy to get lost in the bottomless abyss of wedding boards, but if no consistent style emerges in your searches it can be challenging to know just exactly how you want your reception to look.
Think of your wedding as a whole and how your photos will look all laid out in a photo album. There should be a visually pleasing consistency tying the day together. You don't want the elements of your wedding to clash, so it's important to find a theme or style and stick with it so that it flows nicely.
Remember, Pinterest is not your only source for décor inspiration. If you want your wedding reception to be infused with your and your fiancé's unique personalities, all you have to do is search for elements already present in your life. Take inventory of how the two of you decorate your home or office. Notice if there are clothing styles you absolutely love. These things can act as a springboard to finding your own personal style.
Table Matters.
There is perhaps no single element more important to a perfect reception than putting together the right table décor. Not only will the design be repeated across the entire room, it's also the element of your wedding your guests will have the most interaction with. This makes your tables one of the most important features of your wedding reception.
When it comes to table arrangements and place settings, the possibilities are nearly endless. You could keep it simple with nice floral centerpieces matching your wedding colors for a traditional look. Elevated floral centerpieces, such as tall fluted vases, are growing in popularity. Not only do they allow your guests to see each other from across their tables, but they also give an opulent and romantic look at your reception.
If you want to step it up with something that will really wow your guests, don't be afraid to get creative. Personalize your tables to help your guests feel more connected to you. For example, if you and your fiancé are movie buffs adding quotes about love from your favorite films to each place setting is a great way to show off that side of your personality. Likewise, if you are bookworms you might consider assigning each table a literary classic theme. Your imagination is the only thing holding you back.
Do not forget to design your head table – the place where you, your new spouse, and your bridal party will sit. Or, you might decide to do a sweetheart table, with just the two of you. It's where your guests' eyes will be naturally drawn to when they first arrive at your reception, so you want to make it spectacular. Consider the arrangements you are planning for the guests' tables and think grander. Again, you want to keep the consistency while still making your head table stand out. Foliage and floral table garlands draped elegantly across the length of the table are beautiful options that are growing in popularity.
Light It Up.
Choosing the right lighting is everything when creating the perfect ambiance for your wedding reception. If you don't want to rely on the lighting available at your reception venue, there are plenty of options for manipulating the lighting to achieve the feel you're going for. Festoon lighting, commonly known as string lighting, is particularly appealing to many couples wanting to give their receptions a whimsical, fairytale vibe. It provides magical accents that can be used to create a canopy effect, especially when set against a backdrop of tulle or silk. String lighting is perfect for outdoor spaces and can be draped over bushes, woven within tree branches, or strung around banisters.
For a more industrial look, Edison bulbs offer a contemporary twist on a vintage classic. They offer a cool, rustic flair that makes a perfect companion to warehouse or barn venues and their rough-hewn quality makes them great centerpieces. Hanging Edison bulbs above the head table or around the venue also creates a great accent to your décor. Lanterns are another great option to add a hint of enchantment to your wedding reception. Not only do they make gorgeous centerpieces, but they can also be hung around your venue to create a dreamy, romantic atmosphere. They are especially suited to outdoor or summertime affairs.
To create an air of excitement and variety, consider pattern projections, also called a gobo, that can dance across the walls along with your guests as the party gets underway. They don't have to be elaborate – in fact, it's probably better that they are not. Just something simple to display that will help create a romantic atmosphere. In recent years, it's been common for newlywedded couples to get their first initials or a custom monogram projected onto the dance floor.
The Extras.
So, you have figured out the theme you want. You have your tables and your lighting all squared away. Now comes all the little miscellaneous goodies that will make your guests go, "aw!". These include your gift table, guestbook display, dessert station, bar set-up, cake stand, wedding favor display, and any other elements you want to include in your reception.
A table of pictures showing the progression from childhood to your engagement of both you and your new spouse is an adorable way to tell your love story. It also gives your guests a chance to see more of your milestones while pulling at the heartstrings of Mom, Dad, and even Aunt Sally.
If you have loved ones who have passed away, you might consider reserving a place for them at your reception by giving them a table of their very own. This is a beautiful and reverent way to honor those special people who regretfully can't be with you on your special day. At this point, we probably sound like a broken record, but when planning your design, always keep your core aesthetic in mind. Remember that you want everything to come together and flow seamlessly.
The possibilities are truly endless for creating beautiful and personalized wedding receptions. While it might feel a bit overwhelming at first, just remember a little goes a long way. Don't feel like you have to go overboard with decorations. You might run the risk of it looking too busy or cluttered. A few well-placed, deliberate décor decisions can make all the difference when planning the design of your reception. As long as you are being true to the unique style of you and your fiancé, your wedding reception is bound to be a truly breathtaking affair that perfectly represents the love the two of you share.