Wedding Style & Decor Trends: Fall 2020
Alternative Altars
Weddings are no longer a one-size-fits-all event. Guests frequently look forward to the big day as a nod to the creativity and charisma of the couple, which is why many couples are opting for unique altars that showcase their personality. Beyond your traditional wedding arch is a host of options that pack a wow factor. Imagine a neon installation, an over-the-top floral sculpture or showstopping ceremony scenery that can transition into your head table backdrop.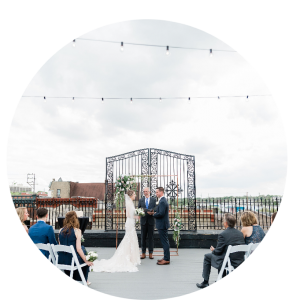 Good Things Come in Small Packages
Are you a couple that has teased each other about eloping, but could never fully commit to the idea of not celebrating with friends and family altogether? Maybe social distancing guidelines have changed your plans or you're not a fan of the big traditional wedding. Then consider celebrating your big day with the increasingly popular micro-wedding. This style of wedding typically includes up to 50 guests — frequently immediate family and close friends only. Many couples make the mistake of thinking smaller means trivial or unremarkable, but with a smaller guest count comes the freedom to focus on thoughtful décor details and other extras that have more space to impress. Your micro-wedding can be just as elegant and intricate, and full of love and tradition as you've always dreamed.
Photography by Photography by Lauryn
---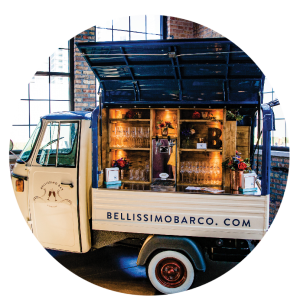 Setting the Happy Hour Wheels in Motion
Turn the traditional open bar scene on its head. Welcome friends and family to cocktail hour with a different way to get a signature drink — by bellying up to a specialty liquor cart or truck. You can simultaneously serve a goblet of bubbles, brew or booze, while adding a unique twist to your event. To add a touch of whimsy or personal flair, garnish the cart or truck with thematic wedding décor, florals or vintage glassware. Do you love the idea, but it's not the right fit for your wedding? Try it out at your wedding shower or post-wedding brunch.
Mobile Bar Bellissimo Bar Company | Photography by Juancho SC Photography
---
A Little Something Sweet
Bigger is not always better. At a time when couples are scaling back on guest lists and reimagining how food is served, that six-tier cake you always dreamed of may be a bit over the top. Why not go for a smaller one- or two-tier cake, or even individual cakes for each guest? They can be just as elaborate and decadent as a large one. If you are planning a small celebration or micro- wedding, you don't have to give up all of the traditional elements of your big day like the cake and the cake cutting, just cut the quantity.
Photograph Courtesy of Toni Patisserie & Café
---
All Things Gold Are "In" Again
Gold exudes elegance and warmth, so we're in no way surprised couples are drawn to it once again. It's emerging not only in ceremony décor, but also with wedding bands — just more proof that styles truly are cyclical. In terms of color palettes, many are opting to use a brassy gold as an accent color. It offers a little gleam to other hues, pairs well with most any color and looks gorgeous against any style. If you're not sure where to start, think about using it for any calligraphy you'll need — from invitations to seating cards. Less is more! Vintage and antique shops are great places to source an ultra-unique item like flatware and candlesticks.
Photography by Emma Belen Photography