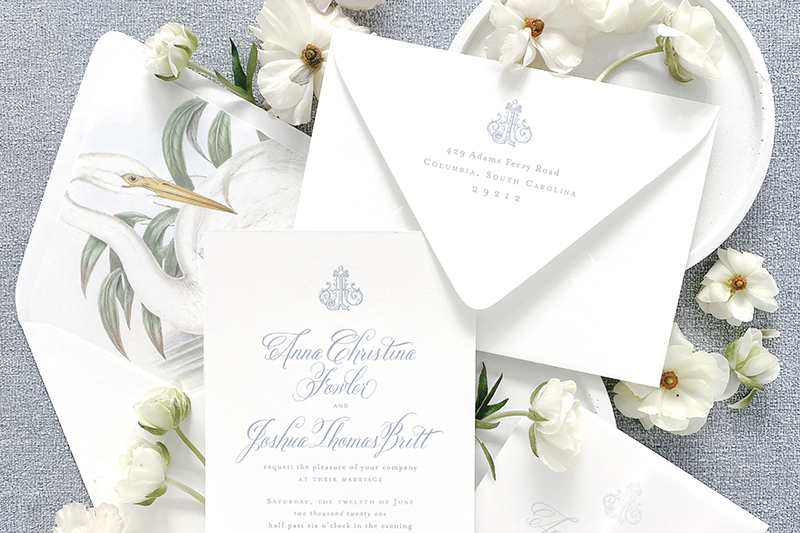 Custom Monogram and Invitation Suite: How Much Does It Cost?
PHOTO COURTESY OF EMPRESS STATIONERY
$1,075+
Monograms are a unique and timeless way to express a new union as they typically consist of two or more letters intertwining to form one symbol. What a sweet element to include on your wedding invitation!
SPECIFICS
Created exclusively for each client, monograms can include up to three letters, a crest or wreath to be used on not only the invitation suite, but also on wax seals, thank-you notes, dance floors and more.
A standard four-piece invitation suite includes:
Invitation
Envelope with return address
Response card
Response envelope with return address
Customization of the paper thickness, printing process and add-ons may increase the investment.
BREAKDOWN
100 Digitally Printed Four-Piece Suites, $875
2 Letter Custom Monogram, $200
Embellishments (wax seals, ribbon, etc.), Varies
The Designer Says:
We take so much care in giving our clients the very best in terms of design. Our semi-custom suites are uniquely typeset for each couple, letter by letter, and we work closely with our clients to ensure that their paper is everything they envision. We want each piece — from save-the-dates to invitations to programs — to tell the story of the couple. Monograms are very much a part of that story and travel well beyond the wedding day into the home! They are truly heirloom pieces, timeless in every way.

– JESSICA HINTON, OWNER & HEAD CREATIVE, EMPRESS STATIONERY