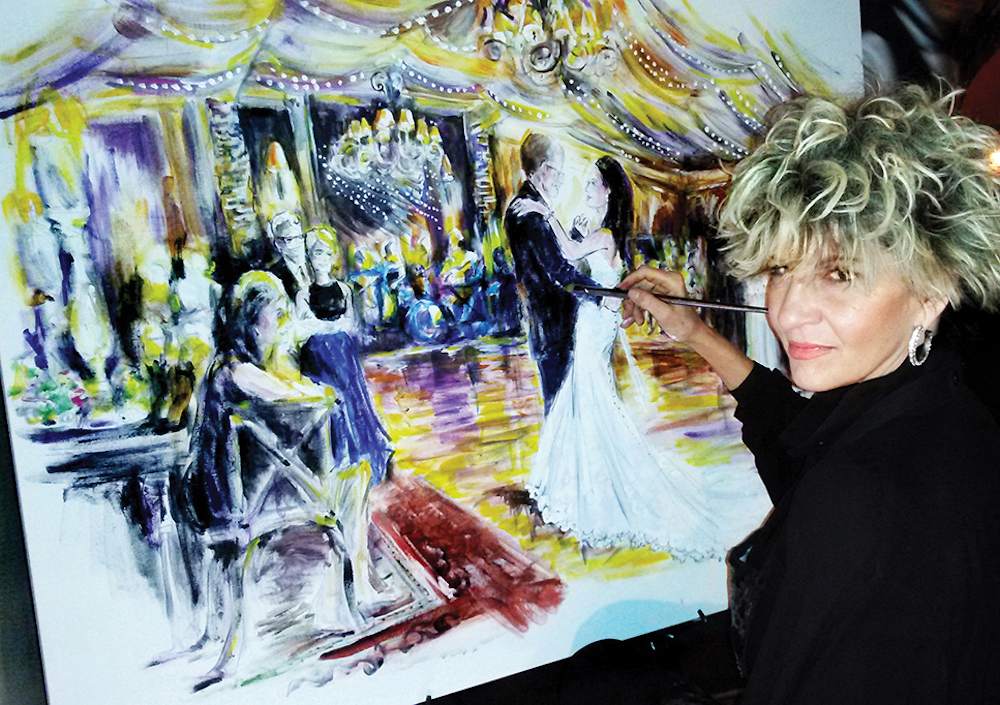 Incorporating Live Painting into Your Day
Reception entertainment, a timeless keepsake and a work of art all encapsulated in one canvas. Live wedding paintings and illustrations are growing in popularity by adding flair and uniqueness to your day.
It's fun to walk through extravagant museum halls and see portraits of important figures painted with careful detail and preserved for centuries. Most of us see the experience of a quality painted portrait as a thing of the past. But it doesn't have to be. Likely, you're already planning for an incredible photographer to capture your day. But add another layer to that by hiring a live wedding painter. Photography is documentarian, but a painting done in the moment can capture the full essence of the day.
We spoke with live event painter Rosemary Fanti to share a bit more on live painting and illustrating, and how it enhances your wedding experience. Fanti is a classically trained fine artist with extensive experience as an advertising art director and fashion illustrator. A graduate of The Fashion Institute of Technology (FIT), she worked in New York for five years before calling Chicago home and dazzling clients with her artistic talents.
What led you to a career in fashionable live art creation?
After leaving the advertising world full-time, I continued to freelance by creating custom artwork, fashion illustrations and such for a variety of clients. What started as a few requests for "wedding art," I [then] combined my talents in fine portraiture with a fashion-style look [with my] experience and ease of working "live" during advertising assignments.
What is a live wedding painting or illustration?
Live wedding painting/illustrating to me is capturing that one magical moment in time in real-time — a quick sketch on paper or a large painted canvas. The work is unique in detail to each wedding couple — their own original work of art — created during their wedding event.
What makes this service special to a wedding day?
Each live wedding painting on canvas or illustration on paper demands the perfect detail of the subject with the spontaneity of brushstroke or line. The emotion and vibe of the actual event dictate the tempo of the finished work.
How do you describe your style and work?
My work is impressionistic, strongly emphasizing the effects of light in the style of fashion illustration. Quickly applied brush strokes or lines give the painterly illusion of movement and spontaneity.
What is your setup? How much space do you need and what supplies do you bring?
When painting live, I bring the canvas, easel, all supplies, drop cloth, lighting, cords, etc. I need to be located near electricity and will require one chair from the venue. An average of six square feet is adequate to work.
Can guests watch you while you work at the event?
Yes! Guests love to watch the painting "come to life" throughout the event.
A live painting adds interest and anticipation to the guest experience, and especially to the big reveal to the wedding couple.
How much do your works typically cost?
Fees for a live wedding acrylic painting on canvas begin at $2,900. Live illustration(s) with color pencil/ ink wash on paper begin at $1,800.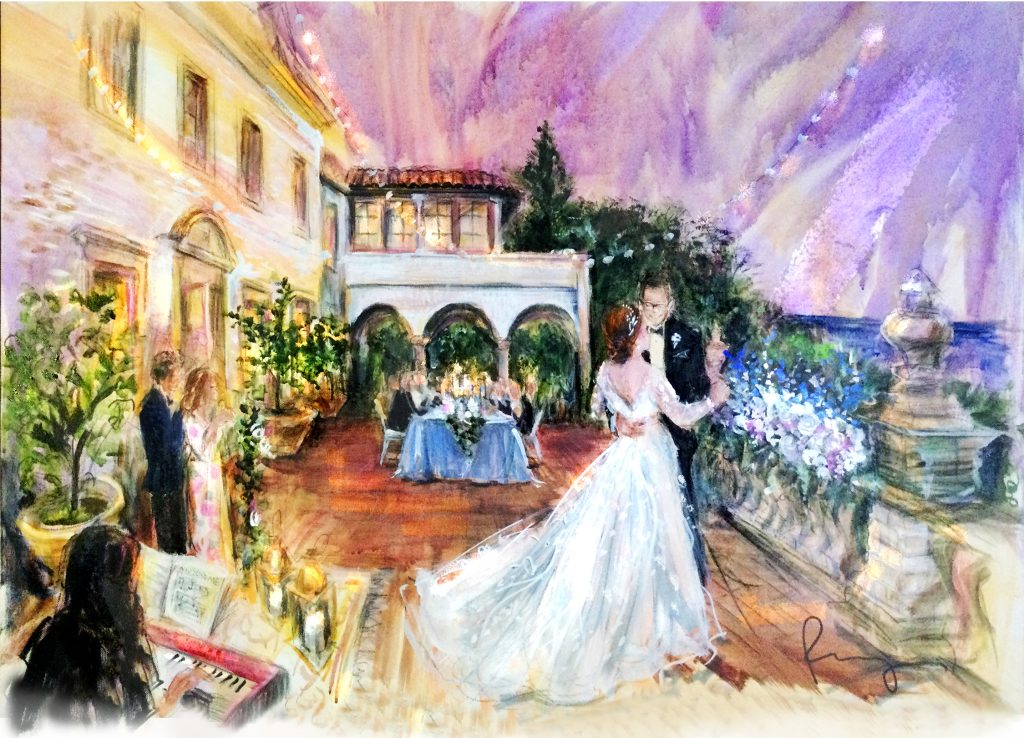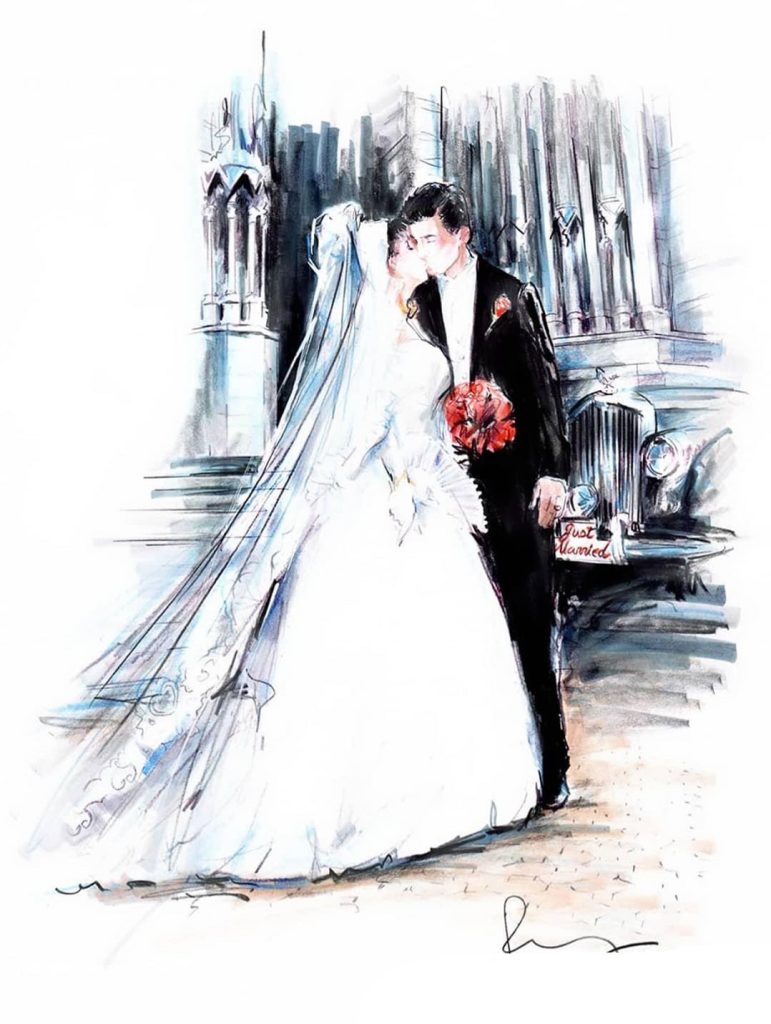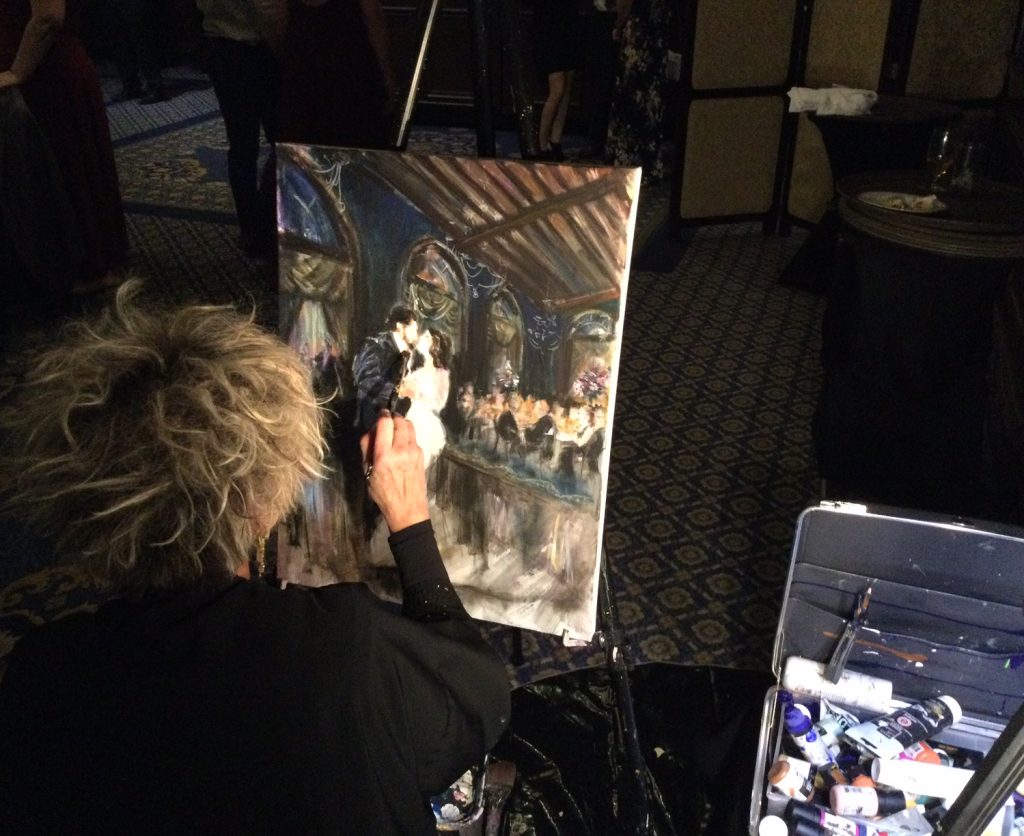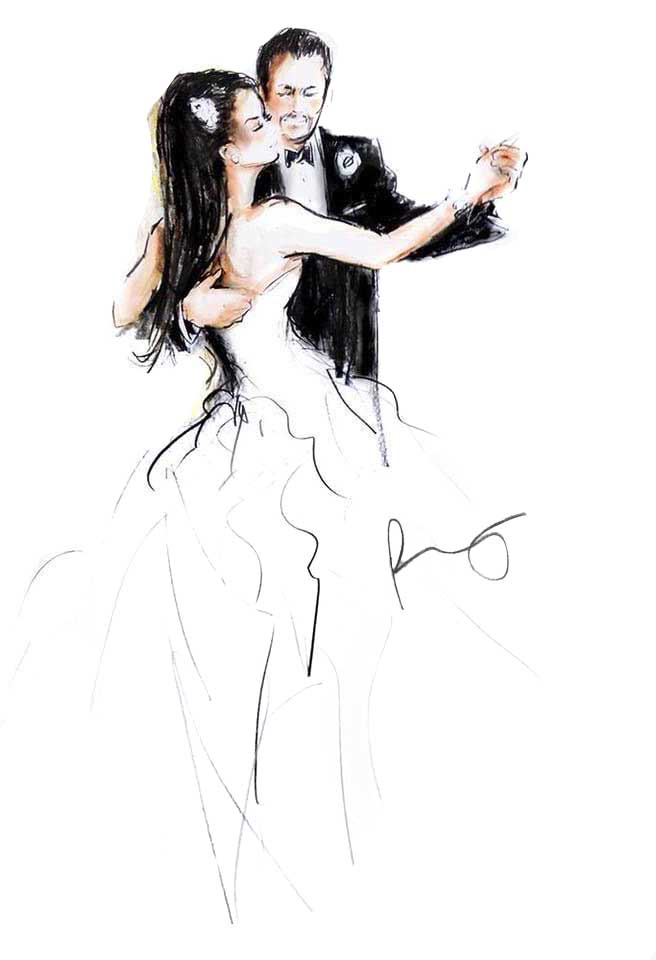 ---
Learn more about Rosemary Fanti and contact her here:
rosemaryfanti.com | [email protected] | 815.341.3340