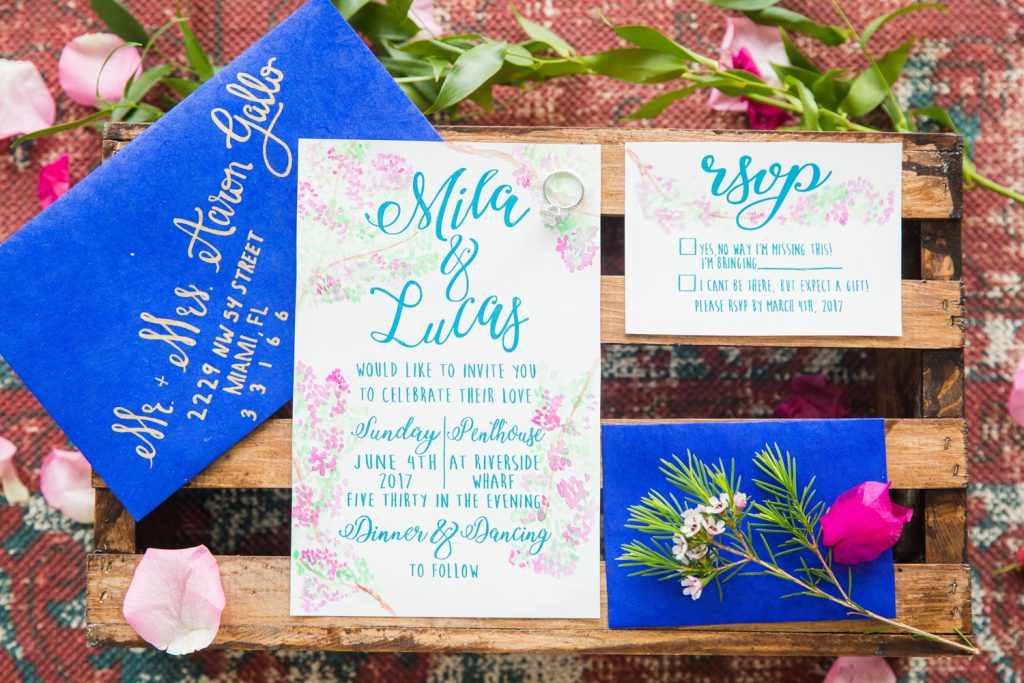 6 Gorgeous Wedding Invites with Blue Hues
We all know the saying, "something old, something new, something borrowed, something blue." If you're covering that 'something blue' with a blue color scheme for your big day, you'll want to check out these six gorgeous invitations featuring everything from a light sky blue to deep navy.
This bride opted for a subtle pop of color to be the very first impression guests had of her wedding, by using sky blue envelopes for the RSVP cards.
Navy is such a beautiful color, but too much can darken the entire mood or theme. This couple chose the perfect balance for a dramatic impact, without going too deep.
The dusty blue envelopes for these invites were the perfect counterpart to the metallic gold writing inside. And ­­–– the custom calligraphy in these invites is a work of art in itself!
The pop of sapphire blue (along with the intricate floral details) inside these wedding envelopes is absolutely stunning. It's fun yet sophisticated, without being too bold.
We can't have a blue theme round-up without featuring Tiffany blue, can we? This bride pulled all the stops for her bridal shower and used that signature shade to create a glamorous invitation suite we all can admire.
Last but not least…this bright cobalt blue is a vibrant alternative to other muted shades of blue. Perfect for a party your guests won't forget!
Need more inspiration? Browse our Real Weddings for photos, ideas and advice from real couples in the Chicago area.  Or look through our Invitation suite gallery for more invite-specific inspiration.
Find your perfect invitation & stationery match here.