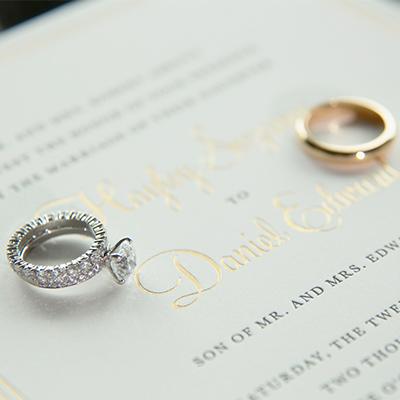 You Are Cordially Invited
The rules that accompany wedding invitation etiquette can be complex. In order to make sure you dot your i's and cross your t's, we have partnered with our experts to provide the proper do's and don'ts that go along with save-the-dates, invitations, and thank-you notes.
DO:
• Do send save-the-date cards six to eight months before your wedding. If you are planning on having a destination affair, informing your guests earlier is always appreciated so that appropriate travel arrangements can be made.
• Do send wedding invitations at least eight weeks prior to your Big Day. Eight weeks provides guests ample time to RSVP as well as time for you to receive a headcount for planning purposes.
• Do work closely with a stationer who understands your vision for not only your invitation suite, but for your wedding day as a whole. This is often referred to as 'branding' your wedding. Your invitation suite should have one cohesive look that provides guests with an idea of the look, feel, and style of your wedding. Think of your invitation as a preview for the main event. Still unsure of the look you want to achieve for your wedding day? Stationers have a portfolio of their work that can be used to gain inspiration about potential color combinations and themes.
• Do utilize proper titles when addressing guests such as Ms., Mrs., Dr., or Mr.
• Do supply guests with the appropriate postage for the RSVP cards or envelopes. This task should never be left to the recipient.
• Do take a sample invitation to your local post office to verify if additional postage is required prior to mailing out invitations. Depending on the size and weight of your invitations, additional postage might be required. The last thing you want is to come home to a mailbox full of returned wedding invitations since the appropriate postage was not initially used.
• Do order the appropriate number of invitations. Many couples find themselves having to place multiple orders due to a miscount. By planning your guest list well in advance, you will avoid accruing unnecessary costs from multiple orders being placed.
• Do provide guests with directions and information regarding the ceremony and reception locations. Include maps, lodging, and dining information, as
well as an email address or telephone number of someone that can be contacted if necessary.
• Do express gratitude to your guests and wedding vendors by sending them handwritten thank-you notes after your wedding.
DON'T:
• Don't send save-the-dates to guests unless you are certain that you will invite them to your wedding. Some venues have a maximum number of guests that can fit into their space. Confirm with your venue that their space fits your guest list prior to sending save-the-dates to avoid having to retract your invitation.
• Don't use any form of mailing labels as this leaves guests with an extremely impersonal feeling. Handwrite your envelopes or, if handwriting isn't your strongest suit, hire a calligrapher. Remember, your invitations are the first impression that guests are given of your wedding.
• Don't offer multiple response options to your guests. Providing an email response, online RSVP, and a mailing card results in confusion which can
cause extra work for couples as they try to finalize their head count. Simplify the process and provide guests with one way to respond.
• Don't be untidy. When placing the invitation suite into the envelope all elements should be on top of one another according to size with the smallest pieces in the front and the largest pieces in the back. Slide everything into the envelope with all text facing upwards so that when recipients open your invitation they will be able to read your invitation with ease.
• Don't use abbreviations on the invitation or the envelope.
• Don't email thank-you notes to your guests. Your family and friends spent the time not only picking out a gift to celebrate your Big Day, but also took
the time to celebrate with you. They deserve a handwritten note of appreciation within 12 weeks of your wedding.