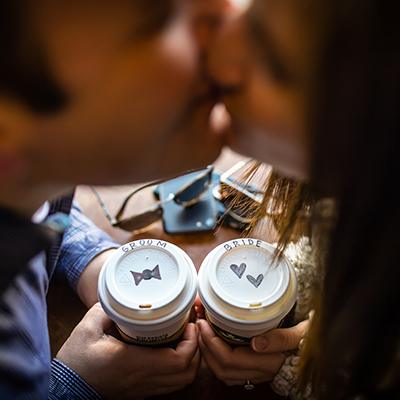 You just spent months – or longer! – planning the wedding of your dreams. You found the dress, tasted the cake, picked out the rings, and wrote and practiced your vows. You walked down that aisle like the regal wedded goddess (or god) that you are. You clinked those champagne flutes, danced that first dance, and tossed that bouquet like Kyle Hendricks at the 2016 World Series.
Then, you swapped out those dancing shoes for some comfy travel flats, grabbed your pre-packed bags, and hit the road. Whether you backpacked across Europe, ate your way through Asia, camped Sequoia, or cruised the Caribbean, I'm sure you had tons of fun, relaxation, and romance. When it came to newlywedded bliss, there is no doubt you and your brand-new spouse rocked that just-married glow from sun up to sun down.
Jet-lagged, road-weary, but happy, you have returned home, dropped your travel-worn luggage inside the front door, looked into one another's eyes, and thought…now what? That's actually a really great question – plenty of newlywed couples ask themselves once all the fuss, commotion, planning, and celebration has died down: What does come after the wedding and the honeymoon? Now that the events that have consumed so much of your relationship (and time) for so long are over, how do you get back to your everyday relationship and start building the rest of your lives together?
If building the rest of your lives together suddenly sounds like a lot of pressure, don't worry: you're not alone. When it comes to planning a wedding and honeymoon, there's a pretty clear blueprint that most couples follow, to one degree or another. But when it comes to building your very own lives? There is no one-size-fits-all plan. It turns out that the childhood song lyric, "first comes love, then comes marriage, then comes a baby in a baby carriage" is missing a whole lot of steps. Like, "open a joint checking account" and "buy a house" and "wash all the honeymoon laundry."
The good news is, unlike planning your wedding and all the other related festivities, you have more than a few hectic and tulle-filled months to plan the rest of your lives. And you definitely don't have to start planning right away. In fact, unless you absolutely have to make another major transition immediately (like moving for someone's job or actually buying that house) my best advice is to take a few weeks – even a few months – to do a whole lot of nothing at all.
If you weren't already living together before the wedding, now is the time to focus on finding your groove as newlyweds and getting familiar with all those quirks your pre-wedded selves were totally oblivious to. (Buckle up and hold on tight to your sense of humor, because chances are there will be a lot of them.) If you have already been coupled up and cohabitating for years, then just take your much-deserved time to enjoy any new feelings or dynamics that marriage might bring into the equation. Be sure to finally open those wedding gifts and write those thank-you notes, take some time for quiet dinners at home, and slowly start getting back into your regularly scheduled routines of grabbing your morning lattes, going to work, hitting the gym, hanging out with friends, and just being yourselves again.
Shortly after our own wedding, my spouse and I started a new tradition. We decide on a goal or theme each year of our marriage. Sounds cheesy, I know, but hear me out. The theme for our first year consisted of spending as much time in our bedroom as possible, sleeping! We were still exhausted from the whole "getting married" thing. Since then we have had a year dedicated to taking a different road trip each month, a year committed to taking one hike every weekend, a year dedicated to saving money, a year dedicated to getting healthier together, and a year when we focused on starting our family. Having something clear and fun to collaborate on, has definitely helped keep our relationship fresh, exciting, and centered around us achieving our goals as a team. Maybe you and your spouse have a five-year dream of buying a house, taking some time to live abroad together, paying off one of your student loans, or starting a family of your own. Figure out what small steps you can take now, in order to reach your goal(s) by your desired deadline. Don't be afraid to be flexible with your plans – after all, sometimes life just happens!
The flipside of all that teamwork is that my husband and I are also mindful of spending time (like, plenty of time) apart as well. One of the best pieces of marriage advice I've ever received was: "take vacations by yourself". My best friend and I have celebrated by having an annual girls' weekend – seriously, no boys allowed, no exceptions – every year since I got married. Both my husband and I make time to visit our families separately, at least once a year. (Hey, sometimes you just really need that mother/daughter time.) We nurture our own hobbies, have our own friends, and are honest about those times when we each need to prioritize ourselves as individuals over ourselves as a team. If you and your new spouse do need to jump into another major transition immediately post-wedding – buying a house, moving to a new city, starting a new job, taking on a recent promotion – be gentle with yourselves as you adjust to yet another life milestone together. When possible, still prioritize time to celebrate your recent union and find a way to integrate the "everyday" things you love to do into your still-hectic lives: cooking dinner together, visiting your favorite Saturday morning farmers' market, checking out the nearby coffee shops in your new neighborhood or city, hitting the gym together, or even just doing a quick check-in with each other in the evenings.
Remember, even positive life transitions such as marriage, great job, new house, and travel adventures can all add stress to the best relationships. After the emotional highs of a wedding and honeymoon, returning to regular life can feel a little underwhelming. Set aside time to communicate your feelings with one another, reconnect with your shared goals, and plan an afternoon to catch up on that Netflix queue as soon as both of you can slow things down a bit. Everything you're experiencing is totally normal – and consider reaching out to friends and fellow couples who have been exactly where you are, before. At the end of the day, you and your spouse probably got married because you already know how to best support one another: bolstering each other's spirits in times of stress, celebrating each other in times of success, leaning on one another in times of transition, and loving one another through it all.