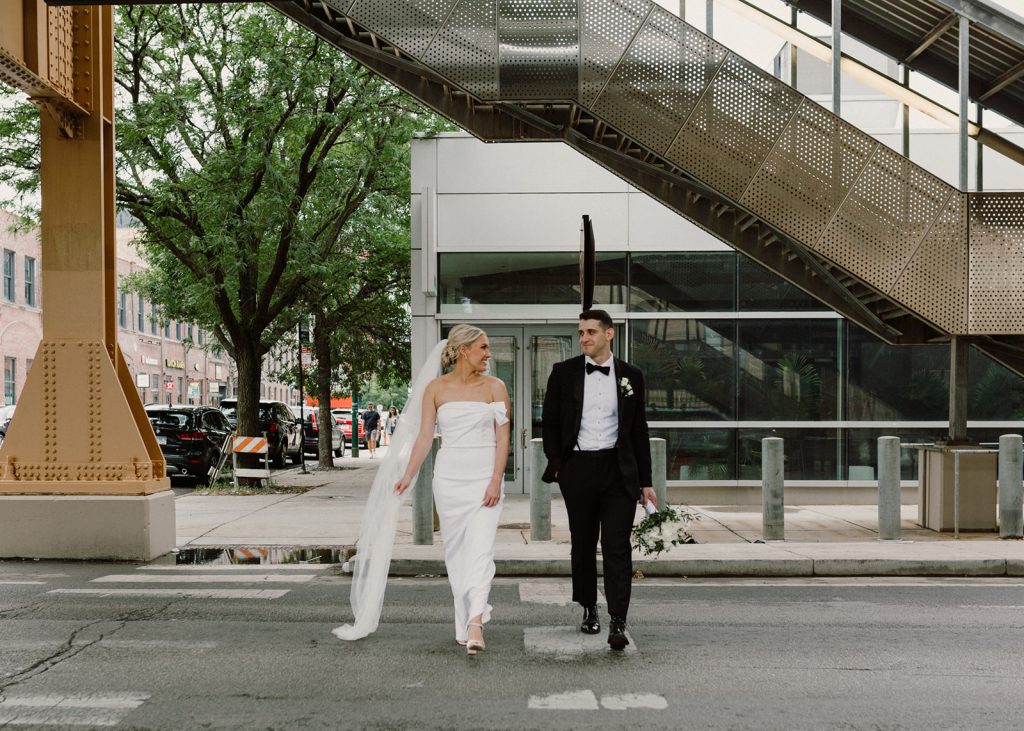 Love in the Loop: The Top Wedding Venues in Chicago's West Loop Neighborhood
Feature Photo by Nicole Donnelly Photography 
While all neighborhoods have their own allure, the West Loop neighborhood has exploded onto the scene as a favored wedding destination. The ever-expanding neighborhood is a delightful gem, brimming with charm, character and, most importantly, mesmerizing wedding venues. From industrial-chic spaces to panoramic rooftops, the West Loop has it all.
From 1850 to the late 1980s, the West Loop was Chicago's thriving meatpacking district. But as time went by, the West Loop began to change, graduating from meatpacking and evolving into the modern-day hotspot for foodies and partygoers alike. This once industrial hub has thus additionally turned into a vibrant backdrop for Chicago couples to start their forever.
Whether you're envisioning an intimate gathering or a grand affair, these West Loop venues will set the stage for your love story. Let the love-filled, West Loop venue exploration begin!
*For the purposes of this venue guide, we've grouped together in the neighborhoods of West Loop, Fulton Market, Greektown and West Town.
---
The Arbory
Location: 2219 W. Grand Ave
Type: Event Venue
Capacity (seated): 180
Capacity (cocktail): 300

Bedecked in hand-painted murals and illuminated by collection of oversize skylights The Arbory hosts a classic blend of vintage industrial and modern flair. Within this century-old lumber warehouse, exposed brick walls and timber beam ceilings exude that factory-chic vibe West Loop venues are so admired for.
Want to see more from The Arbory? 
Check out "Electric Love at The Arbory" here.
Big Delicious Planet
Location: 412 N. Wolcott Ave
Type: Restaurant, Garden
Capacity (seated): 42
Capacity (cocktail): 65


Big Delicious Planet is a verdant retreat from West Loop's industrial portion. While renowned for their eco-friendly and sustainable catering services, Big Delicious Planet's Urban Garden makes for an excellent intimate wedding venue. Locally sourced, farm-to-table cuisine served up amidst 77 lush garden beds certainly is sustainable dream come true.
Bottom Lounge
Location: 1375 W. Lake St
Type: Restaurant/Bar
Capacity (seated): 200
Capacity (cocktail): 250


Calling all live music lovers! The downstairs at Bottom Lounge is a lively bar and music venue, but upstairs is an artistic and cool private event space. The upstairs of Bottom Lounge boasts a versatile 5,000 square-feet with an adjacent 2,000 square-foot rooftop deck, bringing to life all your industrial, refurbished factory visions.   

Carnivale
Location: 702 W. Fulton Market
Type: Restaurant/Bar
Capacity (seated): 300
Capacity (cocktail): 500
A welcome departure from traditional wedding venues, Carnivale Restaurant's eight event spaces are colorful and festive. Latin-fusion dishes and craft cocktails bring a burst of flavor to events, whether the guest list is 10 or 500. Hues of hot pink, orange, lime green and royal blue, eclectic hanging art work and murals and buzzing neon signs paint a spirited backdrop for the most
ebullient
vows.
Want to see more from Carnivale? Check out "Iris & Angelique's Tropical Disco Dream" here.

The Carter
Location: 1948 W. Fulton St
Type: Event Venue
Capacity (seated): 300
Capacity (cocktail): 400

Located on the far west side of West Loop, The Carter boasts urban-chic style with whitewash exposed brick walls drenched in natural light. With a 6,200 square-foot indoor space and a 2,200 square-foot outdoor patio The Carter is beautifully versatile for any ceremony and reception dream.
City Hall
Location: 838 W. Kinzie St, East Entrance
Type: Event Venue
Capacity (seated): 300
Capacity (cocktail): 980

Opening up from Kinzie Street, City Hall Events is an expansive and lofty West Loop venue. The column-free space boasts endless options for layouts and sun from skylights accentuate the intricate iron trusses, exposed brick and gorgeous 37-foot stone bar.
For playful celebrations, check out Recess. Connected next door to City Hall Events, Recess is a fun, more casual venue option, while still maintaining the benchmarks Atomic Hospitality Group is known for.
City View Loft
Location: 324 N. Leavitt St, STE 200
Type: Event Venue
Capacity: 150


Located on the second floor, City View Loft's open concept floorplan, 13 foot timber ceilings and picturesque skyline views make for an enchanting venue experience. Sunlight fills the space during the day for a warm and welcoming ceremony, and the twinkle of the city's lights at night are the perfect urban backdrop for dinner and dancing.
City Winery Chicago
Location: 1200 W. Randolph St
Type: Restaurant/Bar
Capacity (seated): 200
Capacity (cocktail): 250


Pour a glass (or two) and indulge your senses in the warm ambiance of City Winery Chicago. Housed in a recently renovated 1923 industrial building, this urban winery, restaurant and event space offers a truly unique setting. For a special touch, City Winery Chicago even offers the option to create custom labeled wine just for your wedding!   

The Dalcy
Location: 302 N. Green St, Third Floor
Type: Event Venue
Capacity: 250

Part of Lettuce Entertain You Enterprises, The Dalcy offers a versatile, rustic-meets-elegant event space. Dark-toned flooring and ceilings and metal beams make for a moody climate, ready to be transformed with your choice of florals and decor. Thanks to Lettuce Entertain You's reputation in the hospitality industry, The Dalcy's team is experienced in managing various aspects of weddings, from planning to execution.

The Emily Hotel
Location: 311 N. Morgan St
Type: Hotel
Capacity (seated): 250
Capacity (cocktail): 300

Celebrate your love story at The Emily Hotel, a boutique hotel concept where art and nature converge. Formerly the Ace Hotel, The Emily Hotel's renovated space is supremely stylish and totally up-to-date. With a unique Artist in Residence program, the hotel celebrates local artists throughout the property, making for an exclusive and special wedding backdrop.
Epiphany Center for the Arts
Location: 201 S. Ashland Ave
Type: Event Venue
Capacity: 2,000

Epiphany Center for the Arts is a former 19th century church with breathtaking architecture and a stylishly designed modern annex. Epiphany Center for the Arts' collection of venues, Epiphany Hall, Chase House and The Sanctuary, can be reserved individually or combined depending on guest count and style preferences. The former church is listed on the National Register of Historic Places, including romantic details like Tiffany Venetian glass mosaics, sweeping arched trusses and decorative terra cotta tiles.
Want to see more from Epiphany Center for the Arts? 
Check out "Shimmering in Elegance" here.
Fairlie
Location: 339 N. Bell Ave
Type: Event Venue
Capacity (seated): 250
Capacity (cocktail): 400

Boasting contemporary architecture and elegant, industrial interior design, 
Fairlie
offers a fresh space to host ceremonies and receptions. The interior space juxtaposes warm, exposed-brick walls with raw steel and marbled concrete accents, creating a modern, yet timeless atmosphere. Furthermore, a custom-designed steel and grid staircase makes for a stunning ceremony stage or photo background. 
Want to see more from Fairlie? Check out "
A Fairlie Affair for Jill & Ashley"
 here.
The Hive on Hubbard
Location: 1843 W. Hubbard St
Type: Event Venue
Capacity (seated): 200
Capacity (cocktail): 250

Now a buzzing and reimagined event space, The Hive On Hubbard is one of Chicago's oldest commercial structures. Constructed in 1872, it was originally home to a retail furniture factory, making displays and shelving for Chicago retailers that were rebuilding after the Great Chicago Fire in 1871. After an extensive, rehabilitation/restoration, The Hive On Hubbard transformed into the thriving epicenter for celebrations, ready for your everlasting love story.  

Ignite Glass Studios
Location: 401 N. Armour St
Type: Event Venue, Garden
Capacity: 220


Truly a one-of-a-kind event space, Ignite Glass Studios is an urban oasis punctuated with artisanal colored glass. Nestled in the cityscape of the West Loop, this venue is surrounded in the warm glow of custom glass sconces, festive string lights and an artistic spirit. Opt for a rooftop fete with dramatic skyline views or gather in the raw Event Studio full of sweeping windows. To really customize the festivities, Ignite Glass Studios offers glass favors for your guests to create and take home.

Loft on Lake
Location: 1366 W. Lake St
Type: Event Venue
Capacity (seated): 150
Capacity (cocktail): 200

The quintessential loft, Loft on Lake sings as a great, intimate West Loop venue choice. The venue is complete with finished wood trim, classic chandeliers, perimeter up-lighting and cafe-bistro lights to create that sought-after ambiance. Loft on Lake offers a unique interior that can be transformed to the exact look and style you are dreaming of!
Loft Lucia
Location:
7 N. Carpenter St
Type:
 Event Venue
Capacity (seated): 
120
Capacity (cocktail): 
160
Meaning, "Loft of Light", Loft Lucia harmonizes luxurious urban vibes with warmth and brightness. This West Loop venue boasts oversized industrial windows, exposed brick and a dazzling rooftop terrace. To complete the vision, Loft Lucia even offers a large library of chic furniture and decor included in the rental rate.
Want to see more from Loft Lucia? Check out "Kristina & Eric's Intimate Industrial Wedding" here.

Moonlight Studios
Location: 1446 W. Kinzie St
Type: Event Venue
Capacity (seated): 250
Capacity (cocktail): 450
 
As a backdrop, Moonlight Studios contributes an urban yet elegant feel. This West Loop venue is a blank canvas to let imaginations run wild and design an event unique to your needs. One of the most unique features of this venue is their massive LED wall set and stage that can be customized for whatever graphics, animations or lighting best fits your wedding day. The possibilities are endless!

Morgan MFG
Location: 401 N. Morgan
Type: Event Venue
Capacity: 600 
Housed in a renovated historic building and designed with a focus on modularity, Morgan Manufacturing is an exceptional choice for weddings. Soaring ceilings, exposed concrete, glass and steel constitute the industrial elegance the West Loop neighborhood is known for. Accenting the world-class space, night-club quality sound system, monitor skylights and factory windows complete the vibe.
Morgan's on Fulton
Location:
950 W. Fulton St
Type:
 Event Venue
Capacity (seated): 
150
Capacity (cocktail): 
250
Morgan's on Fulton is a one-of-a-kind, four story event venue right in the heart of Fulton Market. The venue's industrial aesthetic pays homage to the Fulton Market's manufacturing past while modern touches look to its flourishing future. Beautifully multifunctional, the venue notably contains an industrial loft space, an underground lounge and a four-season rooftop terrace with a retractable glass enclosure.
Want to see more from Morgan's on Fulton? 
Check out "Laura & Matthew are 'Better Together'" here. 

National Hellenic Museum
Location: 333 S. Halsted St
Type: Museum
Capacity (seated): 200
Capacity (cocktail): 250
 
Located in Greektown (south of the heart of West Loop), The National Hellenic Museum boasts a minimalist design and distinctive setting for weddings. By day, the museum is dedicated to keeping alive Greek culture. But by night, the space is a gorgeous stage for weddings and special events. Soak up panoramic skyline views from the Rooftop Terrace or bathe in the whitewashed splendor of the Great Hall – all while surrounded by centuries of Hellenic legacy.
Nobu Hotel
Location:
155 N. Peoria St
Type:
 Hotel
Capacity:
 150
Experience. Explore. Create. Welcome to the renowned 
Nobu Hotel
. Ideal for intimate and exclusive affairs, Nobu Hotel's 10th floor is the ultimate wedding experience. This space offers a stylish ballroom and the ability to reserve the whole floor of suites for your guests to stay nearby and continue the celebrations. Perfect for rehearsal dinners and showers, Nobu Chicago also offers private dining rooms just above the vibrant main dining area, allowing guests to experience the energy of the restaurant while enjoying precious privacy.
Want to see more from Nobu Hotel? Check out "Bridal Editorial: Late Check-Out" here.

Ovation
Location: 2324 W. Fulton St
Type: Event Venue
Capacity (seated): 200
Capacity (cocktail): 250


A corner property along a serene, off the beaten path stretch of Fulton, Ovation offers an escape within the hustle of the West Loop. What was once an old foundry, the venue is now a versatile, industrial loft space. Notably, Ovation serves as a collaborative work space for creatives Monday through Friday and is home DJs, musicians and graphic designers. But at week's end, Ovation transitions into a carefully thought-out event space, all while the creative makers' essence is still palpable. 

The Publishing House Bed and Breakfast
Location: 108 N. May St
Type: Hotel
Capacity: 55
Capacity (accommodations): 24 guests/11 rooms

A dreamy locale for intimate and micro-celebrations, The Publishing House Bed and Breakfast is available for private bookings for wedding groups, reception dinners and getting-ready mornings. What was once the 1909-built Free Methodist Publishing House was reimagined into a charming bed and breakfast in 2017.  This space combines the warmth and hospitality of an inn with the luxurious notions of a boutique hotel, creating a perfect backdrop for wedding celebrations.   

Room 1520
Location: 1520 W. Fulton St
Type: Event Venue
Capacity (seated): 150
Capacity (cocktail): 200

Room 1520's unique loft space is everything a versatile space should be – including crystal chandeliers, a dramatic staircase, a private suite, a whitewashed vintage bar and a reception area with 17" ceilings. Need help planning your event? Room 1520 has a partnership with Urban Allure Events, who are managing partners for the venue. Urban Allure Events serve as in-house coordinators for Room 1520, making sure the events there go off without a hitch.
Salvage One
Location: 1840 W. Hubbard St
Type: Event Venue, Retail Space
Capacity (seated): 175
Capacity (cocktail): 250
 
The 60,000 square-foot vintage Chicago warehouse offers not only exposed brick, large windows, and wooden floors, but also has an eclectic mix of furniture and pieces. Salvage One operates as a retail store for unique furniture, decorative accents and architectural salvage pieces, meaning their array of merchandise (aka the decor for wedding settings) is ever-changing. No two weddings at Salvage One are alike! 

V. Collective Penthouse
Location: 833 W. Jackson
Type: Event Venue
Capacity (seated): 115
Capacity (cocktail): 250

One of the newest West Loop venues, the V. Collective Penthouse is a chic, boutique setting for weddings. The venue features an expansive Penthouse (2,400 square feet) with floor-to-ceiling glass walls for panoramic views year-round. And for the warmer seasons, the rooftop deck boasts 4,600 square feet of unobstructed views, all decorated with cabanas, pergolas, twinkling string lights and a lush meditation lawn.
Venue West
Location: 221 N. Paulina St
Type: Event Venue
Capacity (seated): 300
Capacity (cocktail): 600

Thriving in the intersection of industrial and polished, Venue West features exquisite design details like exposed brick walls, cement floors and wooden beams. Venue West also offers an extensive inventory of custom furniture, fully integrated audio and visual capabilities and in-house catering with a state-of-the-art on-site kitchen provided by J&L Catering. This open concept venue allows for a variety of set ups, making for a truly dynamic space.
Walden
Location:
2145 W. Walnut St
Type:
 Event Venue
Capacity (seated): 
275
Capacity (cocktail): 
500
Housed in a century-old building with whispers of an industrial past is Walden. This two-story, 19,000 square-foot venue is abundant with natural light and uniquely is a carbon-neutral space. The icing on the cake? Walden is the only venue in Chicago that includes full-service event planning included in their rental fee. This means that from start to finish, their team, Plum & Ivy, will coordinate and manage everything, from budget, timeline, vendors, event design, permits, transportation, day-of logistics and more.
Want to see more from Walden? Check out "Honey, I Do" here.

Wildman BT
Location:
3020 W. Carroll Ave
Type:
 Event Venue
Capacity (seated): 
400
Capacity (cocktail): 
500
Lofty. Posh. Perfect. Wildman BT is a special place for weddings. Unassuming on the outside, magnificent on the inside, this 1914 boiler and tank building was revitalized in 2020 with an updated design for the discernible modern audience. Now a striking beacon west of the hustle and bustle of West Loop's core, 
Wildman BT
 is a spacious venue filled with natural light, rare double bow-trusses and 48-foot ceiling expanses.
Want to see more from Wildman BT? Check out "Bridal Editorial: Hopelessly Devoted" here.