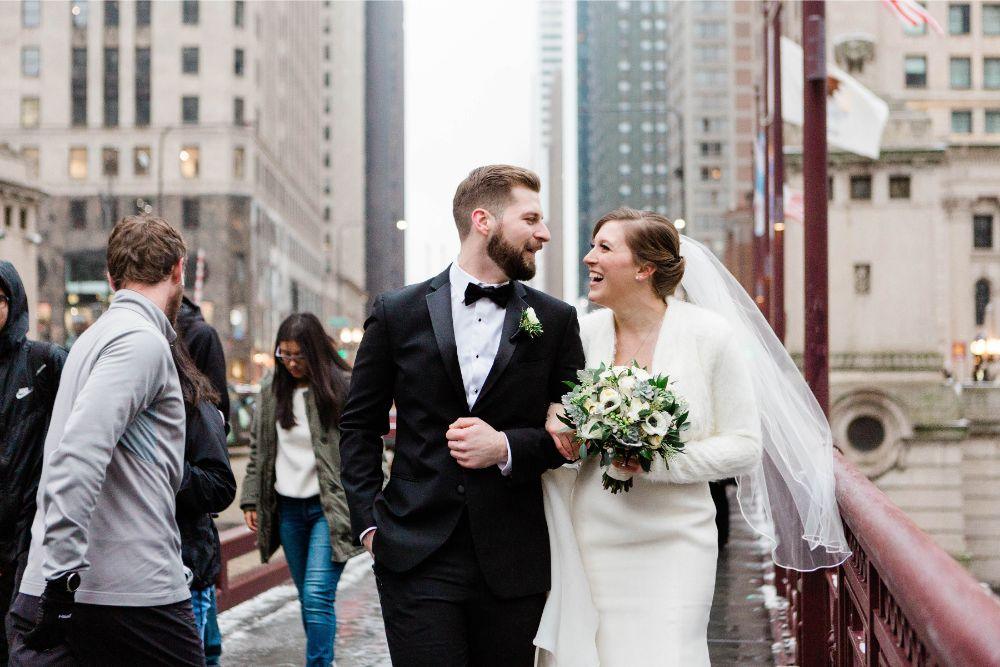 Local Love – Emily & Nick at Artifact Events Chicago
Emily and Nick's love story began with a solid friendship that lasted through high school and college. Once Emily had returned home for an internship, they realized there was more to their relationship. They began dating and have never looked back! They make each other laugh, comfort each other well, and their abiding friendship serves as foundation for a lifelong commitment.
The couple wed in a lovely ceremony and celebrated all night with their closest friends and family. Emily and Nick chose a beautiful color palette for their Big Day, with dusty blues and grey accented with greenery throughout the décor. They included sentimental details with a table full of family pictures for everyone to see as they entered the reception. "As many of our grandparents are no longer with us or able to travel, we wanted to create a spot to honor them all," Emily said. One of the most fun elements of the party was the cariacature artist the couple hired to draw pictures of the guests. Everyone loved it!
Looking back on their Big Day, Emily and Nick agreed that their favorite moment of the entire experience was privately sharing their vows before the official wedding ceremony. They wrote their own vows that were deeply personal, and wanted to share that special moment just between themselves. They also found time to be alone together by having a sweetheart table at their reception instead of a full head table. "We loved that we had the time during dinner to ourselves to enjoy and look out at all of our friends and family members who came to celebrate and support us," Emily shared.
Number of Weddings Guests: 175
Vendor List:
Venue: Artifact Events Chicago
Photography: Photography by Lauryn
Videography: Courtney Cimo Photo + Film
Pastor: Pastor John Baxter
Rings: Simon G via Bella Cosa Jewelers
Bride's Gown: Robert Bullock Bride via Glamour Closet Chicago
Bride's Shoes: Nordstrom
Hair: KS. Stylist
Makeup: Tammy Escobar of Merle Norman
Bride's Other Jewelry: Bella Cosa Jewelers
Formalwear: Formally Modern Tuxedo
Groom's Accessories: Stance Socks
Bridesmaids' Dresses: Bella Bridesmaids
Floral: Jasmine Galleria
Catering: Hearty Boys
Entertainment: Toast & Jam
Cake & Sweets: Corrie Pechan; Hearty Boys
Transportation: Absolute Dream Limo
---