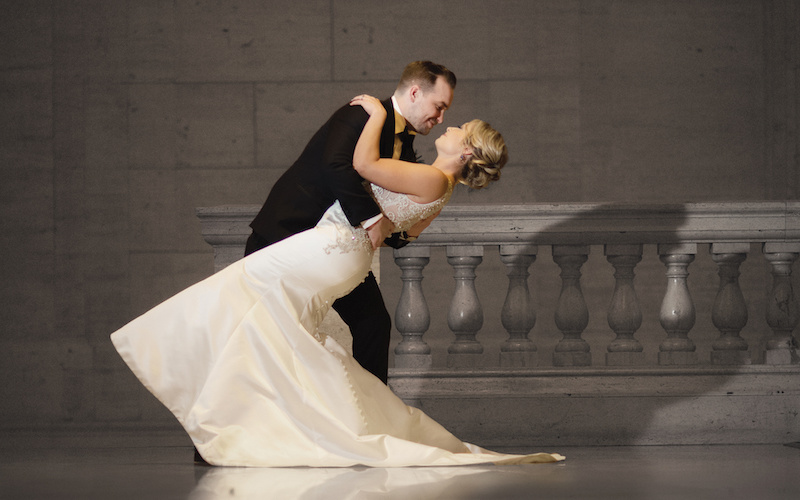 Music to Your Ears: Creating the Perfect Wedding Soundtrack
Written by Emma Sarran Webster | Photography by Jasko Omerovic Photography
Hitting the Right Note
Music has a powerful way of conveying feelings and emotions. You know that one song that comes on the radio? Yeah, that song. The one that you have to stop what you're doing to belt out the lyrics, reliving your college glory days? Well, now it's time to think about what song you want to turn on to take you back in time to your first dance with your new spouse. This significant moment, among many others, will stand out to you as you look back on your big day.
By working closely with the musicians or DJ that you have chosen, you can craft the perfect soundtrack for your special day from the prelude at the ceremony to the last dance at the reception.
PRELUDE
Think of it as welcoming music. This is the music that is played as your guests arrive to the ceremony and find their seats. You should plan for about 30 minutes of prelude music to play in the background before the first person walks down the aisle. Many couples choose selections that incorporate harmonious music,
instrumental tracks or soft acoustic songs. As you pick these melodies, remember that the prelude music will be among the first details to set the mood and tone of your big day.
WEDDING PARTY PROCESSIONAL
This processional is played when your wedding party and certain family members, like parents and grandparents, walk down the aisle. The processional music not only helps build anticipation and excitement for your entrance, but also sets the tone for the entire ceremony. A classical song like "Jesu, Joy of Man's Desiring," for example, can set the stage for a traditional Christian ceremony. If you're planning an upbeat, unconventional ceremony, you can go the route of a modern pop song to let your guests know this wedding will be a more contemporary celebration from start to finish. Of course, you can also land somewhere in the middle, picking a song that holds meaning for you and your loved ones like a mellow, contemporary ballad.
Try to make sure that whatever you pick is different enough from the prelude music (which plays when guests are filtering in) so that everyone knows it's officially time to start.
PRIMARY PROCESSIONAL
The moment the couple walks down the aisle is an immense one and music plays a big part in conveying the emotion that comes with it. A selection like "Canon in D" beautifully communicates a feeling of romance for both traditional and more contemporary ceremonies. But if you want to personalize this moment even more, you can choose a tune that holds personal significance to you, like the first song you ever danced to as a couple or one with lyrics that really speak to your relationship.
The primary processional music does not have to be different from the wedding party's processional. If there is one song that speaks to you for both, feel free to stick with it, but consider pinpointing a spot within the music (such as a big crescendo or a key change) that adds an extra "oomph" to your entrance. If you use a song with lyrics, make sure you closely review what they are ahead of time. Plenty of breakup songs are set to beautiful melodies, and that's not exactly something you want playing at your wedding.
RECESSIONAL
The recessional song, which begins when you and your new spouse walk back down the aisle, tends to be more celebratory and upbeat than the processionals. It's the score behind the first steps you will take as a newly married couple and it begins the transition from your ceremony to your reception. Mendelssohn's "Wedding March" is one of the most traditional tunes for this occasion as it imparts the importance of the moment with powerful beats.
There are plenty of other directions you can take depending on your personalities and the style of your wedding, though. For example, The Beatles' "Here Comes the Sun" is a less emphatic, but equally joyful tune, and American Authors' "Best Day of My Life" is perfect for the couple who loves a contemporary twist.
RECEPTION ENTRANCE
Your first official introduction to your guests as a newly married couple is during your recessional, but your entrance to the reception heralds the true start of the celebration. The music that plays when you and your new spouse walk into the room, and join your waiting guests sets the mood for the rest of the reception. For the rest of the night, your guests will take their cues from you, so if you are sending a message that says, "Let's party and have fun!" they will heed it and join right in.
FIRST DANCE
Of all the musical moments throughout your wedding day, your first dance is perhaps the one that most clearly conveys who you are as a couple. All eyes will be on you, and while your dance moves play a part in showing your guests
your style, it's the music that you are dancing to that really sends the message. An upbeat '90s classic, for example, can symbolize your quirkiness and lightheartedness, while an emotional ballad may represent your enduring love through good times and bad. Of course, choosing an upbeat song doesn't mean you don't have enduring love and vice versa. If you are having trouble deciding on a song, consider the overall vibe of your wedding and which of your top choices may fit that best.
FINAL SONG
After many emotional and joyful hours, your wedding day will finally come to a close. Just as the first song sets the tone for the reception, the last song punctuates that feeling upon your exit. It's the last thing your guests will hear (and dance to!) before they leave. They may carry the feeling of that song with them as one of the strongest memories of your entire reception.
As with the other song selections, consider your personalities and the overall wedding vibe. You can choose to end the night on a romantic note with a sentimental ballad, such as "At Last" by Etta James, to represent your love. Or, you can conclude on a celebratory note with a high-energy song, such as "Shout" by The Isley Brothers, to get everyone on the dance floor one last time, or you can have the best of both worlds with a cheeky classic, such as "(I've Had) The Time of My Life" by Bill Medley and Jennifer Warnes. Have fun with this one — pick something that will send you and your guests off smiling.
---
Browse Chicago area bands, DJs and music entertainment here.