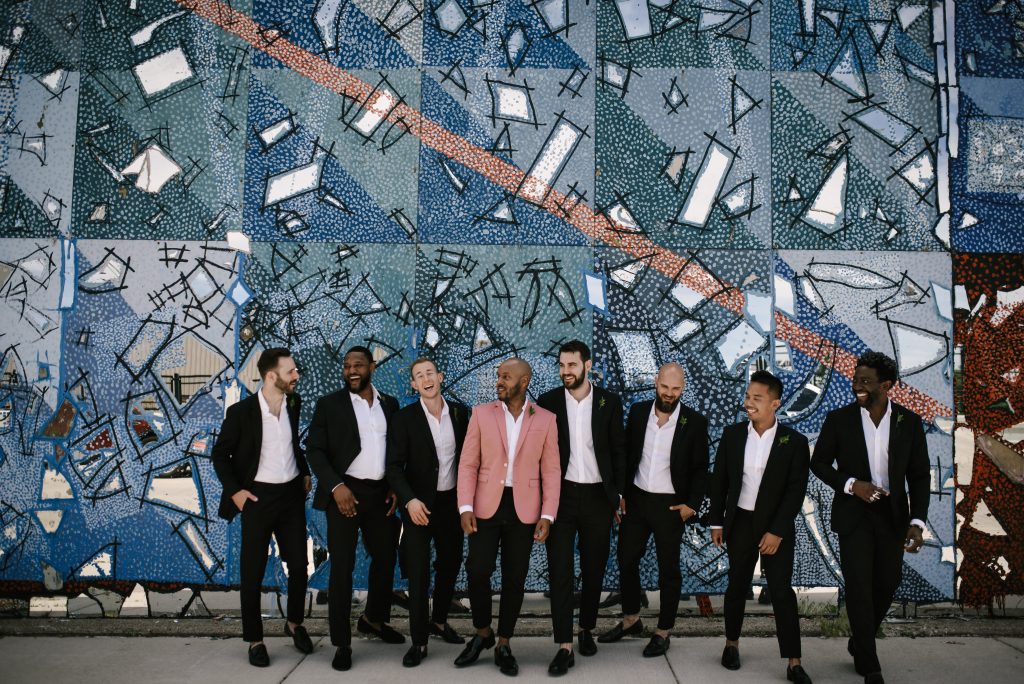 Vendor Viewpoint: The Groomsman Suit
Jeanne Foley and Diana Ganz, co-founders of The Groomsman Suit, popped by the blog to share insight and tips for looking your best on your wedding day in something that suits you. All photos courtesy of The Groomsman Suit
When should a couple start looking for their formalwear?
We typically recommend a couple start looking into formalwear for their group 6 months in advance of the wedding date but there are a few variables to consider.
If a couple already knows the theme and style they want for suiting, ordering from us is fast and easy. Our online group coordination tool allows couples to set up a group and select a look within minutes and launch customized emails to their group with links to order. We take care of managing the group from there!
We ship within 24 to 48 hours from orders being paced and ship any needed exchanges before we get the original items back. While we are fantastic with last minute planning, we do typically recommend ordering at least 4 weeks prior to the event.
If a couple is unsure of the overall styling/look, they may want to start looking into options sooner. We offer free fabric swatches and a free home try-on for couples that want to compare options and see colors in person before setting up a group.
The great part is, we offer the flexibility of planning as early as the couple would like and can typically offer last minute services like overnight shipping for those wedding emergencies.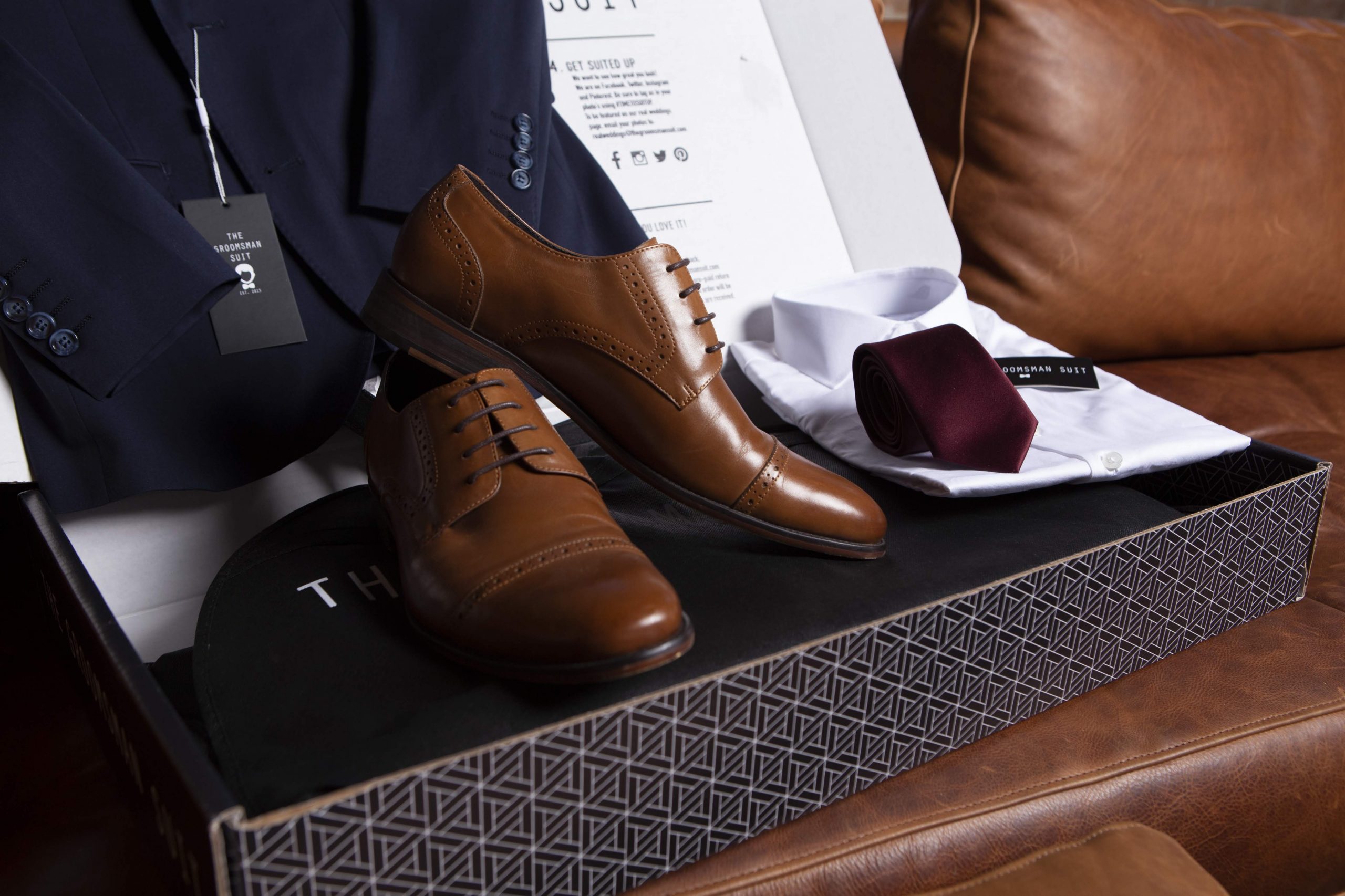 How are you different from other suit providers?
Our biggest difference is that we are not a rental when most affordable suiting options for weddings are. For under $200 you and your wedding group can each own a brand new, great fitting suit that you can actually keep and wear again.
Price aside, our suits are direct from the manufacturer, so we have cut out a lot of the "middleman" mark-up that traditional suiting retailers have. This allows us to provide a high-quality suit, at a fraction of the price.
We also offer one of the largest size ranges of any suiting brand and sell our suits as separates to allow our customers to select the options that fit their style and body type. This limits the amount of alterations that are required to get a like-custom fit.
We recognized early on that not every person is a groomsman, so we launched our women's collection to make sure anyone wanting to get suited up for a special event, could find the perfect fit with us.  Our reviews speak for themselves as we offer award winning customer service and tools that make getting suited up for weddings fun and easy.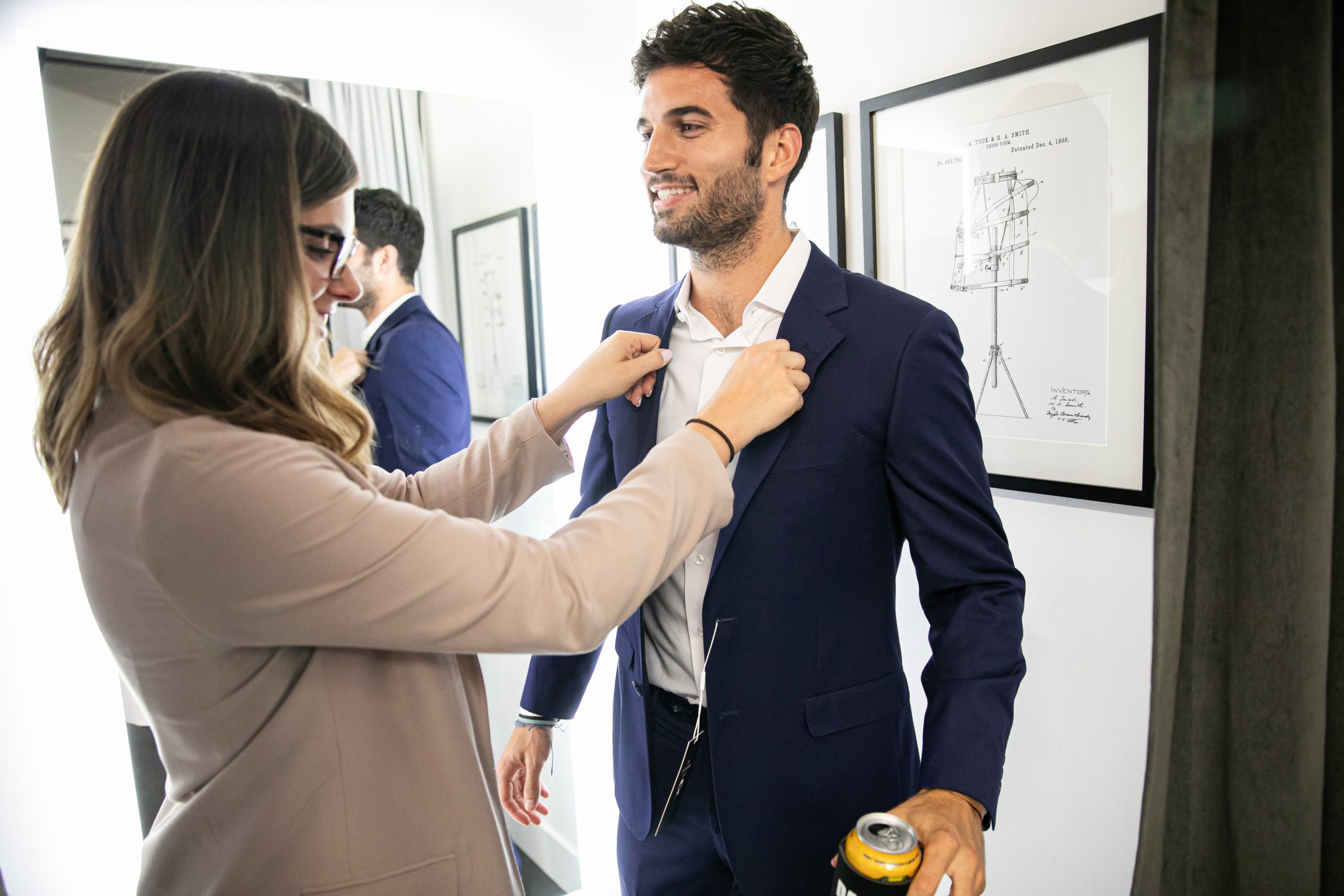 How will I know what size to get and if the suit fits correctly?
We have an amazing online fit finder that anyone can use to get a size recommendation without needing to take a single measurement. We work with the world's leader in body scan/data technology to be able to predict what suit size a customer is, with over 80% accuracy!  Of course, if any items received do not fit as expected, we offer free and fast exchanges until we nail it.  If you just have no idea if your suit fit is the best it can be, check out this helpful blog post to learn what to consider when trying on your suit.
We also have 3 showroom locations; Chicago, Denver & Philadelphia. For anyone near a showroom location, we offer free fitting and styling appointments. If you do not live in one of those locations and want a little more personalized fitting advice, we offer virtual appointments with our stylists and can talk through fit and any other questions a customer might have.
What wedding trend are you currently obsessing over?
We are loving the shift from neutrals to bold colors, patterns and textures. So far this is a trend that the bride or groom are embracing, while keeping their wedding party attire more classic. We love when the couple finds a way to make sure their suiting look stands out and feels special. Couples can do this through the use of adding a vest, a different tie or bowtie or simple accessories like novelty cufflinks (check these out) or an artistically folded pocket square.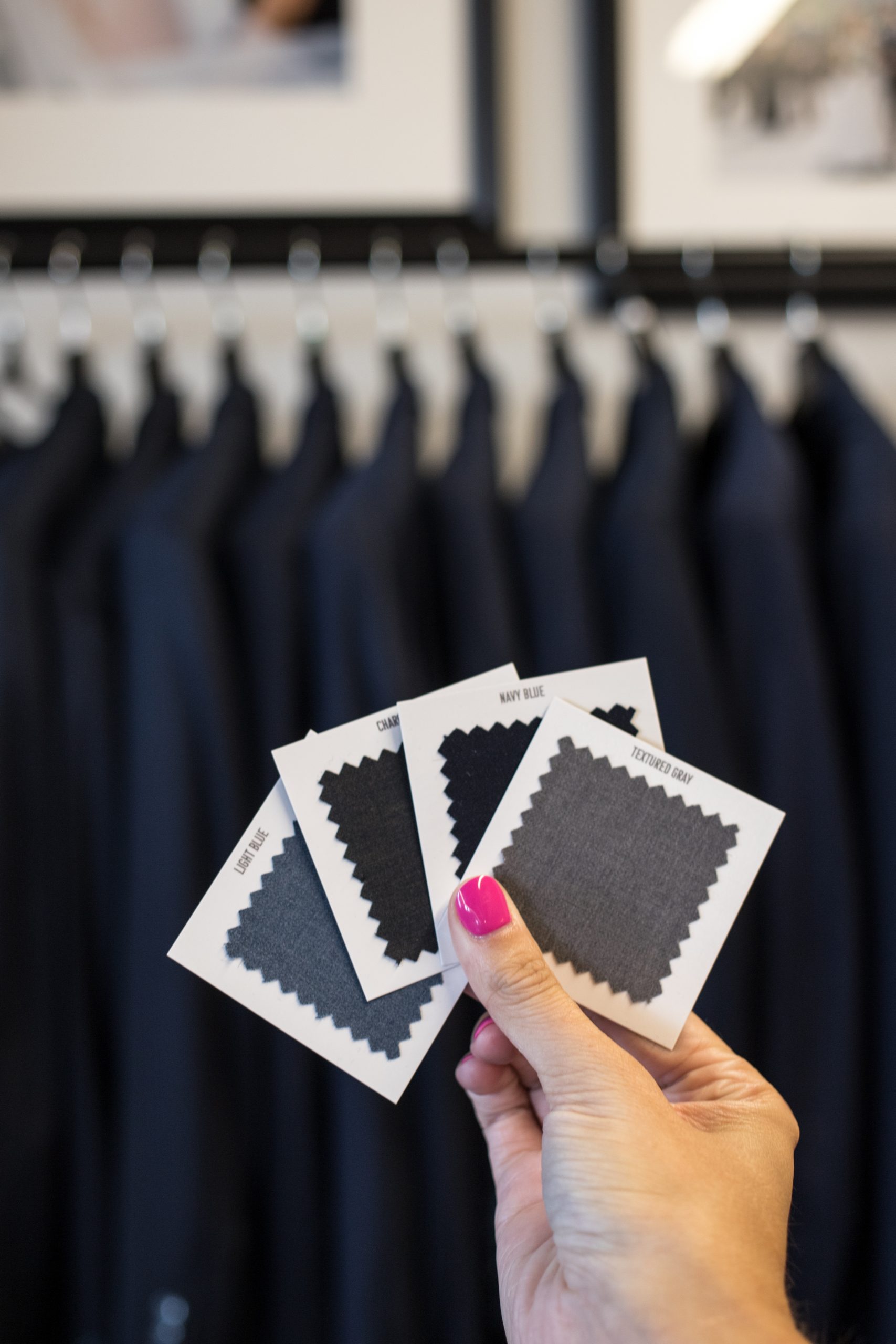 Do you offer tailoring? How long does it take?
Because we offer such a vast size range, the only alteration that should be needed is a simple pant hem. We do not currently offer alterations/tailoring but will happily assist in finding a referral near you. Typically, a pant hem can be done same day at most dry cleaners but it's always safe to plan for 24-48 hours so that you don't have to pay a rush fee. The pant hem is important to create the really tailored look and it can also be a style preference depending on the look you are going for. We provide a great hang tag on all of our pants to show the recommended visual and share with the tailor when getting them hemmed to take the guess work out of it. We always recommend a clean hem with "no break" to achieve that wedding ready finish.
What advice would you give a recently engaged couple?
Try to have fun with the planning and don't stress! We love when couples find us because we know we are going to be able to take some of the stress of planning a wedding off of their plate. Once a group registers with us, the couple can count on us to make sure everyone will show up looking sharp in the curated look that they have selected for their big day. We know how much effort it takes to plan a wedding and want to make sure that every couple we work with knows they can rely on us for a stress-free suiting up experience!

Any tips for the day-of to make sure the suits look sharp in photos?
The pant hem is #1, if pants are hemmed too short or too long, it's very noticeable, so we always recommend making sure you take the time to visit a tailor near you to get the perfect hem before the big day. Put your phone in your jacket pocket, not your pants or better yet, have a friend or family member hang onto it for you while you get pictures taken.
Remember to leave the bottom button of the jacket open, only button the top!  It's a funny tradition dating back to King Edward VI. Long story short, he liked to eat (a lot) and eventually could not button the bottom button of his waistcoat. Out of respect, and solidarity, the rest of the British court and later all of England followed suit and made it a fashion tradition that we still follow today!  Regardless, when only one button is buttoned it prevents bunching and can help the jacket drape smoothly and look crisp in pics.
Boutonniere placement is also a key element to getting the perfect wedding pics. It's also one of the most common mistakes that are made, and we get it, after all how frequently do you wear a boutonniere? To help, we wrote these tips to make sure every group gets the placement just right!
---
Getting everyone suited up has never been easier. The Groomsman Suit is not a rental company, just a company with great fitting suits you get to keep for the same price or less than a typical tuxedo rental. No hidden costs, no extra fees. Click here to learn more about outfitting your crew with TGS.