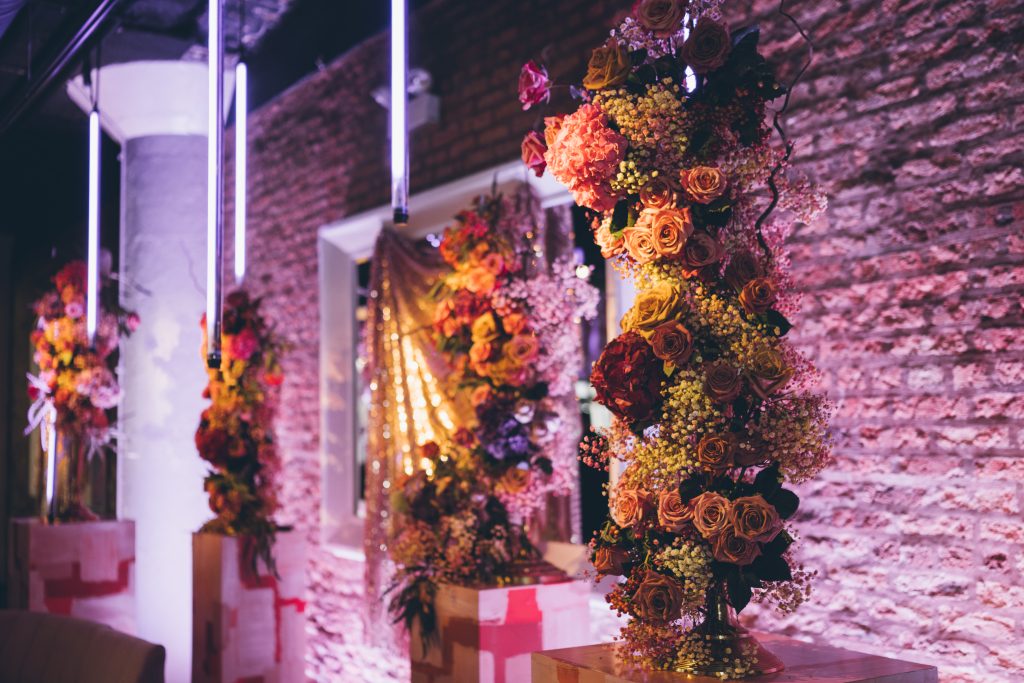 Chicago Style Weddings Summer 2022 Issue Release Party
Our summer 2022 issue of Chicago Style Weddings is out now, so of course we had to celebrate with a release party! With over 300 wedding industry professionals, real Chicago newlyweds, and friends of the magazine in attendance, the evening was a real blast!
Hosted at River Roast, our guests enjoyed an evening of socializing, good eats and music – all overlooking the Chicago Riverwalk. Event design by 1440 Event Design and floral and decor by Maison du Prince made the already beautiful venue right on theme. Continuing our coral and shimmering theme, custom wraps on the DJ booth, bars and accent tables featured patterns from Lola Valentina. The linens throughout echoed the same Lola Valentina custom patterns: Coral Gridded, Coral Brushstrokes and Coral Anne's Lace.
Upon entry, acustom signage from Nerissa B Modern Calligraphy welcomed and guided attendees. Then, they were served with flutes of  Gemma Di Luna Prosecco to get the festivities started. And you can't have delicious bubbly without a salty counterpart, as provided by B's Gourmet Nuts!
Throughout the night, guests were entertained with music from H.Y.P.E. Productions, Inc.'s New Groove and DJ Chris England. Beyond music, more entertainment came in the form of Cocktail Claw, an adult twist on the timeless claw machine arcade game. Imagine a claw machine, but instead of stuffed plushies, you play for boozy shooters!
Equally as fun and engaging, MK Event Photo brought along their BugBooth. This vintage photo booth combined the body of a 100+ year old 8×10 field camera with digitized, modern tech allowing guests to print and save their photos immediately.
And what release party is complete without plenty of delicious treats? River Roast provided passed hors d'oeuvres and delectable table displays of their offerings. Both ECBG Cake Studio and Bittersweet Pastry Shop satisfied our sweet tooth with cake displays and samplings. And Coffey Cakes by Lisa's Boutique Catering were the perfect take-home treat to end the night.
See the gallery below to see highlights of the evening, as captured by Zach Caddy Photography. And also be sure to check out the party highlights in video form below, shot by Hypervisions Photography on behalf of Phillip Christopher Filmmaker & Photographer. 
Thank you to our sponsors:
Photography: Zach Caddy Photography
Venue & Catering: River Roast
Design: 1440 Event Design
Floral & Decor: Maison du Prince
Linens: Lola Valentina
Entertainment: H.Y.P.E. Productions, Inc.
Signage: Nerissa B Modern Calligraphy
Cake: ECBG Cake Studio, Bittersweet Pastry Shop
Coffee Cakes: Coffey Cakes by Lisa's Boutique Catering
Gourmet Nuts: B's Gourmet Nuts
Cocktail Claw: Cocktail Claw
Prosecco Wall: Gemma Di Luna
Photo booth: MK Event Photo's Bugbooth
Event Videography: Hypervisions Photography for Phillip Christopher Filmmaker & Photographer
Chicago Style Weddings Team Hair & Makeup: Bella Bridal Beauty