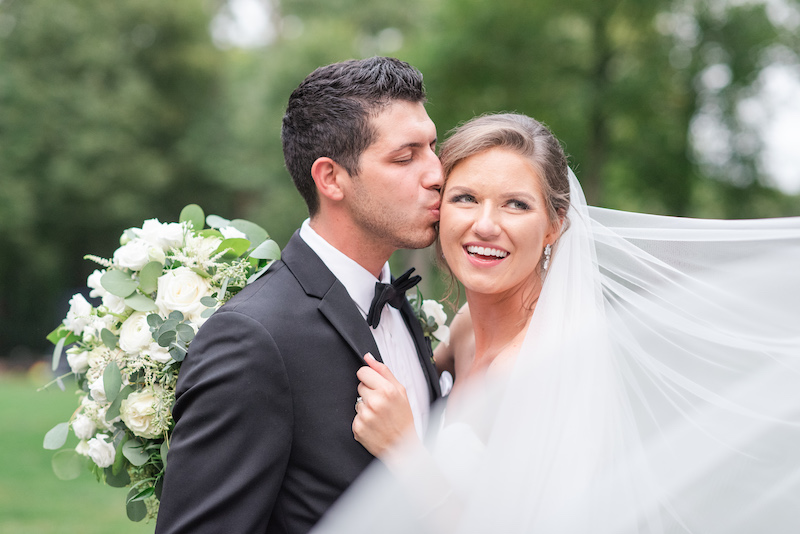 5 Tips for Making the Most of Your Wedding Photos
Written by Micaela Fischer | Photography by Marc & Mindy
With your life so consumed by the insanity of planning a wedding, it may be hard to believe that your big day will eventually come and go. When the dust of your wedding finally settles, you will be left with photos filled with precious memories and magical moments to reminisce about for years to come. So, don't let them succumb to collecting digital dust on your computer. How can you get the most mileage out of your gorgeous images? Well, from the perfectly crafted photo album to the personalized gifts for the special people in your life, there are plenty of ways to make use of your wedding photos.
CRAFTING THE PERFECT ALBUM.
Although digital images take center stage in our high-tech world, the joy of holding a physical photo album can never be replaced. It's a beloved, traditional heirloom to be passed down by your family for generations to come that will never go out of style. But no pressure, right? Out of hundreds of photos, somehow you will have to narrow it down to just your favorites. Your wedding album will only have so much room. We can already hear your sighs of protest: but they're all my favorites! Not to worry, here are some general rules of thumb to guide you through this tough decision.
LET YOUR ALBUM TELL A STORY.
More than just a collection of your favorite images, the photos in your wedding album should weave together a narrative of the day. This means the layout of the album should follow some sort of logical organization. The easiest choice is for your album to be chronological, but that doesn't have to be the case. With your spouse, decide on all the important hallmarks of your wedding that you want highlighted in your album. On that list, you'll definitely want to include all your big "firsts". Think: first-look, first-kiss, first-dance. Don't forget to include all of the sentimental details you spent hours planning, such as your grandmother's locket you wore for your "something borrowed" or the custom signs you had made for your signature cocktails. Along with your significant milestones, you will also want images of your full wedding party and fun dancing shots of your guests to tie everything together.
YOUR HEART WILL LEAD THE WAY.
When it comes time to choose the pictures, go for the emotional impact. Pick the photos you think accurately capture how you both felt that day. That way, each time you flip through your album, it will be like reliving those moments all over again. Don't think that you and your spouse have to be the focal points of every picture, either. It's true that your wedding album is an anthology of your love story, but if your photographer captured the sweetest smile of your flower girl, or caught your mom in a tender, tearful moment, don't hesitate to put those precious snapshots in your album. Those are the memories you'll never regret preserving.
TIME TO GET TECHNICAL
Once you finally trim your photos down to a reasonable number, pat yourself on the back because you deserve it. But hang tight, you are not out of the woods quite yet. It's time to think about your album layout and design. Albums are not what they used to be. Unlike your parent's wedding album where images were either printed and placed between the the page and a plastic protector or stuck in a book with photo corners, album pages are now designed and printed.
Couples have been favoring sleek and simple designs for a clean, minimalist look. This is a great choice because it allows your pictures to speak for themselves without unnecessary text and embellishments cluttering the pages. If you opt for something more stylized, consider that certain designs, fonts, or borders might look dated several years from now. Sticking with simple layouts will give your album a classic, timeless look.
PICK YOUR BINDING AND MATERIAL
The sky is the limit with the types of paper, bindings and covers available for your photo album. Leather or canvas are great choices for covers that draw on time-honored binding techniques to give a classic look to your album. But many couples also go for photo-covers with one of their favorite pictures covering the surface area of the front, back and spine.
Lay-flat pages allow images to extend seamlessly across a two- page spread — lending a dramatic, panoramic effect to wedding albums. Flush-mount wedding albums with thick, sturdy pages mounted on cardboard are also a popular option.
DO SOME FIELDWORK
To get your creative juices flowing, turn to other wedding albums for inspiration. Ask your married friends and relatives to see their albums to get an idea of how you might want your album to look. Pinterest is also a treasure trove of inspiration. This may feel like cheating, but it is the best way to get an idea for what you like without fully committing.
If you're still unsure, you can always ask your wedding photographer for their recommendations about building your photo album. As the expert, he or she can make sure that the layout of your photos flows seamlessly from one page to the next. Many photographers even offer packages to create the album for you. This is a great option if you're feeling overwhelemed or don't know where to start.
ALBUMS MAKE GREAT GIFTS
While you will obviously want to create a larger album for yourselves, you may consider creating smaller, more customized albums to give as gifts. Maybe surprise your bridal party with a nostalgic memento or a brag book for your parents to display proudly on their coffee table.
The people who played a special part in your wedding day deserve a little something extra and they are sure to appreciate the thoughtful gift.
DECIDING WHAT GETS FRAMED.
Along with building your stunning wedding album, you're probably stressing over which pictures you want to be framed. This task may be even harder because you'll have to narrow your favorites down even further (unless you give in to the temptation of covering every square inch of your house with your wedding pictures). At the same time, getting pictures framed can give you a surprising amount of freedom, particularly when it comes to giving them as gifts.
IF YOU LIKE IT, PUT A FRAME ON IT
So, what goes in a frame? The heart- melters; the tear-jerkers; and above all, the memory-makers. If the picture puts a lump in your throat, you know you have a winner. Unlike your album, these pictures will be on full display in your house every day. They're the images that will adorn your walls, your bedside table, living room, you name it. Ideally, you want to choose the pictures that make you remember how in love you were on your wedding day. Many photographers are glad to help with this process as well. By sending a photo of your wall, the photographer can mock up your choices so you can see exactly how they will look.
PAY HOMAGE TO YOUR LOVED ONES
Along with romantic pictures of you and your new spouse, you might consider allotting one or two frames for your maid of honor and best man. These are the real MVPs in your life, and just as you reserved a special place for them at your wedding, they deserve a spot immortalized next to you on the mantle. Having framed pictures of elderly grandparents and young children is also a great idea. Those memories will become so much more precious as time goes by!
SEEING DOUBLE
As you choose which pictures to get framed, you might notice that some of them also appear in your wedding album. Don't sweat the duplicates. Some overlap is totally fine — encouraged, even! You'll probably end up wanting multiple copies of your favorite pictures anyway.
SMALL GESTURES GO A LONG WAY.
Framed wedding photographs make simple, yet impactful gifts for your far away friends and family. It's a nice gesture, especially for those few who missed out on your wedding day for one reason or another (hey, life happens). And with more guests not able to attend due to COVID restrictions, they will be thrilled to receive a keepsake from your special day. It will let them enjoy a small taste of the magic they missed.
Although digital images make sharing wedding photos with family and friends extraordinarily convenient, there are plenty of other ways you can use your pictures. Hard-copy albums and printed photographs carry a special sentimental weight that digital just can't compete with. No matter what design choices you make or who you gift your photos to, they embody the happiest moments of your life and should reflect exactly how you felt on the day you said "I do".
---