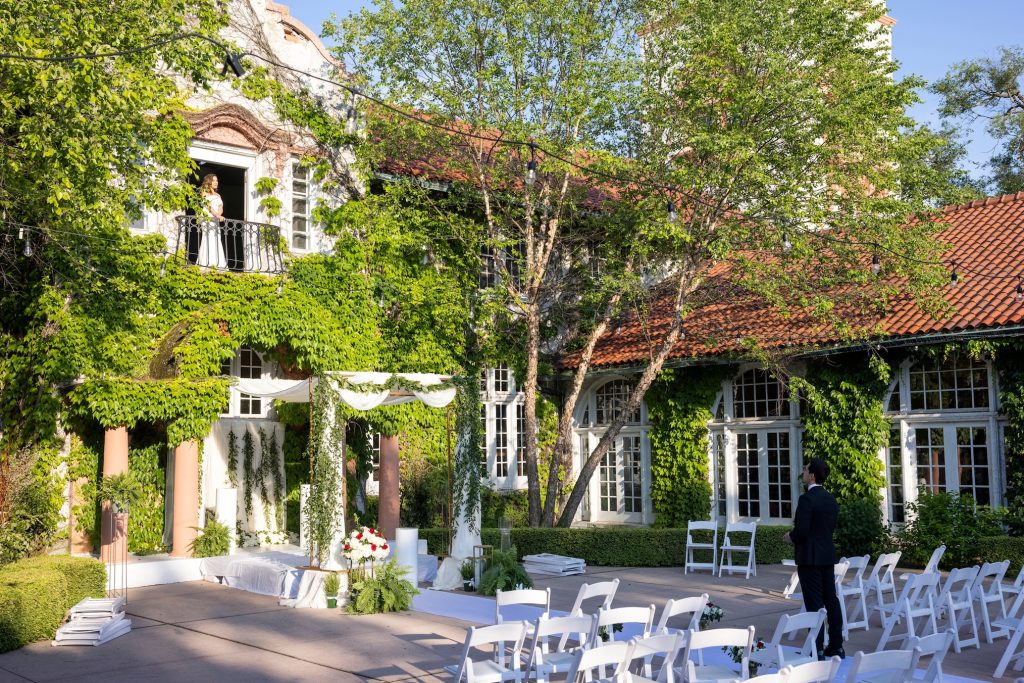 The Love Is Blind Cast said "I Do" at Ravisloe Country Club
Netflix's reality dating show Love Is Blind puts into practice an age-old question: Is love blind? Unfortunately, that's one query we here at Chicago Style Weddings can't answer for you. But we can show you how to host a wedding inspired by the ones that took place on the show's season 2 finale. In fact, you can even book the very venue this season's couples said "I do," at.
The premise of the show, hosted by Nick and Vanessa Lachey, is to test emotional and personality-based chemistry versus physical chemistry. Throughout the first portion of the show, contestants go on a series of blind dates. On these dates, each single sits in a solitary "pod," unable to see their date. The dates are conducted entirely by just speaking through a wall. As the show progresses, singles are able to choose if they want to play the field or narrow their vision and continue on with a specific love interest. As a result, mutual couplings come about, and the duos who think they've found "the one" get engaged (in the pods!) and get to meet in person finally.
If all goes well upon meeting, vacationing together, and meeting each other's families and friends, the couples get married in a beautiful season finale. Talk about a whirlwind romance! With the latest season of the show, five couples made it to the big wedding finale. These Chicago-based couples were Jarrette Jones and Iyanna McNeely; Shayne Jansen and Natalie Lee; Mallory Zapata and Salvador Perez; Nick Thompson and Danielle Ruhl; and Deepti Vempati and DJ Abishek 'Shake' Chatterjee.
If you found yourself ooh-ing and ahh-ing over the aisles these couples walked down, we don't blame you. The good news is that you can host your own wedding or special event at the very venue! The finale's five weddings all took place at the enchanting Ravisloe Country Club, located south of Chicago in Homewood, IL.
Along with their sister property, La Banque Hotel, Ravisloe Weddings was thrilled to host the weddings and pre-ceremony festivities. With an atmosphere that evokes a bygone era of grace and splendor, Ravisloe's property provides a priceless backdrop for weddings…televised or not! The venue has a rich, 113-year history as one of Chicago's finest private clubs and its majestic Spanish Mission-style clubhouse is the cherry on top.
"[Myself] and the staff here at Ravisloe could not be more proud of how the show captured our venue for millions of people to see," said Johanna Morawski, Ravisloe Country Club's Director of Marketing and Events. "Our owner, Claude Gendreau, saw what this property was capable of back in 2009 and saved it from development and now here we are! It really is so incredible to see how far we have come. This venue is truly special."
We spoke with Morawski to learn more about their experience with the show. See what she had to say here:
Chicago Style Weddings (CSW): How did Ravisloe get connected to Love Is Blind? 
Johanna Morawski (JM): A local scout/producer with Love Is Blind contacted me first to see if I was interested in hosting the production and then if the venue was available during the week they were looking to film. Once all of that checked out, I had her out for a tour and the rest is history.
CSW: What was it like hearing that you'd be the venue the couples got married at? 
JM: I was very excited when I got word that the executive producers chose Ravisloe. At first, I was a bit nervous because I was competing with venues [in Chicago's] downtown, but deep down I knew Ravisloe was special and would offer them something that downtown venues couldn't. Sure enough, like many, they couldn't resist the space!
CSW: Tell us about the spaces of the venue used in the show. What wedding options were showcased? 
JM: [The Production Company,] Kinetic Content did a fantastic job showcasing all that Ravisloe has to offer. It was great to see them use both our indoor and outdoor ceremony space. The outdoor ceremony space with our ivy-covered clubhouse as the backdrop is the most breathtaking ceremony space so I was excited that the weather was cooperating and the show was able to utilize that area. The team also did a phenomenal job of utilizing our gorgeous outdoor areas for interviews with the couples (the gazebo and garden specifically).
At the very end of the show, you do get a glimpse of what the reception would look like in our ballroom. Our ballroom is our largest space, with the ability to accommodate up to 300 guests.
The only space that was not showcased on the show was our great room which was used for a cocktail hour during filming. We typically use this as a holding area for guests before ceremonies.
CSW: Besides the venue itself, what services did your team provide? 
JM: Ravisloe provided Love Is Blind with what we do for all of our weddings that we host here: tables, chairs, linen, chargers, dinner/glassware, bartenders, servers and coordinators. Food and Beverage packages go through us as well, as we do not permit any outside catering for our receptions. Our in-house chef, Yanira Cruz, provided all of the food for the weddings.
The couples did have access to our large Bridal Suite and newly added Groom's Room as well. The only services that Ravisloe does not provide for weddings were vendors like florals, cakes/desserts, late-night snacks and entertainment.
CSW: In Love Is Blind, there's a variety of different wedding styles and cultures. How did Ravisloe accommodate that variety?
JM: We are able to accommodate different cultures in making slight changes to our meal options. Our chef is so great at accommodating different certain styles of foods, within reason.
In addition, our linen company, Classic Chair Covers, has an extensive selection of linen and style chairs that would help couples in creating a unique atmosphere for their reception. As far as Love Is Blind weddings, their art director did an awesome job with those additional details.
CSW: How can couples plan their own TV-show-worthy wedding with you?
JM: The first step would be visiting our website at ravisloeweddings.com, checking our date availability calendar and setting up a tour to come see the space! Once they fall in love with the space and put down a deposit, me and my team are here every step of the way to help them plan their dream wedding. Let me just say that, every wedding here at Ravisloe is TV-show-worthy!
__
Warning: These images contain spoilers from the February 25, 2022 finale of Love Is Blind.
The Venue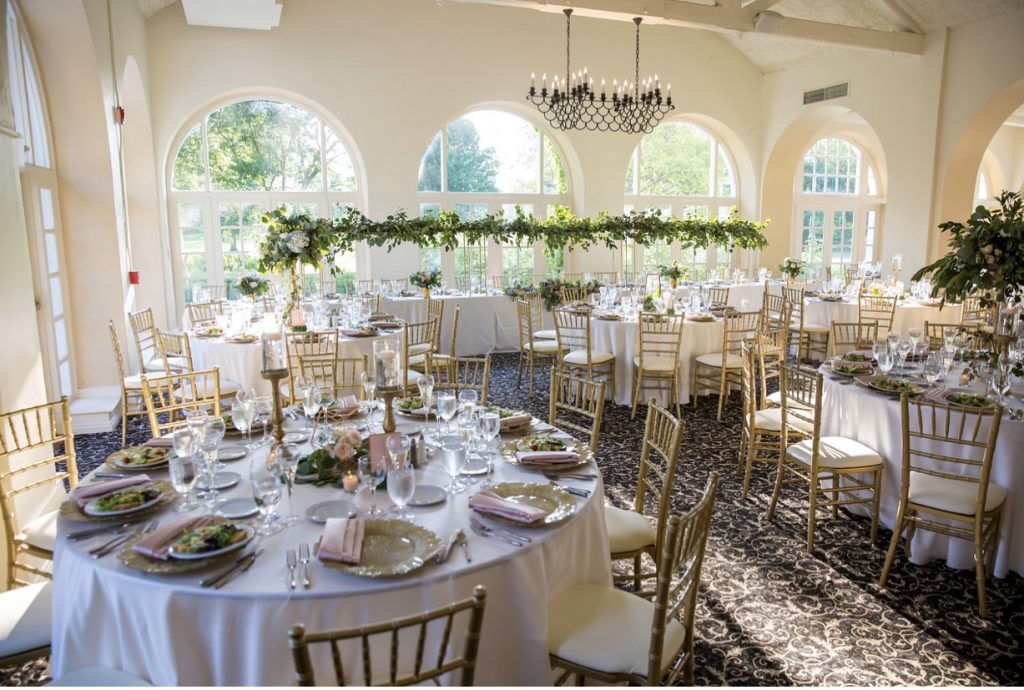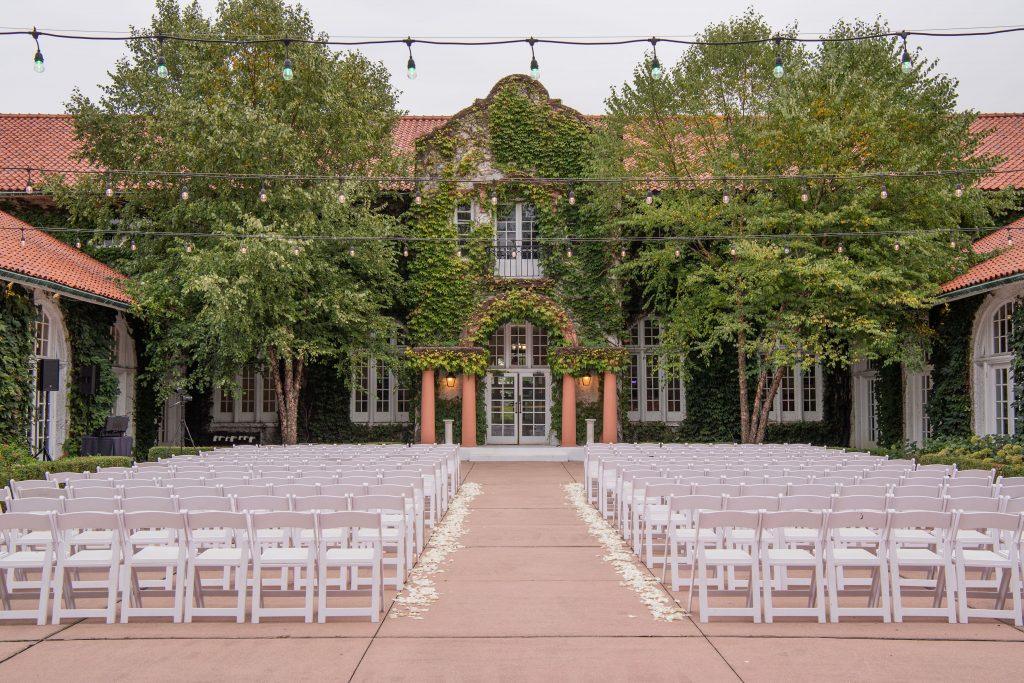 Other Wedding Details
VENUE: Ravisloe Country Club
PRE-WEDDING VENUE: La Banque Hotel
BRIDAL GOWNS: Genevieve's Bridal Couture
GROOMS' APPAREL: Hitched, SuitShop
HAIR & MAKEUP: The Bridal Beauty Team, Kate Johnson, Carla Galvez, Angelique Sanchez and Celena San Juan
CAKES: The Baking Institute 
MENS' BACHELOR PARTY: Wrigley Field
WOMENS' BACHELORETTE PARTY: Island Party Boat