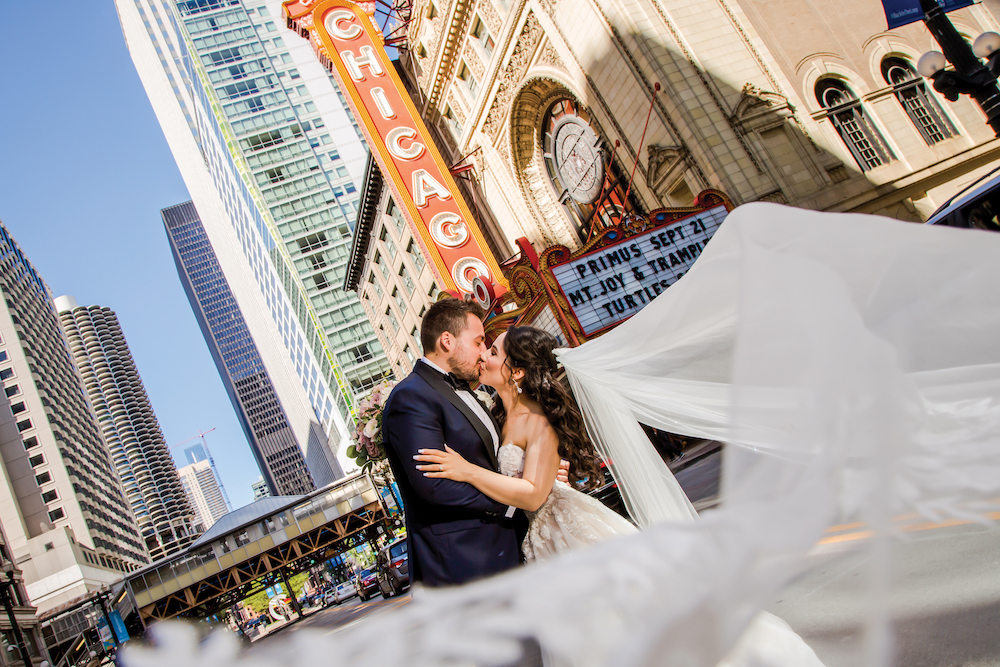 9 Ways to Infuse Chicago into Your Wedding
Whether you're hosting your celebration in the heart of downtown Chicago or in the suburbs, it's always fun to give a taste of Chicago to your guests. Try to incorporate some of these elements to make your day a Windy City experience.
"CONCESSION STAND" SNACK BAR
Chicago loves baseball. Whether you're rooting for the Cubs or the White Sox, a concession stand themed snack bar at your reception is a great nod to the city's favorite pastime.
SNACK OPTIONS: Garrett Popcorn, Portillo's hot dogs, Cotton Candy Cart from Von Poof Cotton Candy, Cracker Jack
CITY VIEWS
The Chicago skyline is undeniably picturesque. To really embrace the city, include some portraits with the skyline as the backdrop. There are so many spots along the water or on a rooftop that capture this view well.
PHOTO OP LOCATIONS: Art Institute Garden, North Avenue Beach, Chicago Board of Trade building, Chicago Riverwalk, Education Pavilion, The Chicago Theatre, Buckingham Fountain
MID-CENTURY MOTIFS
Art Deco, mid-century modern and the legacy of Frank Lloyd Wright are ingrained in the DNA of Chicago. Select a mid-century modern venue or go subtle with stained glass and rich wood details.
MID-CENTURY VIBES VENUES: Emil Bach House, Lang House, Untitled Supper Club, The Graceful Ordinary, Salvage One, Firehouse Chicago, Row 24, Bridgeport Art Center, The Robey, The Thompson Hotel
MAP STATIONERY
Let guests get their bearings before they even arrive. Including personalized city maps in your invitation suite is a useful and sentimental touch. Go simple with highlights of major landmarks or create something custom and map out all the places special to you and your partner.
JAZZ MUSIC
Quintessentially Chicago, jazz music will make the perfect background for your celebrations. Who doesn't like grooving to some Prohibition age bluesy saxophone and stand-up bass?
JAZZ ENTERTAINERS: Bluewater Kings Band, The Party Faithful (BeatMix), Trio One, Jim Sellers Trio, The Chicago Jazz Quartet
TROLLEY RIDE
Yes limos and party buses are fun, but a trolley lends itself some old town charm! Transport your wedding party with this darling alternative.
TROLLEYS FOR RENT: Second City Trolley, Absolute Dream Limousines, Chicago Trolley, Premier Trolley and Limo
THE CHICAGO FOOD PYRAMID
There are a few dishes that are synonymous with Chicago cuisine. From hot dogs to deep dish pizza to Garrett's popcorn, serving up Chicago food staples adds a delicious nod to the city.
HAVE A LAUGH
As the comedy capital of the country and home to the iconic Second City comedy club, add some humor into your celebrations. Not a fan of dancing? Rather than a live band, entertain your guests at the reception with a stand-up routine or a light-hearted roast.
MUSEUM WORTHY
Chicago is known for housing some of the most iconic art pieces in the world. Take inspiration from the pieces at The Art Institute of Chicago or the Museum of Contemporary Art and adapt your color palette or thematic elements from your favorite pieces.