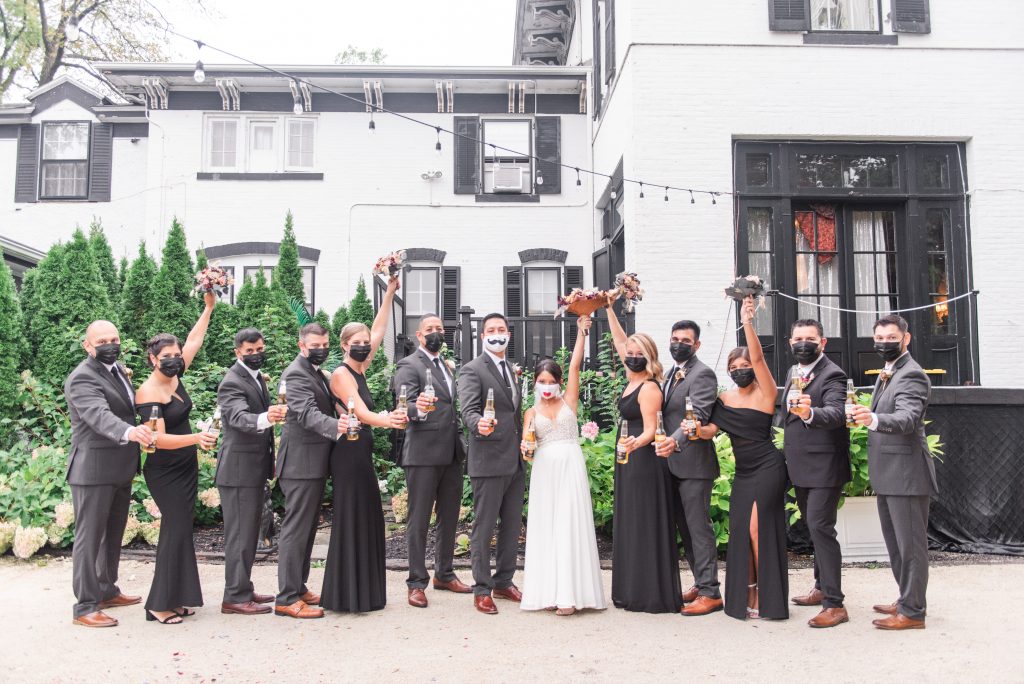 How to Make Your Wedding Feel like a Celebration during COVID-19
You found the love of your life and a pandemic is not going to stop you from declaring your love. But then comes the big question – will it still feel like a celebration? Of course! Explore how pandemic restrictions have opened up a new world of opportunities for fun and entertainment.
Photo by Marc & Mindy
We all know some restrictions are in place when it comes to gatherings — weddings and celebrations included, of course — and it can be a bit difficult to navigate all the health and safety regulations.
So, we tapped Leanne Valdes, owner of You Name it Events, who has the inside scoop on weddings right now. And she also has some great insight on how to alter or reframe your entertainment plans. Trust us, this is going to be a blast!
Will there be dancing?
Mmmm…unfortunately for now, dance floors are not allowed. "For obvious reasons," Valdes says. "as it is extremely difficult to social distance on a dance floor."
But — that doesn't mean you have to forgo the traditional first dance or parent dances. A lot of venues are accommodating those, so couples can have those beautiful moments together and captured on camera.
Well, what about music?
Instead of a DJ, some are hiring a live band, which has an element of grandeur — like being in the audience of an intimate theater. A live band or performer not only provides ambiance, but it's also a nice focal point.
Who's up for trivia?
"Couples are also getting creative with their event time," Valdes says, "trying to build in some interactive experiences, such a pub trivia or board game tournaments." Couples can go with traditional trivia or create their own version that's all about the bride and groom. It'll be fun, funny and a great way to share stories about yourselves and your new life together.
Go all out on the catering!
A smaller celebration has a silver lining. If you were planning on feeding 250 people, you can reallocate that budget toward a more extravagant spread for your 50 closest friends and family.
"Adding courses, creating tasting menus, including wine pairings or food demonstrations are all ways to make your event delicious, memorable and entertaining for your guests," she says.
Make it short and sweet.
"On a more practical note, some couples are simply shortening their event time frames to allow for less time for their guests to be exposed to each other," Valdes says. "and also help make the flow of things feel for authentic to them."
A four or five hour celebration sounds reasonable when you factor in hours of dancing and celebrating and mingling, but a couple hours for a grand entrance and lovely meal might be the Goldilocks option. Plus, a condensed timeline gives you and your love more time together on your wedding day, instead of bouncing between guests until the wee hours of the night.
---
Ready to start planning your own beautiful wedding? Check out our expert advice, stunning real weddings, and follow us on Pinterest for the ultimate inspiration.