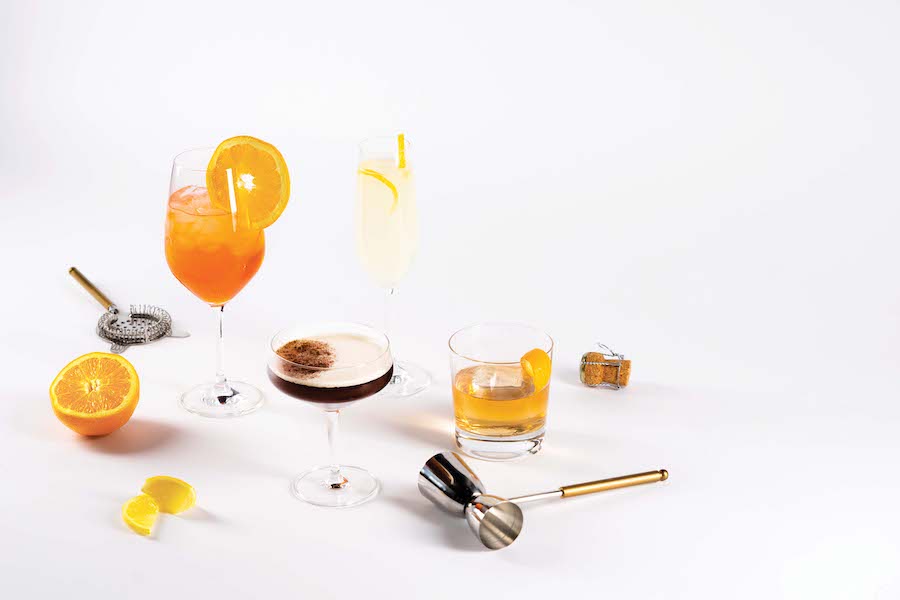 Kindred Spirits: 4 Custom Cocktails with Binny's
Cocktail photography by Jasko Omerovic Photography
With help from Binny's Beverage Depot and their party planning concierge service, we present you with a taste of some custom cocktails to personalize your wedding bar.
When clinking glasses are the soundtrack behind your wedding toasts, let's make sure what's in those glasses is just as memorable as the salutes raised. Setting the scene for a wedding celebration, drinks play a large part.
If you're looking for a way to add something extra to your wedding beverage service, consider signature drinks. "Signature drinks represent sentimental value to the couple," says Alex Tornai, Binny's Beverage Depot's Event Planner. Maybe your first date was over tacos and margaritas. Maybe you met your partner at a coffee shop. Or maybe a certain drink reminds you of where you grew up (ex: Kentucky Mule, Manhattan). Whatever the specifics, many couples can find a beverage that holds a special place in their hearts. And your guests will enjoy sipping on a delicious part of your story!
In addition to the sentimental value, signature cocktails can be very cost-effective. According to Binny's, rather than a full carte blanche bar, a specialty cocktail menu puts a limit on the number of spirits ordered for the wedding. Oftentimes, the bar tab can be a daunting detail to consider when planning your reception. But with a set signature cocktail menu, some of that trepidation about your final bill will be relieved.
HAPPILY EVER APEROL
The Aperol Spritz is a go-to for a summery, exhilarating cocktail. The distinctive orange and rhubarb flavors in Aperol create a refreshing and pleasant citrus taste, complemented by the prosecco's crisp tang and frothy bubbles. Perfect for a cocktail hour or starter, the vibrant orange appearance and invigorating taste is always a crowd-pleaser.
INGREDIENTS
3 oz. prosecco
2 oz. Aperol
1 oz. club soda
1⁄4 oz. lemon juice
Dash of orange bitters
Orange slice garnish
HOW TO MAKE:
Combine ingredients and pour over ice in a white wine glass. Garnish with an orange moon or whole circle slice.
SOMETHING OLD-FASHIONED
With over two centuries of history, the Old Fashioned is a classic for a reason. The boldness of whiskey (typically bourbon or rye) married with the contrast of sugar and bitters creates a full flavor profile. It is important to note, a drink as boozy as this one can pack a big punch in a small glass. If you want to ensure all your guests remember the night, consider having your bartender limit the amount of Old Fashioned cocktails they will serve.
Want to go the extra mile? A whiskey and cigar bar is a fun cocktail hour feature that couples and guests have been loving lately!
INGREDIENTS
2 oz. bourbon
1⁄4 oz. demerara syrup
2 dashes Angostura bitters
2 dashes orange bitters
Orange slice garnish
Cherry garnish
HOW TO MAKE:
Combine ingredients, stir and then strain through a Julep or Hawthorne strainer. Serve over a large ice rock in a rocks glass. Garnish with an orange rind and/or a maraschino cherry.
FRENCH KISS
Effervescent and perfect to sip on is the French 75. The evening-time big sister to the popular brunch mimosa, the French 75 fulfills the hunger for a citrusy and bubbly beverage. Imbibers beware, this botanical beverage is stronger than its delicate flute glass implies, hailing its name from the notion that it is as powerful as a French 75mm field gun!
INGREDIENTS
1 1⁄2 oz. gin
3⁄4 oz. lemon juice
3⁄4 oz. simple syrup
3-4 oz. prosecco
HOW TO MAKE:
Combine gin, lemon juice and simple syrup in a shaker, shake well and strain. Pour strained shaker ingredients into a flute glass and top off with 3-4 oz of prosecco. Garnish with a lemon twist.
UP ALL NIGHT
If you want to keep your dance floor buzzing, an Espresso Martini is the
way to go. In addition to the standard after-dessert coffee serving, offer up this cocktail. With just the right amount of coffee buzz meets boozy buzz, this drink will ensure no one calls it an early night.
INGREDIENTS
2 oz. vodka
1⁄2 oz. dark coffee liquor
1⁄4 oz. demerara syrup
1 oz. freshly brewed espresso
Coffee beans/grounds garnish
HOW TO MAKE:
Combine ingredients in a shaker and shake well. Strain into a coupe or martini glass. Garnish with 3-5 whole coffee beans or a sprinkle of coffee grounds. Alternatively, use chocolate- covered coffee beans as a garnish for something sweet.
---
Binny's Party Planning offers couples the ability to design their own liquor packages with expert guidance and customer service to support them along the way. The Party Planning team is here to assist with every step in the process, from helping couples with appropriate quantities to designing signature drinks and pairing wines with the dinner menu. More importantly, their Party Planners make sure that there is ample supply of beverages for everyone during the entire evening. Worried about transportation? Binny's offers delivery and pickup services as well. You could say, Binny's does the lifting, while you do all the drinking!