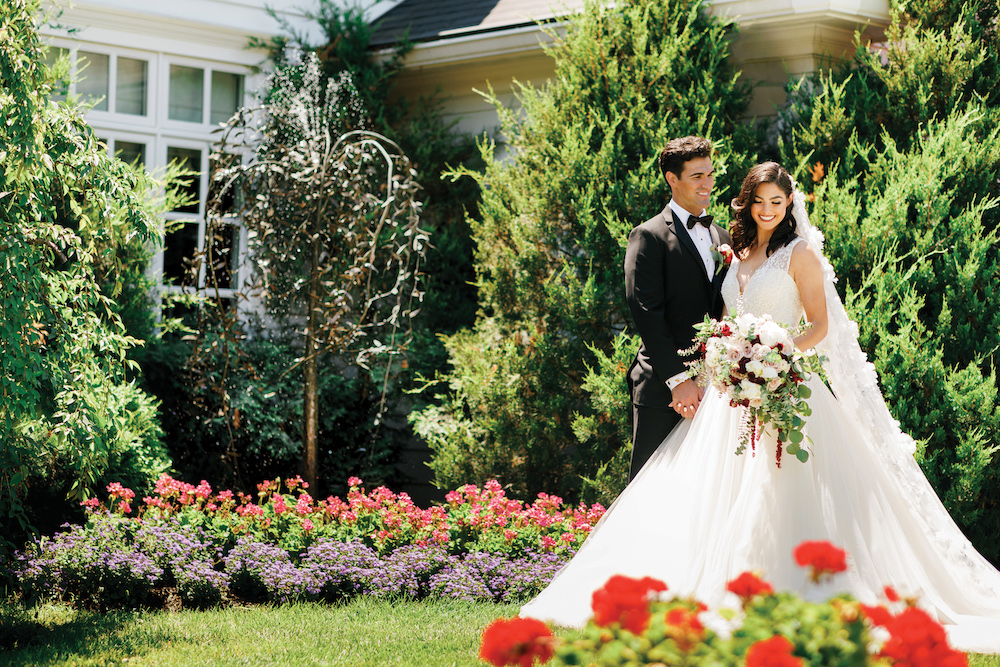 Choosing Your Ideal Wedding Venue
Wedding Venue photo above: Wandering Tree Estate; Photography by Maksym Prokopiv Photography
When planning their wedding, many couples start with selecting and securing their venue. After all, your wedding venue will ultimately influence the mood, logistics and design choices of your celebration. From the rehearsal dinner to the ceremony to the reception, there are a lot of options for what your wedding landscape will be. Keep things simple and streamlined by planning all your festivities in one spot or treat your guests to several locations. There are a lot of options! Whatever you choose as your venue(s), take into account the aesthetics and overall vision, but also think about these important aspects:
Location – How easily will guests be able to access the venue? Is the venue located near hotels? Do you want something within the city or in the suburbs? How far are you willing to travel?
Cost – Will you have to move around other items in your budget to accommodate for a certain venue? Does your desired wedding date have a higher peak-season rate?
Amenities – How much is provided by the venue and how much will you need to bring in? How many restrooms are there and what are they like? Is it handicap accessible? Is there a catering kitchen?
Size – What is the maximum capacity? Will the venue be too large or too small for your guest list?
Preferred Vendors – Does the venue have a list of preferred vendors that you're limited to?
Privacy – How private or public will the venue be? Is there a risk of strangers and passersby stumbling into it? Does the venue offer a security team?
Once you start narrowing down on your venue selections – make sure to ask these questions!
HOTEL OR RESORT
Wedding logistics are a breeze when you book a hotel wedding. Hosting your wedding at a hotel or resort is a great option if you anticipate a lot of out-of-town guests. On-site accommodations ease the need for wedding-day transportation, and it helps keep everyone in a central locale. Plus, there's an added layer of guest safety, as no one will need to find a sober driver at the end of the night — they can just go up the elevator to their room! Many hotels and resorts offer a variety of celebration locations, from their hotel restaurant as the rehearsal dinner venue to a ballroom for the ceremony to a hospitality suite for getting ready the day of. The value of all the amenities a hotel provides is hard to overlook.
Explore Chicago area hotels and resorts now.
GARDEN
Gardens are a charming and undeniably beautiful venue for a spring or summer wedding (perhaps a conservatory or greenhouse in the winter). Let nature guide your décor, allowing the expert landscaping to lead the way with ample greenery and blossoms. The depth and texture of garden venues allow you to be transported to a full sensory experience.
Explore Chicago area garden venues now.
BANQUET HALL
Banquet halls are dedicated to events. They offer a turn-key location that is a blank slate for you to build on. The purpose of these venues is to host events like weddings or conferences, so you can be confident that they have every detail accounted for. Most banquet halls have an in-house team dedicated to making your wedding perfect. This can include in-house catering, planners, designers and event staff. Another benefit comes with the assets. Banquet halls typically are equipped with a range of necessary wedding essentials, including sound systems, furniture and decor.
Explore Chicago area banquet halls and ballrooms here.
PRIVATE RESIDENCE
Private residences have added sentimental value that a standard venue can't replicate. They offer an entirely private and intimate experience, as the venue is not publicly accessible. However, they can come with hiccups, like not being equipped for events and not having staff dedicated to making everything run smoothly. While this type of venue might not cost anything for you to book (in the case that it is a residence of a family member or friend), it might not necessarily save you money. You'll likely need to bring in external coordinators, staff, set-up crews and more to ensure the venue operates as cohesively as a dedicated event venue would. But you can't beat the emotional value of getting married in grandma's garden or your childhood home!
MUSEUM
While your wedding will be the star of the show, a museum venue adds a layer of entertainment and culture to your festivities. Guests can meander through the museum's exhibits and immerse themselves in a unique and textured experience. Thought-provoking and conversation-starting, museums are good options for when you have a lot of guests from different social circles. What better way to break the ice! When your love story is a piece of art itself, a museum is a great backdrop setting for your celebration.
Explore Chicago area museums here.
COUNTRY CLUB
Views and greens abound! Country clubs and golf courses lend themselves to some stunning panoramic photo opportunities and event backdrops, something you can't replicate in the city. Besides the aesthetic appeal of country clubs and golf courses, these venues come with white-glove service, multiple rooms available, and experienced staff and catering. Many country clubs offer events to their members only, so be sure to check before you get your heart set on one. However, this does add extra privacy and security for your special day.
Explore Chicago area country clubs here.
BREWERY OR DISTILLERY
Gilded halls and china place settings aren't for everyone. Some couples feel more comfortable celebrating among wooden kegs and saying "cheers!" with pint glasses. A brewery or distillery wedding can feel industrial, relaxed and true to the couple. Many breweries have on-site kitchens available, which makes for some ideal food and drink pairings. If there are no kitchen or catering options, bring in some local food trucks to set up in the parking lot.
Like the idea of hosting your wedding at a distillery, but want something a touch more formal than a beer hall? Try a winery! While we are not in Napa Valley, our region does have several beautiful vineyard estates. As the wine ages in caskets around you, your love will be one that grows better with age too.
HISTORIC ESTATE OR SITE
Character abounds with a historic site or estate as a venue. By leaning into the splendor of the past, you can ease up on decor rentals and let the space speak for itself. These venues typically have sweeping gardens, breathtaking architecture and the irreplaceable richness of history. If you're looking for a venue that is timeless and welcoming, a historic estate might be up your alley. However, due to the quaint charm of the past, these venues can lack modern amenities like ample restrooms or grounded power outlets, so keep that in mind!
Explore Chicago area historic venues here.
BARN
Rustic charm and serenity come easily at a barn or farmhouse. Barns offer up a lot of space, so these are ideal for large weddings, especially if you intend on having both indoor and outdoor festivities. All the outdoor grounds give room for elements like a fire pit, yard games and maybe even some barn animal cameos. And don't feel boxed-in by the rustic aesthetic. These venues are versatile and can be dressed up to create an engaging juxtaposition of glamour and homespun charm. For a breath of fresh air and a step away from the hustle of city life, a barn or farmhouse is a lovely choice for a blissful wedding.
Explore Chicago area barns and farms here.
URBAN LOFT / WAREHOUSE
For some texture, exposed brick and high ceilings, urban lofts or warehouses are great options. An urban loft is the versatile and industrial take on a classic barn wedding. For city-dwellers, the urban loft or warehouse route adds an undeniable city flair. Plus, these venues are often centrally located, which is also great for out-of-town guests. With past lives as train depots or industrial stock houses, urban loft or warehouse venues have tenacity and a rich history perfect for starting your future in.
Explore Chicago area industrial locations here.
RESTAURANT
By picking a restaurant, café or bar whose aesthetics you enjoy, you will have built-in décor! Save for any personalized details you want to decorate with, a stylish eatery comes with the restaurant's existing décor as well as tabletop needs like silverware and plating. And of course, you know the food and drink will be spectacular. Typically, a restaurant wedding will require a smaller guest list due to venue capacity. If you want an intimate wedding that doesn't feel empty, a venue like this is perfect. Certain restaurants or bars have private rooms available for rent, while others offer the possibility to buy-out the entire venue, so there's still room for a wide headcount range.
A bonus: You now have an automatic anniversary date night planned for years to come. What's more special than celebrating in the very spot you tied the knot?
Explore Chicago area restaurant venues here.
WATERFRONT
Romanticism comes with the territory of a waterfront wedding. No matter how high your wedding-day nerves might be, ultimate relaxation comes with getting married in front of a cacophony of trickling water or crashing waves. A waterfront wedding can take place in a variety of places, like on a yacht or private charter, on a beach, at a marina or at a dock. For a midwestern state, there's a surprising number of options near Chicagoland! Opt for something on Lake Michigan or plan a mini-destination wedding to surrounding waterfront areas like Lake Geneva, Wisconsin.