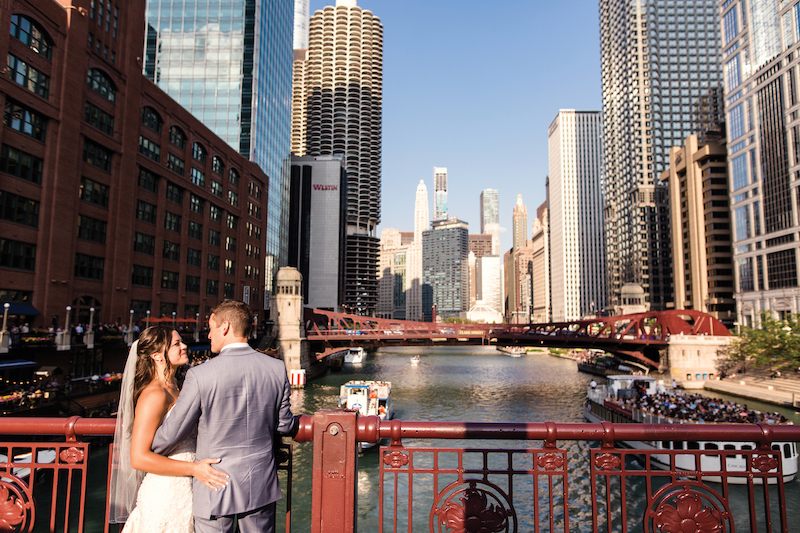 Location, Location: Choosing Your Wedding Venue
Written by Kellee Grucci | Photography by Emma Mullins Photography
Where you hold your wedding defines your day more than anything else. Your location sets the tone for the day and it says a lot about your personality as a couple. The sheer number of Chicago wedding venues, however, can make your head spin. City or country. Ballroom or barn. Indoors or outdoors. Library or loft. Park or lakeside. Many couples feel overwhelmed by so many possibilities. Where should you start?
Before you dive headfirst into looking at venues, you need to determine your budget and how many guests you plan to invite. This information can help you narrow down your choices. Another item to be mindful of is the distance your guests will need to travel between the ceremony location and the reception location if they are not being held at the same venue. Once you have those details nailed down, it's time to start thinking about the type of venue for your big day.
HOTELS
If you are looking for a full-service, traditional location, hotels are a great option for almost any type of wedding celebration. A variety of hotels offer intimate nooks that can accommodate 20 guests, elegant ballrooms that can accommodate 400 guests as well as rooftop terraces boasting beautiful skyline views. You can have your ceremony on the rooftop and dance the night away in a ballroom full of expansive windows showcasing the beautiful city. Many hotels also offer all-inclusive wedding packages with in-house event specialists that can lead you through the entire planning process. Hotels are viewed as very versatile and can even host your rehearsal dinner on-site in their restaurant.
If you foresee inviting numerous out-of-town guests, holding your reception at a hotel can take the guesswork out of booking a room for their overnight stay. Some hotels can even supply a unique reservation link for your guests to book their rooms within a room block so that everyone will be placed near one another. As an added benefit, a hotel allows your guests the convenience of accessing their rooms throughout the celebration to change their high heels to flats, freshen up or easily get to their room safely if they have overindulged.
COUNTRY CLUBS & GOLF COURSES
Country clubs, another classic venue, also offer may possibilities. You may think that you must be a member to rent their facilities, but country clubs are not as exclusive as many people think. Many country clubs are available to host events even if you are not a member. Similar to hotels, most country clubs offer many of the services you may need on site, such as an event planner, catering and a variety of linens.
Known for their golf courses and expansive grounds, country clubs are an ideal location for an outdoor event. Every savvy planner knows if you are planning an outdoor ceremony or reception, it is advisable to have a back-up plan in case of rain. Be sure to discuss your back up plan with your event coordinator ahead of time. Having the peace of mind that there is a space to move into if inclement weather strikes allows you to focus your thoughts on other things. Then there's the golf! Your wedding party may enjoy playing 18 holes the morning of the ceremony or as a part of a pre-wedding celebration.
Browse Chicago area country clubs here.
BANQUET HALLS
Another popular choice for wedding celebrations, banquet halls offer fantastic possibilities for your big day. Because large-scale events are their niche, you can expect that the banquet hall staff is well-versed in making any size event go off without a hitch. With their custom kitchens designed to prepare meals for large events, all- inclusive packages and dedicated event planners, you can rest assured that the staff will show meticulous care with every aspect of your wedding.
If you plan on an extensive guest list, don't forget to discuss your audiovisual needs with the banquet hall's event planner. From microphones for your toasts and speeches to projectors for your picture montage, a banquet hall offers optional features that are sure to enhance your reception.
Browse Chicago area banquet halls here.
RESORT & SPAS
Planning a wedding can be stressful, so why not incorporate some well-deserved rest and relaxation into the equation? Holding your ceremony at a luxurious resort and spa may be just what you need. The final 48 hours leading up to your big day are likely to be a whirlwind of activity for you and your soon to be spouse. Be sure to take a moment to enjoy a little pampering at the spa.
Choosing a resort and spa as your wedding location can also take the guesswork out of how to fit in a trip to the salon to have that all important pre-wedding mani and pedi. And don't forget about that massage. After the major undertaking of planning a wedding and making it to the finish line (aka the aisle), you deserve it!
Browse Chicago area hotels and resorts here.
GARDENS & PARKS
Botanic gardens and pristine parks have always been popular wedding locations. You are almost guaranteed amazing wedding photos among the blossoming flowers in the spring, the lush greenery of the summer months or the magnificent array of colorful leaves found in the fall. Moreover, many gardens and parks offer both outdoor and indoor options for your nuptials, giving you a built-in back-up plan. Keep in mind that these spaces tend to be public property, so you will likely need to adhere to a noise ordinance, obtain a permit and your event may not feel entirely private. Therefore, be prepared for unexpected onlookers and casual passersby.
ON THE WATER
Chicagoans looking for the perfect setting to say "I do" are lucky to have ample choices when it comes to location types. Beyond all of the beautiful hotels, restaurants, museums and more that the city and surrounding areas have to offer, couples also have the option to host an event on the water with unobstructed views of the stunning skyline.
Envision sailing down the Chicago River as you and your guests sip champagne under the setting sun. Depending on the vessel you select, your guests may have the option to enjoy cocktail hour sitting on an open- air deck or in a climate-controlled salon. Either way, they're sure to be treated to a fabulous meal, full-service bar and dancing the night away under the city stars with unparalleled views of the skyline.
If you would rather keep your feet firmly planted on dry land, numerous venues offer locations by the river or right on Lake Michigan. These boast spectacular water views at any time of the year. Whether the venue you choose has grand windows or a high- rise patio that overlooks the water, you can't go wrong with this unique take on your special day.
Browse Chicago area waterfront venues here.
MANSIONS & HISTORIC SITES
If a picturesque setting is on your must- have list, then be sure to explore the many opulent mansions located throughout Chicagoland. Where else would you find cascading staircases, expansive grounds, exotic gardens, historical backdrops, romantic chandeliers and elegant architecture all in one place? Mansions also offer some of the same amenities as hotels and country clubs. Most are likely to offer packages including a dedicated wedding specialist, full- service caterer and private suites for you and your wedding party to prepare for the big day.
Many mansions offer a versatility that will enable you to fulfill your dreams for your wedding, whether you wish to hold only your ceremony or reception on the property or to use it for both.
Most mansions also offer both indoor and outdoor site options. Keep in mind that Chicago weather can change in an instant. Be sure to have an alternate location set up inside if you have decided on an outdoor wedding. Another bonus of having your wedding at a mansion is that they typically only host one event per day. This means you have the grounds to yourselves for pictures and the staff completely focuses on the needs of you and your party.
Browse Chicago area historic venues here.
MUSEUMS & LIBRARIES
Art and culture abound in Chicago. Chicago offers many spectacular museums, art galleries and libraries to choose from. Although these locations may not be obvious choices for hosting a ceremony and reception, you should definitely consider them. These amazing buildings often feature exquisite art, unique architectural design, historical yet modern elegance and incredible natural light. These traits can make both your day and your pictures shine.
BARNS & FARMS
Getting married in a shabby chic barn or on a fabulous farm has grown in popularity over the years, and for good reason. Think rustic wood beams wrapped in twinkle lights, gorgeous landscapes with mature trees, a casual reception set around fire pits all while enjoying farm-to-table catering. Though these types of venues may not offer all-inclusive options, you can hire a wedding coordinator to assist you with all of the details. Plus, if you were planning to have your four-legged friend be a part of the big day, hosting your wedding in such a unique, animal friendly location means your pet could not only walk you down the aisle, but also join you at the head table.
Browse Chicago area barn/farm venues here.
RESTAURANTS
Throughout your wedding planning, you are likely to consider restaurants for your bridal shower, bachelorette party and rehearsal dinner, but many couples may not think of a restaurant for the wedding celebration itself. Here is some food for thought: A restaurant can be a great location if you desire a smaller, more intimate wedding. In fact, restaurants commonly have unique event rooms that can be reserved for private parties. Also, depending on the time of day — or even time of year — you may have the option to rent out the entire restaurant.
While any venue you choose will undoubtedly offer delicious meals, most large kitchens are set up for catering. This limits the meal options they can offer your guests. Restaurants often provide a greater variety of menu options. A restaurant may even give you the option of having your guests order off the regular menu for an extra special meal option.
Hosting your wedding at a restaurant may have some extra meaning as well. Pick a restaurant that is sentimental to you and your partner. Maybe you met your future spouse during your semester abroad in Italy. Or maybe your first date was in Chinatown. Consider hosting your wedding celebration at a restaurant that has special meaning for you as a couple. This ties your celebration to the many adventures that brought you together and will keep you close for years to come. What a special celebration that will be!
Browse Chicago area restaurants here.
LOFTS
Today's modern engaged couple may be looking for a location that is a little edgier or industrial. Lofts offer many benefits for your ceremony and reception needs. Many of these venues are converted mills, so they have expansive, wide-open spaces. Lofts are wide open spaces which can accommodate virtually anything you can imagine. A loft may easily accommodate all of your friends and family, plus a great dance floor. They are fully customizable, which requires a little extra effort, since you will bring in virtually every aspect of your wedding. Still, if you and your wedding planner are up to the task, a loft could be a great choice for you.
Though some lofts offer in-house catering, many do not. This provides you with the opportunity to select the caterer of your choice and have your wedding cake designed by your favorite bakery. As another benefit, lofts also provide unique photo opportunities. These wonderful spaces tend to have amazing steel beams, original wood or concrete floors, weathered brick walls and exposed ceilings. Work with your wedding coordinator and photographer to come up with some creative ideas to incorporate these urban features into your photographs.
Browse Chicago area lofts here.
MICRO-WEDDINGS
Even though the coronavirus cancelled many plans and events, it did not cancel love. For couples that refuse to let a little pandemic get in the way, they are choosing to tie the knot on a smaller scale. An intimate event complete with a mini-mony is all you need to announce your unending love. Nearly any location throughout Chicagoland will work, even your backyard! You can turn the location into your dream wedding, just on a smaller scale. And, although the guest list is small, your beautiful backyard wedding doesn't have to be. Intimate weddings can be big on details, dishes and devotion, of course. Each element can be finer, tastier and decided upon with greater attention to detail. The term "small but mighty" comes to mind to best describe these trendy weddings.
While most couples opt for one of the more traditional wedding locations mentioned earlier, there are always going to be those adventurous duos who want to treat their guests to something a little more unique. Luckily, Chicagoland can accommodate even the most eclectic desires. These couples may choose to say "I do" in a stunning wildlife habitat at a local zoo, standing on a glass ledge 1,300 feet above the city, on the playing field of a hometown sports stadium, on stage at an iconic Chicago theater or among the stars at the planetarium. Whatever you choose, Chicagoland offers an almost endless list of venue options for your wedding. For your perfect day, there is no limit to what you might imagine.
---