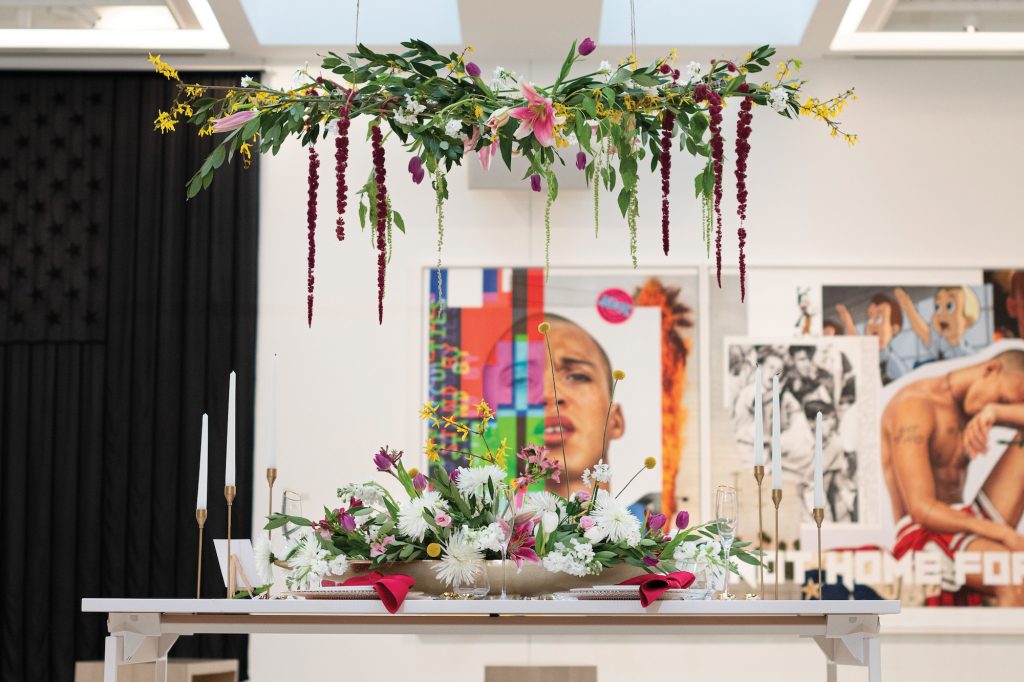 A Work of Art: 7 Chicago Art Gallery & Museum Venues
Your love is a work of art. Some say it deserves to be in a museum, documented for all to see! So what better location for your wedding and/or reception than an art gallery or museum? Your guests will love being emerged in culture and beautiful creations, plus you'll end up with some unique wedding photos! Here are seven museum and art gallery wedding venues in Chicago that will establish your love story as a masterpiece.
1. 21C Museum Hotel Chicago
Location: River North: 55 E. Ontario St., Chicago, IL 
Maximum Capacity: 160-250
Museum Style: Art Museum and Boutique Hotel

The beautiful light and art-filled spaces of 21c Chicago are the perfect place to host your reception, rehearsal, or wedding. For large events, the Main Gallery can host up to 250 guests, and there are 6 other galleries for more intimate events. 21c's events team will take care of all of the details, including linens, tables, chairs, set up and tear down. Additionally, out-of-town guests can enjoy 21c's luxurious rooms and suites, while the special couple can treat themselves to the exclusive 21c suite.
2. Chicago History Museum
Location: Lincoln Park: 1601 N Clark St, Chicago, IL 
Maximum Capacity: 300
Museum Style: Art and History Museum 

The Chicago History Museum is a classic wedding destination in the heart of Chicago's Lincoln Park neighborhood. With breathtaking views, Georgian-style architecture, and an outdoor plaza set against a backdrop of the Chicago skyline, the Museum is the perfect setting for your unforgettable moment. All bookings include building security, coat check personnel, janitorial services and a member of the special events staff on-site from set-up to break-down.
3. Zhou B Art Museum
Location: Bridgeport: 1029 West 35th St
Maximum Capacity: 1,000
Museum Style: Industrial Art Gallery, Contemporary Statue Garden
Located in Chicago's historic Bridgeport neighborhood, the Zhou B Art Center hosts contemporary art exhibitions and community-enriching programming. With an industrial feel and ample natural light, this venue offer four available spaces: Moongate, Spirit,Group Dance, and The Zhou B Life's Garden.
4. Museum of Contemporary Art
Location: Downtown: 220 East Chicago Ave, Chicago, IL
Maximum Capacity: 250
Museum Style: Contemporary Art Museum, Sculpture Garden
For a completely unique and sophisticated venue, give the Museum of Contemporary Art (MCA) a go! MCA is home to some of the most important art of our time, while also boasting an atrium, terrace, and sculpture garden with striking views of Lake Michigan. An added bonus: when renting the main floor, gallery access is provided for up to three hours. And galleries on the upper floors can be opened for an additional fee. Make your event truly one to remember at MCA.
5. Fulton Street Collective
Location: West Town: 1821 W. Hubbard St., Chicago IL 
Maximum Capacity: 90
Museum Style: Industrial Art Gallery
Situated in a quiet, industrial section in West Town, Fulton Street Collective offers one of the most distinct locations to host a wedding. Naturally distressed, beautiful brick walls are adorned with ever-changing high-quality art from their artist collective. With a dramatic 50 foot ceiling and 15 ft windows looking out onto gorgeous views of Chicago, this is one picturesque spot!
6. Epiphany Center for the Arts
Location: West Loop: 201 S Ashland Ave., Chicago IL 
Maximum Capacity: 2,000
Museum Style: Historic Church-Turned Gallery and Event Venue
The former 19th century church, with its romantic architecture and stylishly designed modern annex, is a unique destination for unforgettable indoor and outdoor weddings. Located in Chicago's West Loop, The Epiphany Center for the Arts brought the former Church of the Epiphany back to life with a community- and arts-centric focus. Thoughtfully designed, the exemplary 42,000 square foot campus boasts three distinct venues and a stunning array of amenities, including art studios, classroom, exhibit space and gallery, a commercial and catering kitchen, café, VIP suite and a collection of artistically appointed outdoor spaces; a charming quarter-acre courtyard, spacious terrace and stunning patio.
7. Ignite Glass Studios
Location: West Loop: 401 N. Armour St., Chicago IL 
Maximum Capacity: 220
Museum Style: Industrial Glass Art Gallery, Urban Garden, Rooftop Deck
Welcome your guests with custom crafted gates punctuated with color glass nestled in the cityscape of the West Loop. Have fun and dance the night away surrounded in the warm glow of custom glass sconces and festive string lights as friends and family celebrate the night. Opt for a rooftop fete with dramatic skyline views or gather in the unobstructed and raw Event Studio full of sweeping windows. Want to really customize your event? Ignite Glass Studios offers custom glass favors for your guests to bring the day home.