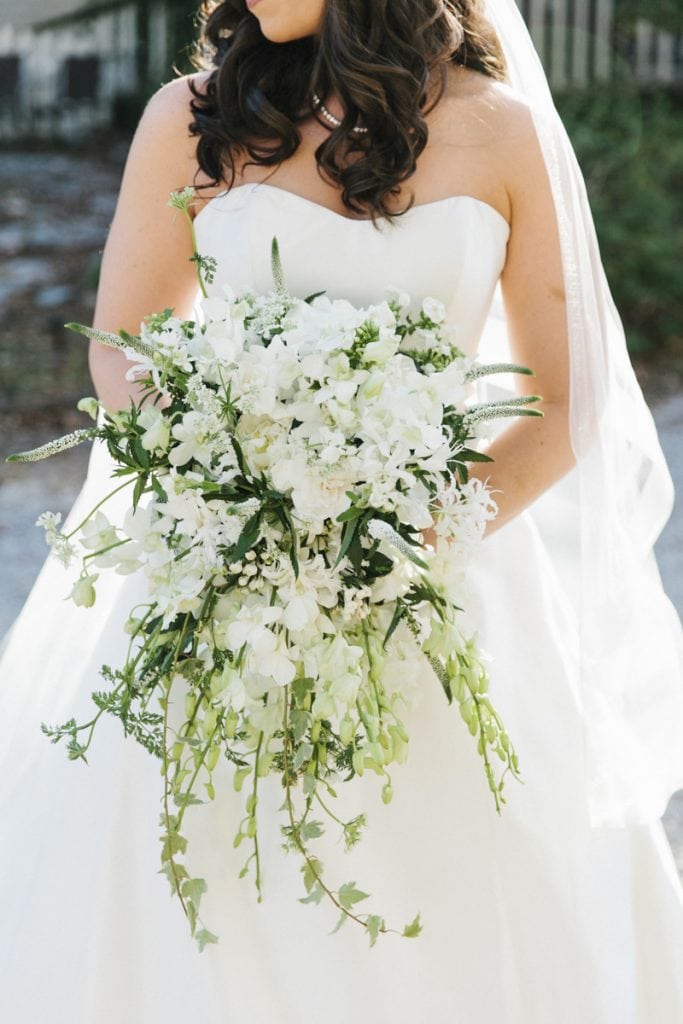 Cascading Bridal Bouquet & White Bridesmaids Bouquets: How Much Does It Cost?
How much does it cost for this gorgeous white cascading bouquet and matching bridesmaids bouquets?
When it comes to choosing bouquets for you and your bridesmaids, it's easy to be overwhelmed and lose sight of your budget. When it comes to making all your dreams come true, it's best to know the reality of bringing it all to life. We're giving you the inside scoop from the pro herself on just how much these beautiful bouquets will actually cost.
Check out this feature in "How Much Does It Cost" in our 2018 print issue of Chicago Style Weddings, formerly The Celebration Society Weddings.
---
Cascading Bouquet
$350
EM Creative Floral
Bouquets come in all shapes, sizes and, as a result, prices. With a bountiful arrangement of greenery and white blooms like gardenias and nerine lilies, this gorgeous cascading bouquet is fit for a princess.
Breakdown
Gardenia, peony, Lily of the Valley, dendrobium orchids, nerine lily, tulips, phlox, tweedia, veroncia, bouvardia and verigated ivy make up this beautiful bouquet.
Cost per Stem
Gardenia—$18.50/stem
Dendrobium Orchid—$5.00/stem
Nerine Lily—$7.50/stem
Extras
Ribbon Wrap—$10.00
The designer says…
"The bride's dress was so simple and understated that it was the perfect backdrop for a spectacular cascading over-the-top bouquet. I wanted it to be current but also make sure that it would stand the test of time and that she would still love it looking at pictures of it in 25 years." -Emily Wynn Wildes, EM Creative Floral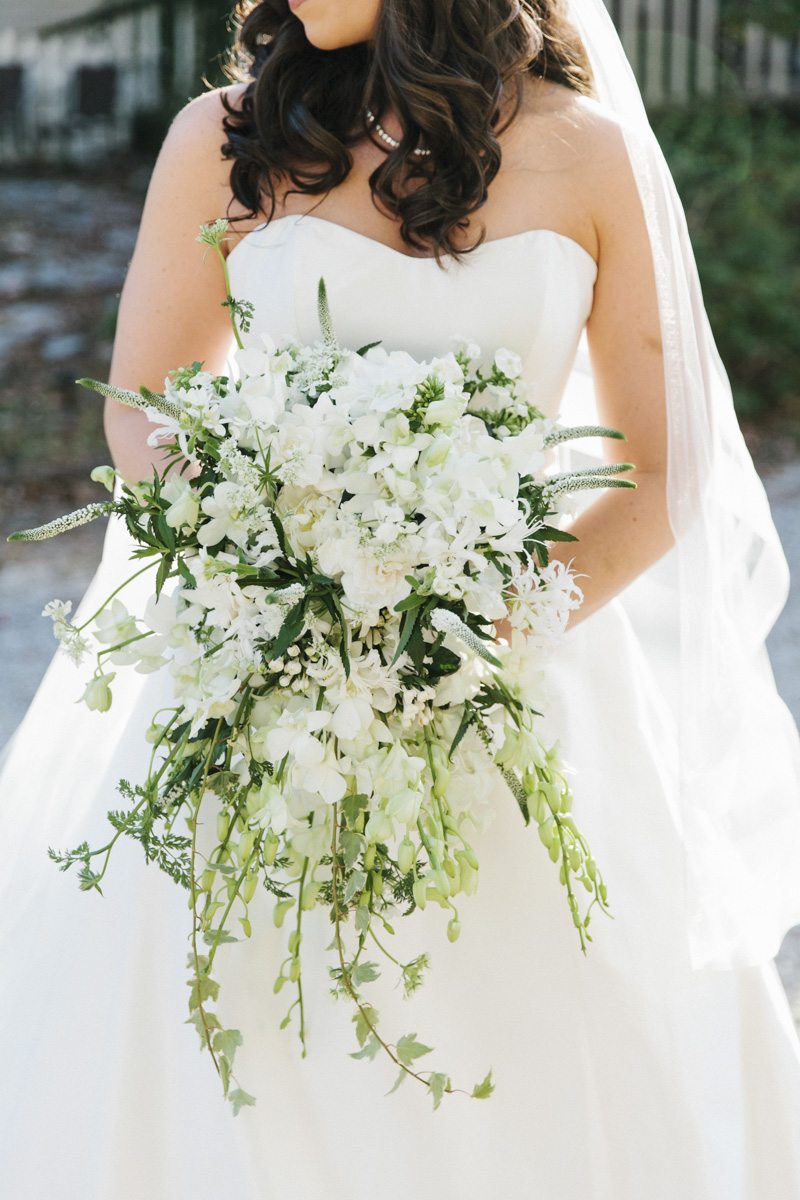 Photo by Mark Williams Studio
---
Bridesmaid Bouquet
$155
EM Creative Floral
Traditionally, bridesmaid bouquets are smaller in size than bridal bouquets, but that doesn't mean they can't be as fabulous! Peonies, Vendela roses and Snow on the Mountain make this bouquet a heavenly complement to the bridal bouquet above.
Breakdown
Stems used in this bouquet include Snow on the Mountain, peony, ranunculus, fern swords, pearl acacia, Vendela roses and phlox.
Cost per Stem
Ranunculus—$5.00/stem
Peony—$19.50/stem
Snow on the Mountain—$2.75/stem
Extras
Ribbon Wrap: silk, satin and velvet in various shades of taupe and gray—$25.00
The designer says…
"The inspiration was a garden-like bouquet that still had some structure to it and wasn't terribly loose. Because we knew we wanted to utilize trailing ribbons of different colors and textures, the goal was for them to complement the beaded dresses as opposed to compete with them." -Emily Wynn Wildes, EM Creative Floral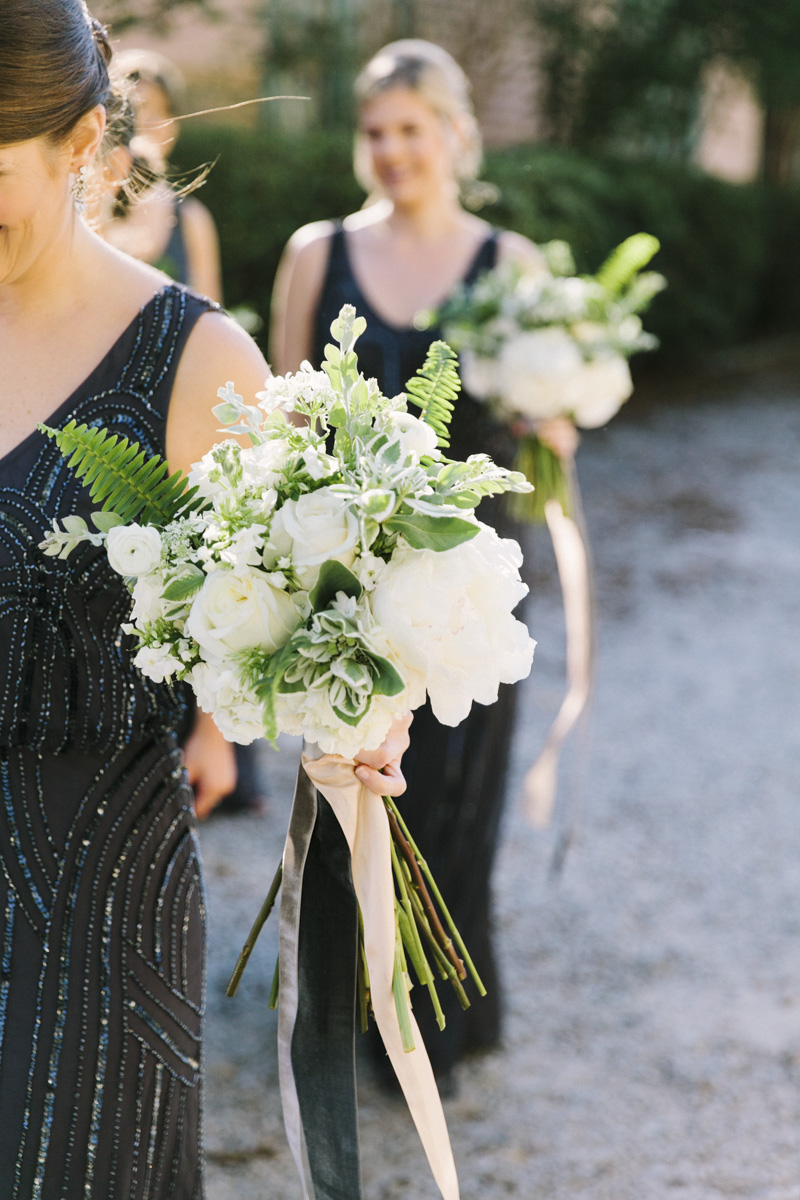 Photo by Mark Williams Studio