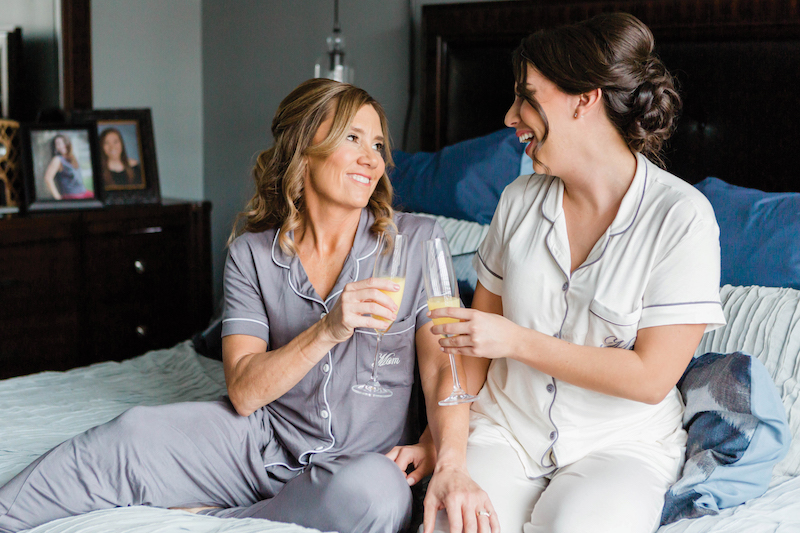 8 Tips for Booking Guest Accommodations
Your wedding is not only an important event in your lives as a couple, but it is a day that your family and friends are looking forward to as well — often with as much excitement and anticipation. A wedding is one of the happiest occasions that can be imagined, so it's only normal that everyone on your guest list will do everything possible to ensure that they can be a part of this momentous event.
When you look at your guest list, you may find that it is comprised primarily of people who live in the same general location. However, everyone has out-of-town loved ones that they hope can be a part of their big day. Moreover, what if you just moved to a different city? If you choose to host your wedding from your new home, then you'll have plenty of people traveling to join your celebration.
For all of your friends, family members and coworkers who will be flying, driving or even taking a train to attend your wedding, you will want to make things as simple as possible for them. After all, they may be taking time off work, paying for travel expenses and juggling busy schedules for this precious moment.
Therefore, you want to ensure that finding hotel accommodations is not just another hurdle to jump through so that they can attend your wedding. Even though you have menu tastings, formalwear fittings and way too many other tasks to mention on your plate, you can often set up accommodation options with only a few phone calls or emails.
So, without further ado, it's time to explore eight important tips for booking guest accommodations for your wedding.
And when you're ready, browse Chicago area hotels here.
1. LOCATION ALWAYS MATTERS.
You've heard the phrase "Location is everything" on repeat your entire life because it is absolutely true and it is even more important at an event like your wedding. While you may like the idea of your day moving slowly, so you can enjoy every second without even the slightest hitch, chances are good that this may be the busiest day you've ever encountered. In short, every single minute counts.
Having accommodations that are nearby can be crucial, especially if you've opted to book your own rooms the night before for an added convenience. Before you even think about contacting a particular hotel to inquire about making arrangements, make use of that handy GPS app on your smartphone to check on the actual distance from the hotel to the venue. Once you've made that note, look at the actual driving time. Just because a hotel is only 10 minutes away doesn't mean that you can always use the estimated minute-per-mile method.
You may have selected a venue that is in a busy area, which can increase travel times. When you can, check the driving time on the exact day of the week and time of day as your wedding, if you want to get as accurate as possible. If you can find a hotel that is within walking distance, this is your best bet. That way, you don't have to worry about traffic and drive times at all. To see everything on an even broader scale, look at your venue on Google maps and then start to search the surrounding areas for available hotels. You can even view price points or set a filter to match a multitude of options.
2. EXPLORE THE HOTEL'S EVENT SPACE.
It never hurts to get an idea of the event space that is offered at a hotel, even if you already have your dream wedding venue booked. For example, you may want to host additional events at the hotel to make it convenient for your out-of-town guests who will find it harder to travel back and forth to other locations. Many couples opt to host their rehearsal dinner or post-wedding brunches at their chosen hotel.
You can also consider planning a going-away lunch for your out-of- towners, even if you're already on your plane to discover the wonders of Europe or ready to board your cruise ship to the Caribbean. The possibilities are endless, so it's definitely worth looking into an event space that may be available on your selected dates.
3. ASK ABOUT OTHER EVENTS.
When you have the venue booked and your date is set in stone, you want to make sure there aren't any conferences or large meetings being held at the hotel. Any events that could make it difficult for last-minute guests to book a room could be problematic. Additionally, check the surrounding areas for things like sporting events, festivals or big- name concerts. These attendees may be looking at the same hotel as an overnight option and you may not want to be surrounded by the hype that often accompanies such a crowd — especially the weekend of your wedding.
4. LOOK FOR AMENITIES AND EXTRAS AVAILABLE TO YOUR GUESTS.
While you're looking at things like room types and availability, you should also explore the amenities that are offered to hotel guests. Let's face it — if you could have made arrangements with a hotel that offered an indoor pool for a similar price in the same location as the one you selected, you had better not let your guests find out. You may think that no one has time to enjoy the property's amenities, but you need to keep in mind that your guests may not have the same hectic pre- and post- wedding itineraries as you.
Furthermore, many of your guests may view the weekend as a little getaway, so why not make it as much of a vacation as possible? Things that can make the stay more enjoyable include a:
Swimming pool
Hot tub or sauna
Spa
Fitness center
On-site dining options
Bar
Lounge area
Play area or other children's activities
Shuttle for airport transportation
5. DON'T BE AFRAID TO GET A LITTLE CREATIVE.
When you're asking exploratory questions about the property, don't forget to get inspired by additional ideas that could make your guests' stay even more convenient or memorable. First, if the hotel is within driving distance of the venue, check to see if transportation can be arranged for your guests. Many hotels offer courtesy shuttles to the airport and other popular destinations within the city, and that's an added bonus. But often, if a large block of rooms is booked, you may be able to coordinate additional shuttle services with the hotel, even if it's at an additional cost. If a lot of your guests are flying in for your wedding, this service would be invaluable.
Next, if you're still thinking of ways to show your out-of-town guests a little love for making the effort to travel to your wedding, you can also consider giving them a small gift bag upon their check-in. This can include anything from unique, regional treats to tickets to a local attraction that's within walking distance.
6. BOOK AS A GROUP.
Once you have decided that this property checks all the boxes for what you're looking for in a hotel for your guests, you are ready to move on to the most important tip on this list — to book as a group. The first thing you need to do is get an estimate of the number of rooms that you will need, so that the property has a general idea of how many guests to anticipate. This number doesn't need to be exact, but it should be accurate enough to create a good starting point for negotiations. The total number will undoubtedly change several times before the wedding, with some guests finding that they can no longer attend, and others finally realizing that they can readjust their schedules and be there to lend their support.
When coming up with your count, be sure to include:
All out-of-town guests who have expressed that they would like to attend
Any members of the bridal party who'd like to be closer to the venue
Yourselves, as the hotel is a perfect place to spend the night before or after the wedding
Next, you need to begin the process of making arrangements as a group, which may be referred to as a "block" of rooms. Note that you will not confirm reservations or make payments, but you will make an agreement with the hotel to set aside a number of rooms for your guests. Typically, the rooms need to be booked before a specific date or the hotel releases them to other interested parties. Be sure to set up a group code, so that people booking their reservations can use this information to ensure they are identified as a part of your group. This also negates any confusion that may be created by using last names that may be unfamiliar or difficult to pronounce.
Additionally, if you are thinking about booking a suite for the wedding party to use, consider booking it for two days. That way, you have time to bring over all of the necessities, as well as relax with a little downtime.
7. CONSIDER MORE THAN ONE HOTEL.
No matter where you look or what options are available to you, your wedding may simply occur at a busy time of the year or there may be unavoidable events that are booking up large blocks of rooms. Perhaps you are having a holiday wedding or maybe your wedding date falls on the same day as an important citywide event. If this is the case, then it may be wise to make arrangements with two different hotel properties for your group.
8. SPREAD THE WORD.
The final step is to spread the word about the options that you have arranged. Some couples may include a small card inside their invitations or you can use your wedding website to list the information. Regardless of what you do, always follow up with word of mouth, especially if you haven't confirmed with a guest who needs accommodations. Above all else, be sure your guests do not book their rooms independently. If they do, they will not receive the special discounted rate.
Setting up hotel accommodations for your out-of-town guests will not be a very time-consuming task, but it can make all the difference. By following these simple tips, your guests will enjoy the convenience of a prime location, rather than having to race across town and possibly encounter traffic. Moreover, not only will you make this step of attending your wedding easier for your guests, but they'll also see the efforts that you have made and will make the same effort to be a part of your celebration.
---