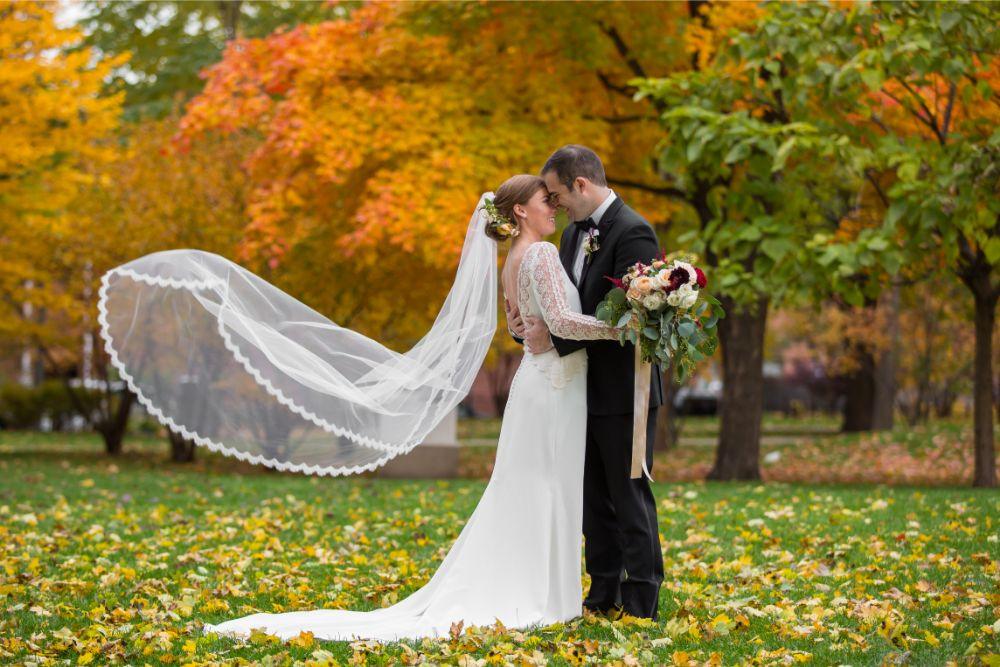 6 Ways to Add Seasonal Elements into Your Autumn Wedding
Photography by Crane's Photography (above)
You can find wedding inspiration anywhere nowadays; people find it in their favorite shows, their favorite colors, their favorite style…so why not their favorite season?
While many people get married in the summer months, the fall months are quickly gaining popularity in our region. And why wouldn't it? The beautiful foliage and rich hues can provide the perfect tone for your rustic or rich-colored wedding.
If you're planning an autumn wedding — or just love the season — you'll love these ideas we've gathered on how to incorporate fall into your big day.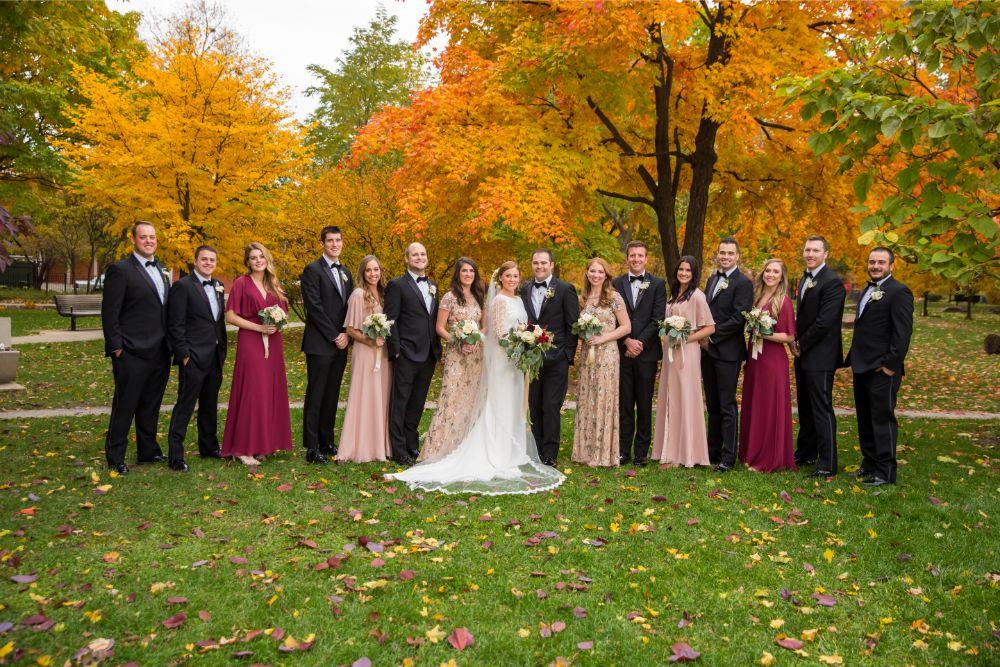 First and foremost, use the seasonal backdrop for your outdoor photos. If you're lucky enough to live in a region where the leaves change colors, all you need to do is head outside. Think of the gorgeous yellows, browns and reds that the trees naturally provide as the perfect setting for your romantic photo shoot. This couple captured the epitome of fall in this photo, with the perfect backdrop for their autumn wedding.
Photo above: Crane's Photography
When you meet with your vendors, they will have great ideas on how to incorporate your theme into the wedding details. For example, your florist could use seasonal sprigs or hues in the floral décor, like this boutonniere (above).
Photo above: Haley Henderson Photography
Sometimes, something as simple as a well-placed (and gorgeously adorned) leaf can bring the whole theme together. For this wedding, a beautifully painted leaf sat at each place setting, giving a subtle — but perfect — nod to the season.
Photo above: Haley Henderson Photography
Your cake (or desserts) are another simple but effective way to include autumn in your nuptials. Try a seasonal flavor, such as pumpkin spice or apple pie. Or, provide a seasonal treat like caramel apples. Even something as easy as incorporating fall colors and sprigs can bring fall into focus.
Photo above: Mariscal Photography
When your guests arrive at the reception, one of the most eye-catching things can be the centerpieces (especially as they sit at the table for the evening). Make it a statement piece with autumn leaves, branches and more. This couple even used feathers within their floral arrangements.
Photo above: TWA Photographic Artists
Lastly, but perhaps the most obvious of them all, use the hues of the season for your wedding palette. Mix in brown, deep orange, golden yellow, or rich burgundy. Even a forest green or sage can be a beautiful way to pay homage to the season of your love.
Photo above: Cinder & Vin Photography

---
Find more autumn wedding inspiration here.