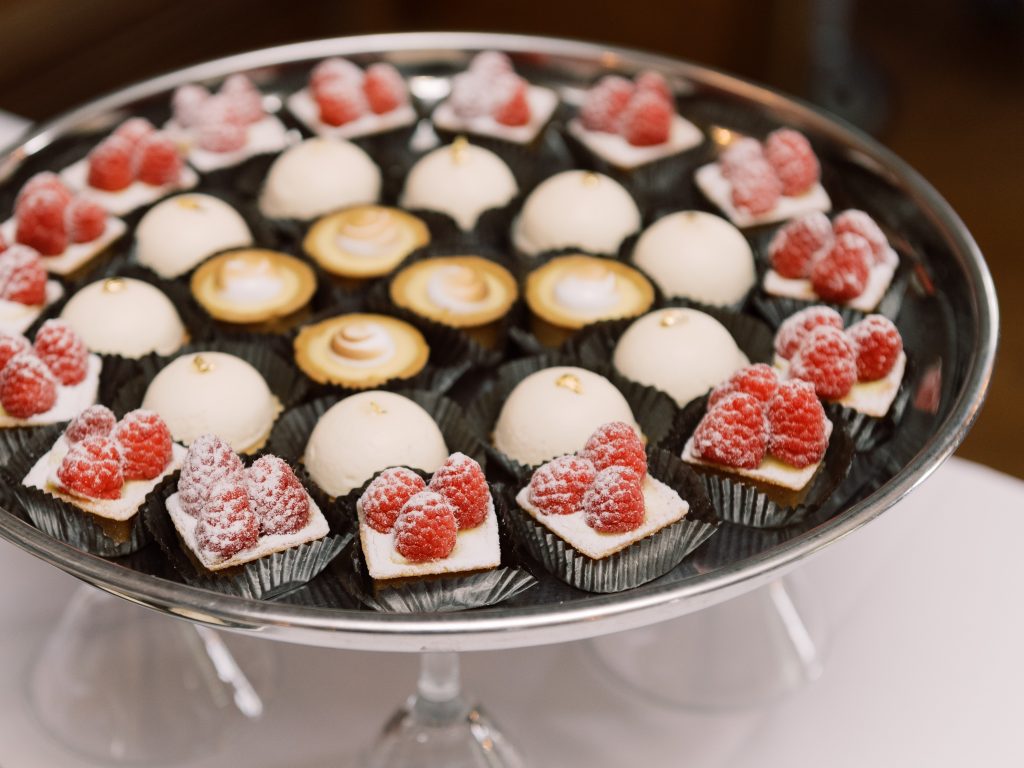 Embracing Sweetness: The Trend of Wedding Sweets Tables
Sweets table feature photo c/o Vanille Patisserie
When it comes to weddings, tradition and innovation often dance together to create memorable celebrations. One such trend that has been gaining momentum in recent years is the concept of a wedding sweets table, which offers a fun alternative to the traditional wedding cake. This delightful trend not only showcases a diverse array of delectable treats but also adds a unique touch of personalization and style to the wedding festivities.
"Mini pastries and small bites are common at every other kind of social gathering you can think of, so I thought – why not weddings!" says Sophie Evanoff, owner and operator of Vanille Patisserie. Vanille Patisserie has long been a community staple for French pastries and wedding cakes alike. Evanoff noticed more couples showing interest in small cutting cakes for their reception, but with supplementary sweets tables to feed the whole guest list. "You get the ritual of the cake cutting while also offering much more variety to guests," she says. "Sometimes cake can feel like a really formal moment […] but the sweets table allows guests to try more things at their leisure while they enjoy the party!"
A Feast for the Eyes and Palate
Gone are the days when a towering wedding cake was the only option for satisfying guests' sweet cravings. Today, couples are embracing the idea of a sweets table that boasts an assortment of bite-sized desserts. From mini cupcakes to artisanal chocolates, macarons to cake pops, the options can be tailored to any sweet tooth's desire.
This trend allows couples to curate a pretty display that caters to their tastes and preferences, as well as those of their guests. The varying colors, different designs and mouthwatering textures of the various desserts turn the sweets table into a visually stunning focal point. Couples can curate a striking display and add depth to the wedding's other visual aesthetics.
Personalization and Creativity
One of the standout advantages of opting for a sweets table is the ability to infuse a personal touch into every element. Couples can handpick their favorite treats, aligning the dessert menu with their preferences, cultural backgrounds or even shared memories. For instance, a couple might include cookies inspired by their first date or regional delicacies that pay homage to their heritage.
"When it comes to pastries, it's easy to tell a story with each flavor you choose to serve your guests, which makes the treats even more memorable for your event," says Evanoff. Sweets table offerings, particularly macarons, also allow for customization in colors and edible printed graphics like the wedding date, the couple's monogram or anything else significant to the wedding story.
Adapting to Dietary Preferences
The move towards sweets tables is also driven by a desire to accommodate a wide range of dietary preferences and restrictions. Modern couples are well aware of the diverse dietary needs of their guests, from gluten-free to vegan to nut allergies. Some couples opt for a traditional wedding cake full of sugar, gluten and dairy but then additionally provide a sweets table full of alternative offerings for guests with food allergies or restrictions. Such a sweets table allows couples to cater to many various dietary requirements while still meeting their tastes and preferences. All guests can indulge in the celebration without feeling left out!
"We receive a lot of requests for sweets that are gluten-free, dairy-free and vegan," says Evanoff. Showing how flexible bakeries can be, she shares Vanille's capabilities: "French macarons are naturally gluten-free. Our mini cupcakes can be made vegan and gluten-free. Our mini tarts can be made gluten-free, too."
An Interactive Variety
Beyond being an edible art installation, a sweets table offers a level of interaction and variety that a sole, traditional cake might not. Guests can leisurely peruse the display, selecting their favorites from an array of tempting treats, no matter their favorite flavor profiles. "Treats like chocolate chip cookies, cereal bars and mini cupcakes are nice to include, especially for younger guests," says Evanoff. "You really can have it all on a mini sweets table and not be limited to one flavor."
This interactive experience also becomes a conversation starter, encouraging guests to mingle and come back for seconds together. It's a wonderful way to break the ice and foster a convivial atmosphere. There's nothing that brings people together like the love of a good dessert!
You Can Have It All
There are a lot of options when it comes to your wedding cake, from size to surface design to flavor profiles. And it's cake, so no choice is necessarily a bad one!
For couples who have a difficult time making wedding decisions (there are a lot of decisions that come with wedding planning!), a sweets table allows you to have it all. Nervous about going too "out there" with your flavor preference? On your sweets table you can offer lemon meringue and hazelnut praline crisp goodies alongside classic flavors like vanilla bean and red velvet.

Evanoff notes that at Vanille, they offer mini pastry tastings so clients can explore their preferences to come up with their dream sweets table. "With a sweets table, you can be confident that there will be at least one thing that everyone will enjoy," she adds.
The Perfect Complement to Wedding Aesthetics
The flexibility of a sweets table lends itself seamlessly to various wedding themes and aesthetics. Whether it's a rustic barn wedding, an elegant ballroom affair or a whimsical garden celebration, the assortment of treats can match the wedding décor. From the color palette to the arrangement of the treats, couples can craft a sweets table that harmonizes with their chosen theme.
---
As the wedding landscape continues to evolve, the trend of a wedding sweets table has firmly established itself as a creative and delicious alternative to the traditional cake. Beyond its aesthetic appeal and delectable offerings, the sweets table encapsulates the essence of modern weddings – personalization, inclusivity and celebration. So, whether it's a tower of macarons, tiers of cupcakes or a collection of nostalgic childhood treats, the wedding sweets table is a trend that is here to stay, adding a touch of sweetness to the celebration of a lifetime.