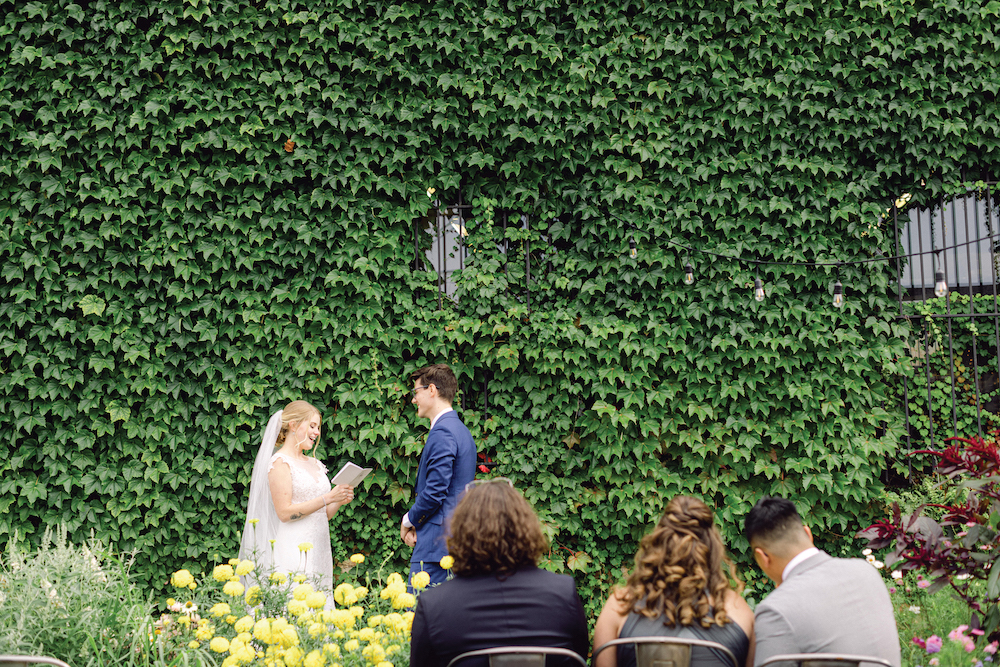 How to Write Authentic Wedding Vows
Photo by Stephanie Wood Photography
Beyond all the pomp and circumstance and decor, what happens at the altar is the most meaningful part of your wedding. You'll have an officiant to guide the ceremony, but when it comes to exchanging vows, this is your time to really focus on what matters most. You'll enter your own bubble as you look into your loved one's eyes and swear your best and worst days to them. Guests, musicians, officiant and wedding attendants will fade into the background as you have these few minutes to soak in what this celebration is all about. So how do you even start writing such an important collection of words? Let's get started.
GET A HEAD START
While you're likely busy with apparel fittings, cake tastings and RSVP collections, don't wait until the last minute to write your vows. To make sure you're not rushing and end up with something you're not satisfied with, get started writing early.
As you start brainstorming, set aside a notebook or create a document on your phone/computer to begin compiling tidbits you want to include in your vows. This can be as simple as a bulleted list or as complex as full sentences. By adding ideas and nuggets all along the way, when you finally sit down to perfect it all, you'll have a good start.
Some of the most special and unique vows include storytelling elements. While a vow template from the internet will do the trick, it's special to personalize your vows with inside jokes, memories together and uniquely "you" references. In your notebook, jot down stories about your first meeting or "the moment you knew" as the memories pop into your head. Include favorite songs, TV series and any other special connection you two share. These specifics can be just vague lists, but they will help you start to see patterns you might want to incorporate. The most important part is that you don't have to do all of this in one sitting.
Writing one or two notes down every few days or weeks is all you need!
In this step of the process, it can be helpful to practice some free- writing. When you are in a good mood and have some time to spare, grab a pen and paper and just start writing. Freely write about your partner, your relationship, what marriage means to you, etc. These scribbled notes do not need to be perfect poetry, this is just your moment to write completely uninhibited. You'll be surprised to find what lovely tidbits will come out of just writing pressure-free. You don't need to write in complete sentences or include every small detail, what's important is that you get your thoughts out in front of you.
BE ON THE SAME PAGE
We are gathered here to celebrate two becoming one through the tradition of marriage. Likely, you and your partner are different in personalities, which is why you're joining together to bring out the best parts of each other! So it wouldn't be a surprise that your approach to writing vows would be different. However, it can be a bit awkward when one partner reads a 10-minute, heartfelt speech, followed by the other sharing only a few (just as heartfelt!) words.
To keep your vows on the same page, discuss with your partner what they are planning on writing. You don't need to reveal specifics, but it is good to have that conversation and see eye to eye. It can be helpful to set a word count range or time limit that you both can stay within so that the speeches are similar in duration.
Just as important as length, make sure that you two match tones. One partner might fill their vows with jokes and lighthearted fun, while the other plans a tear-jerking and poetry-ridden declaration. Both of these are great vow directions, but finding a middle ground will keep the ceremony cohesive while still including the best parts of you into the vows.
FIND EXAMPLES
We are not all naturally gifted with words, and that's okay! If you're feeling nervous about writing, use vow templates to help you get started. By looking at examples, your mind will automatically start putting things together. There are a lot of examples out there, from videos published on YouTube to written blog posts. Note what styles you don't like and remember the parts that make your heart skip a beat. Feel free to mix and match your favorite elements from these examples to create something that fits you.
Inspiration doesn't have to strike just from other people's vow examples either. We live in a romantic world and love songs, poems, movies and art pieces abound. Think of some of your favorite love songs and incorporate the lyrics into your vows. You can do this word-for-word or break apart a song and interject personal details into each verse. This is especially memorable if it's from an artist you've seen in concert together, "your song" or a song you sing around the house together.
SET THE SCENE
When you've gathered all your inspiration and are ready to write, set a cozy scene for yourself. You have the groundwork for your vows, thanks to your research and planning. Now it is time to bring it all together. As you sit down to write your final draft, find a quiet, stress-free place to be alone and really think about your relationship. Perhaps light a candle, throw on some serene music, find your favorite pen and get comfortable. As you write, reflect on what this marriage means to you. What do you love most about your future spouse? Think about what kind of journeys have you gone through together to get to where you are today? What makes them The One? How about, what are you most looking forward to in your life together? What do you want to promise to them? Thinking of these questions will put you in the mindset to write in your authentic voice and create something lovely and unique.
SECOND SET OF EYES
When you are feeling comfortable about the state of your vows, show them to someone you trust. You likely have been so engulfed in the vows and every specific word that it'll be hard to take a step back and look at them as a whole.
Be open to honest feedback, it's better to receive that now than when you're reading the vows in front of everyone! While getting a second opinion is useful, keep in mind that your vows are ultimately yours. Some people might disagree with a phrase or two, but if you feel something is important to your relationship, keep it. You know your relationship best and you know what vows will be the most special.
Sharing your vows with a friend or family member is also a great way to practice reciting them. Even just practicing saying them out loud in front of a mirror is crucial. When you're at the altar and nerves are high, you won't want the words to feel foreign on your tongue. Play around with your delivery, pace and how you'll express your emotions. Sometimes how you say something is just as important as the words themselves. As you practice, it can be helpful to make notes to yourself like, "take a breath here" or "pause for laughter" so you don't get tripped up.
THE WRITTEN WORD
Most couples don't memorize their vows. Emotions run high during the ceremony and adding a memorized script to the mix can be intimidating. If you're comfortable with doing so, go for it! But it is just as special to have your vows written down so you can ensure your thoughtful words are spoken as you intended.
Some couples enlist their stationer or calligrapher to transcribe their vows into a beautifully designed memento. This can be your script for the ceremony, but also serves as an heirloom you can cherish for years to come. We've seen some beautifully designed vow booklets, scrolls and notecards. If you decide to have children, these keepsakes can maybe even help them write their own vows someday!
BE TRUE
No matter what direction you decide to go with your vows, the most important thing is to be true to yourself. You're giving your authentic self to your partner and you want your words to come out naturally. But with the right preparation, you'll be ready to speak from the heart and focus on what really matters: promising your commitment to the love of your life.
---
Just Write!
Prepare to write and preserve your vows in style. Check out these vow-writing essentials, from jotting down initial ideas to creating a family keepsake.