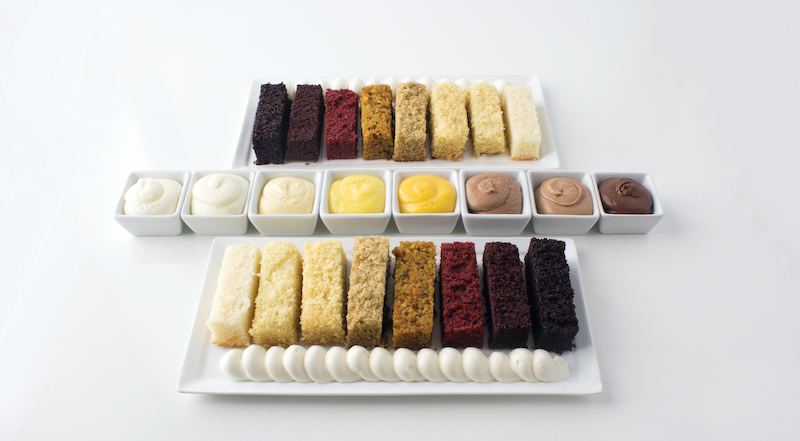 How to Make the Most of Your Cake Tasting
Written by Nesa Mangal and Amanda Shepard | Photograph courtesy of Bittersweet
Cake tasting is often a couple's favorite part of preparing for their big day. Not only do you get to eat cake together, but it also checks off a wedding list to-do. Who says you can't have your cake and eat it, too? With infinite possibilities of flavor combinations, shapes and sizes, many couples find the task of deciding on a wedding cake that is delicious, as well as visually pleasing, to be a bit daunting. Read on to ensure that you and your fiancé are prepared to make the most of your cake tasting experience.
PREPARATION
In order to make your wedding cake tasting go as smoothly and successfully as possible, some upfront preparation is required. There are six key pieces of information to know before you reach out to a bakery and cake designer:
Wedding Date – Selecting your wedding date is crucial before you make plans with a cake designer, especially if your celebration falls on a busy holiday for weddings, such as Memorial Day, Labor Day or New Year's Day. By rule of thumb, couples are advised to begin reaching out to bakeries at least nine months ahead of their big day. Give yourself enough time to research bakers and cake designers in your area, schedule tastings and make your final decision. A word of caution: If you are planning on purchasing a cake with sugar flowers, plan to add on two to three months. Sugar flowers are beautiful additions, but as any cake designer can tell you, they are not built in a day.
Venue Choice – Many couples are not aware that their venue can influence the design of their wedding cake. As long as you choose a venue that fits your style, it will be easier to translate that style into the design of your cake. For example, a rustic barn or a chic, contemporary museum will deliver two very different cake designs.
Number of Guests – It is unlikely you have your final guest headcount by the time you begin your cake tasting, but a rough estimate can dictate how many tiers of cake you need in order to offer everyone a slice on your big day.
Flavor Ideas – Deciding on the flavor of the cake may be the most difficult part of the process. You want to find something that everyone loves, while making sure you still enjoy the cake as well. If you and your partner have different tastes, consider alternating flavor combinations by tier. You can pick something safe for the largest tier — think vanilla or chocolate — and then each choose a more personalized flavor combination for the remaining tiers. Consider choosing more daring flavor combinations, such as lemon raspberry, hazelnut praline, cookies and cream, coffee or salted caramel. Selecting unique, personalized cake flavors can help put a delicious twist on the final notes of your celebration.
Design Ideas – Couples should have rough ideas on the floral and décor, or the overall look and feel of their wedding before they go in for a consultation. Better yet, it can be helpful to compile inspiration for your wedding cake. Make sure you prepare ideas to share with your cake designer. Swatches of your bridesmaid dresses or tapestry colors are also ideal for your cake designer to create a cake that is a perfect color match. The more specific you are with your vision and examples, the more creative the cake designer can be with bringing your ideas to life.
If your wedding is designed with elegance in mind, you may want to go with a wedding cake that is more traditional in style. This can include piped flowers like roses or real flowers as accents. Lighter colors are usually associated with elegance, so stick with a fair color that matches the rest of your wedding theme to make the cake the centerpiece of your reception.
If your wedding is more modern, you may want to go with more vivid colors. An ombre cake, for example, can create an eye-drawing centerpiece. You can keep it simple, or spice it up with flowers and other decorations. Including bright, dramatic colors can ensure that your cake matches your contemporary theme.
A rustic wedding may inspire you to pick a naked cake. Naked cakes usually include some type of filling, like fresh fruit, but aren't fully frosted on the outside so some of the "naked" cake shows through. If you don't enjoy the taste of icing, this may be exactly the cake for you! And bonus — less frosting means less of a mess!
Budget – The process for finding an agreeable price tag for your wedding cake is much like all of the other vendors you're going to be working with. First, do your research to get a feel for what you may want and can afford. Then email or call all potential vendors to obtain pricing and set up a meeting. Keep in mind that most wedding cake tastings come with a fee of around $25 per session. However, this price is often credited to your cake purchase if you choose that specific cake designer.
Always remain realistic about your budget, but don't be afraid to ask questions. A cake designer may be able to help you achieve the look and feel you want with an alternate technique or product. By talking it through, it will ensure that both you and the cake designer leave the agreement happy.
SAVOR
For the cake designer, setting up a cake tasting appointment can take two-and- a-half hours at the very least. However, on the day of the tasting, you can look forward to spending about an hour at the consultation. The first half of the meeting is typically spent confirming details and specifications, as well as going over the design of your wedding and any ideas you already have for your wedding cake. The last half hour is then usually spent on everyone's favorite part — tasting and rating the cake flavors and options.
DOS AND DON'TS FOR CAKE TASTING
Do be prompt. Many cake designers schedule tastings back to back and there is nothing more awkward than encroaching on another couple's tasting time.
Don't be afraid to ask questions. Your cake designer is an expert and wants you to feel comfortable making decisions about your wedding cake. And you want to be comfortable with your final decision, so ask questions about processes you may not understand or if you have a special request. For example, many bakeries present the couple with a selection of their most popular cake flavors and fillings, as well as their seasonal selections. But if you have something specific in mind, it's alright to ask for a different flavor. If you already have this flavor in mind prior to your tasting, ask ahead so the bakery can be prepared and have that flavor combination available for you.
Do think about your guests. Whether they're vegan or gluten-free, everyone deserves a slice of wedding cake. However, it's not necessary to make the entire cake gluten-free or vegan. Ask your bakery if it's willing to make the top tier gluten-free and the rest of the tiers traditional cake. Gluten-free cake can still be covered in buttercream frosting and the whole cake can still look cohesive. Unfortunately, though, cream made from vegan butter doesn't hold up as well and can cause the design of a cake to go awry. If you are vegan, opt for a vegan cake on the side and serve a traditional wedding cake to your guests. If you do opt for one of those non-traditional choices, there is likely to be a price difference. Always mention your dietary restrictions in your initial call or email.
Don't forget about the finishing touch. To complete the overall look of your cake, talk with your cake designer about the cake topper. You may choose to go with something more traditional or you may think of something that's completely out of the box. Whatever you choose, you want the cake topper to tie the cake together. A unique topper can also help the cake stand out.
Do talk about the logistics. There's a lot to consider once the cake leaves the bakery and makes its way to the venue. Leave the delivery up to the baker so you don't have to worry about the cake arriving safely. Most bakeries service the immediate areas around them; however, if you live far away from the cake designer you really like, that doesn't mean you can't choose him or her. Simply ask what the charge would be to deliver to your desired destination.
Do save the top tier of your wedding cake. Back in the 19th century, the top tier of the wedding cake was to celebrate the christening of the couple's first child. Today, the tradition has adapted to celebrate the couple's first wedding anniversary. Just make sure you wrap your wedding cake properly to avoid freezer burn on that special slice.
Do leave extra time for your cake designer to make last-minute adjustments before the rest of your guests arrive. You also need to know how the venue plans on storing your cake. This ensures that the cake is fresh and ready to eat once your reception starts. Most professionals suggest that getting the cake to the venue about an hour to an hour and a half before the reception begins is ideal.
ENJOY
After your tasting, you should follow up to confirm your choices and any additional details. Overall, with a little preparation, every cake tasting can be successful, even if you do not end up choosing that specific cake designer. Your wedding cake is only one aspect of your big day, but the joy you receive when you find the perfect cake is so sweet. Bon appétit!
---