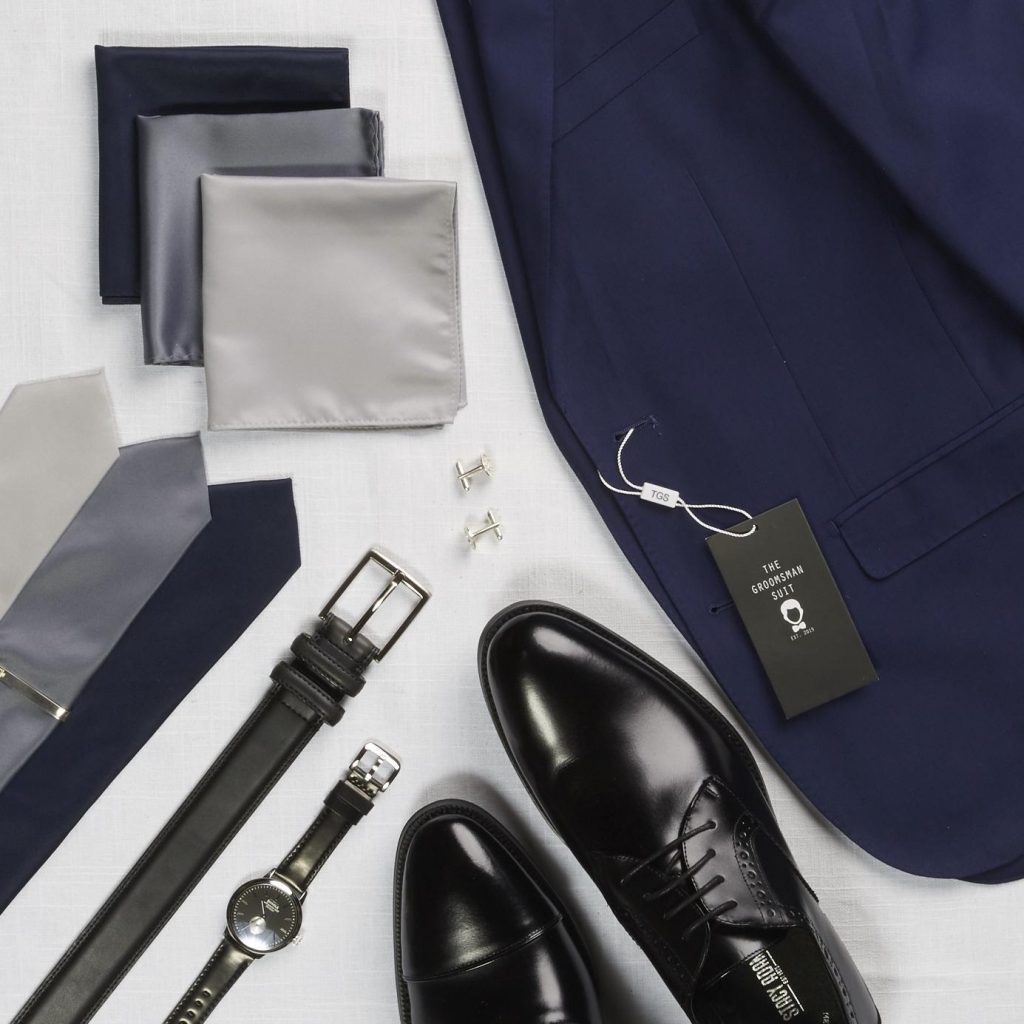 What to Wear? Brown or Black Shoes with a Navy Suit – with The Groomsman Suit
Grooms may not have to buy a wedding gown, but they still have some important (and difficult!) decisions to make when it comes to finding the right suit, belt and shoes. The formalwear experts from The Groomsman Suit popped by the blog to discuss all things suiting and to answer one of the most confusing questions— what color shoes does a man wear with a navy suit?
There is so much to think about when it comes to selecting your wedding day look. While many might think the groom has it the easiest, and wonder, "what's so difficult about selecting a suit?" There is actually quite a bit that goes into selecting the groom's suit or tuxedo and the complementing accessories. Men's suiting is one of the most challenging wardrobe items for a gentleman to purchase, especially when trying to achieve a proper fit. And after fit, the finishing details of the look must be determined— which can be a whole other challenge in itself!
Choose Your Color
When it comes to the groom's look, usually the first step is to select the perfect suit (or tuxedo) in a color to complement the bride-to-be and all of the fine details of the wedding day. Your bride has likely told you just a little bit about her gown. Possibly she's said, "It's ivory, floor length, and has Alencon lace detailing." You might be thinking, "Well, that doesn't tell me too much," but actually there are some key statements in this seemingly small set of information. Floor length, as opposed to knee length or tea length, indicates a certain level of formality.  A floor length gown is more formal than the alternatives. This doesn't mean you must run out and purchase a tuxedo for the Big Day, but there are some other details that you must consider before settling on your suiting. These include the time of day that the event will take place, the season and the venue.
Choose Your Shoes
The second, and equally important, part of your wedding day look planning is the shoes and accessories. Your shoe selection must be carefully considered as shoes typically anchor the look along with the tie and pocket square selections. As a default, most gentlemen think that a navy suit should be paired with tan or brown shoes. In some instances, particularly for outdoor and more rustic weddings, this is a fine choice. But in more formal weddings, brown shoes might make the groom appear as if he is going to the office rather than getting married. Often overlooked by grooms and groomsmen is a black wholecut oxford or cap toe oxford which can be a sharp complement to the navy suit. Black shoes paired with a navy suit provide a certain level of sophistication and formality that is not necessarily as apparent with brown shoes. This combo tends to be more appropriate for evening weddings and weddings that take place in the fall and winter in cooler climates. Keep in mind there are no hard rules when it comes to selecting shoes, but some choices may be more suitable than others.
Choose Your Belt
Now what about a belt? Should you wear a belt for your Big Day? We say yes, but only if you are wearing a suit. Belts should never be worn with tuxedo pants. To make sure you don't make this mistake, our tuxedo pants don't even come with belt loops! Belts are one of those accessories that are both fashionable and functional.  We recommend that once you settle on a shoe color, you match your belt color to the shoes. Again, not a rule, but this makes things much more streamlined for a wedding day look.
As you plan your wedding day look, the pros at The Groomsman Suit are here to help you to consider all the details of your wedding day to settle on the best suit and accessory styles and colors. It's important that you don't make these decisions in a vacuum. You and your bride-to-be should look like you are going to the same party, no exceptions. And selecting your wedding day apparel should not be a chore. We want to ensure that you feel great about what you are wearing for the big day and share in the excitement about the look that you select. If for any reason you get stumped, our stylists are always here to help!
The Groomsman Suit created a new solution for black tie attire: a sharp-looking tuxedo that could be purchased for less than the cost of a traditional rental. Check out their site for style inspiration and a wide variety of formalwear options!