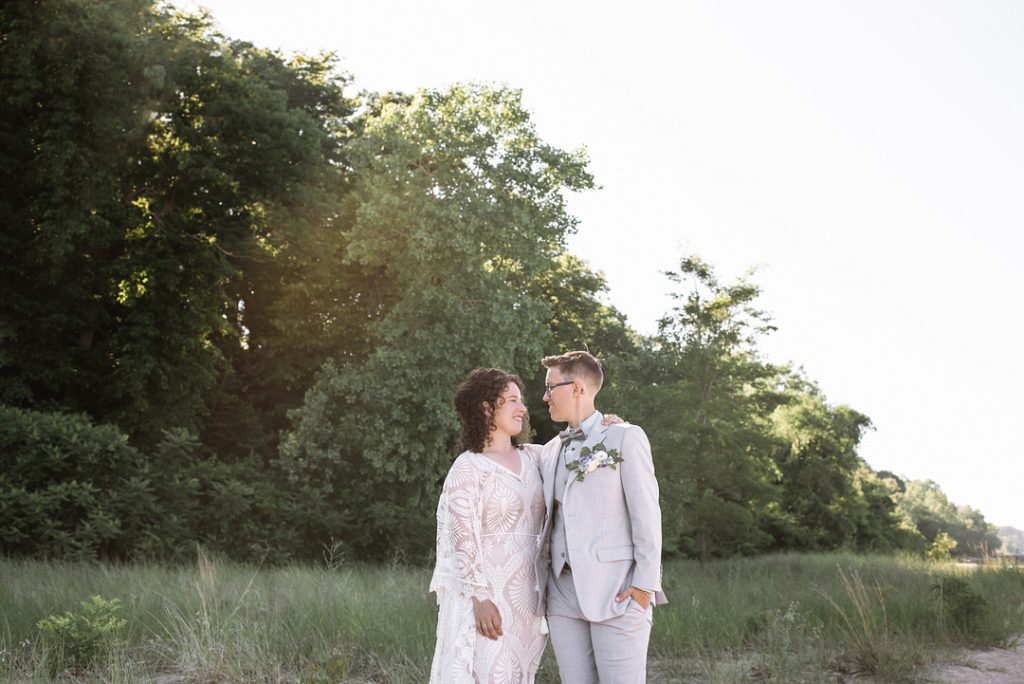 Virginia and Rose's Intimate Beach & Forest Wedding
Virginia (she/her/they/them) and Rose (she/her) first crossed paths in middle school, but it wasn't until their 10-year high school reunion that their lives intersected again and turned romantic. Rose initially was uncertain about marriage, but it was through Virginia's love and their relationship that Rose realized that a lifelong commitment to Virginia was what she truly desired. With a simple and romantic lunch picnic at the beach, Rose proposed to Virginia. This moment remains one of the couple's funniest (and most endearing) moments together, as Virginia's initial shock followed an exclamation of "Is this a dream?"
Their dream romance only carried on into their wedding day. For their celebration, Virginia and Rose picked the beach they would often go to as kids, Rosewood Beach. Admittedly, Virginia's middle school dream was to be married in a forest, but with adult life practicalities, that wasn't in the cards for them. Instead, the two were married on this sentimental beach location. But thankfully, there was a forested area nearby where they could have some sweet couple photos to make young Virginia happy. The best of both words!
Embracing their love for nature – especially gardening since Rose is a vegetable farmer – botanical elements were integral to their wedding aesthetics. Both marriers wore blossoming and natural flower crowns, and Virginia had a matching pocket square boutonnière in their jacket pocket. Perfect for the beach setting, Rose stunned in a boho and airy dress alongside Virginia in a sharp, grey suit.
Filled with special moments, their beachfront ceremony featured a wine ceremony and the traditional Jewish glass smashing. The reception continued with another cherished Jewish custom, the hora dance, adding a joyful and cultural touch to their celebration. The evening culminated with Virginia and Rose lifted high by their loved ones, soaking in the contagious joy that filled the air.
All in all, Virginia and Rose's wedding was a culmination of shared dreams, personal touches and a testament to their enduring love—a day that will forever hold a special place in their hearts.
VENDORS
PHOTOGRAPHER Mei Lin Barral Photography
VENUE Interpretive Center at Rosewood Beach
OFFICIANT Pastor Christy Temples
FLORAL Southside Blooms
COORDINATOR Weddings by Danica   
ROSE'S GOWN Joyfolie
ROSE'S SHOES Double H Boots
VIRGINIA'S FORMALWEAR HKT Custom Clothiers
VIRIGINA'S SHOES Tomboy Toes
RINGS Holden
STATIONERY Minted  
CATERING Foodstuffs Events & Catering
CAKE Sweet Ali's Gluten Free Bakery
ENTERTAINMENT Party Vibe Online
---