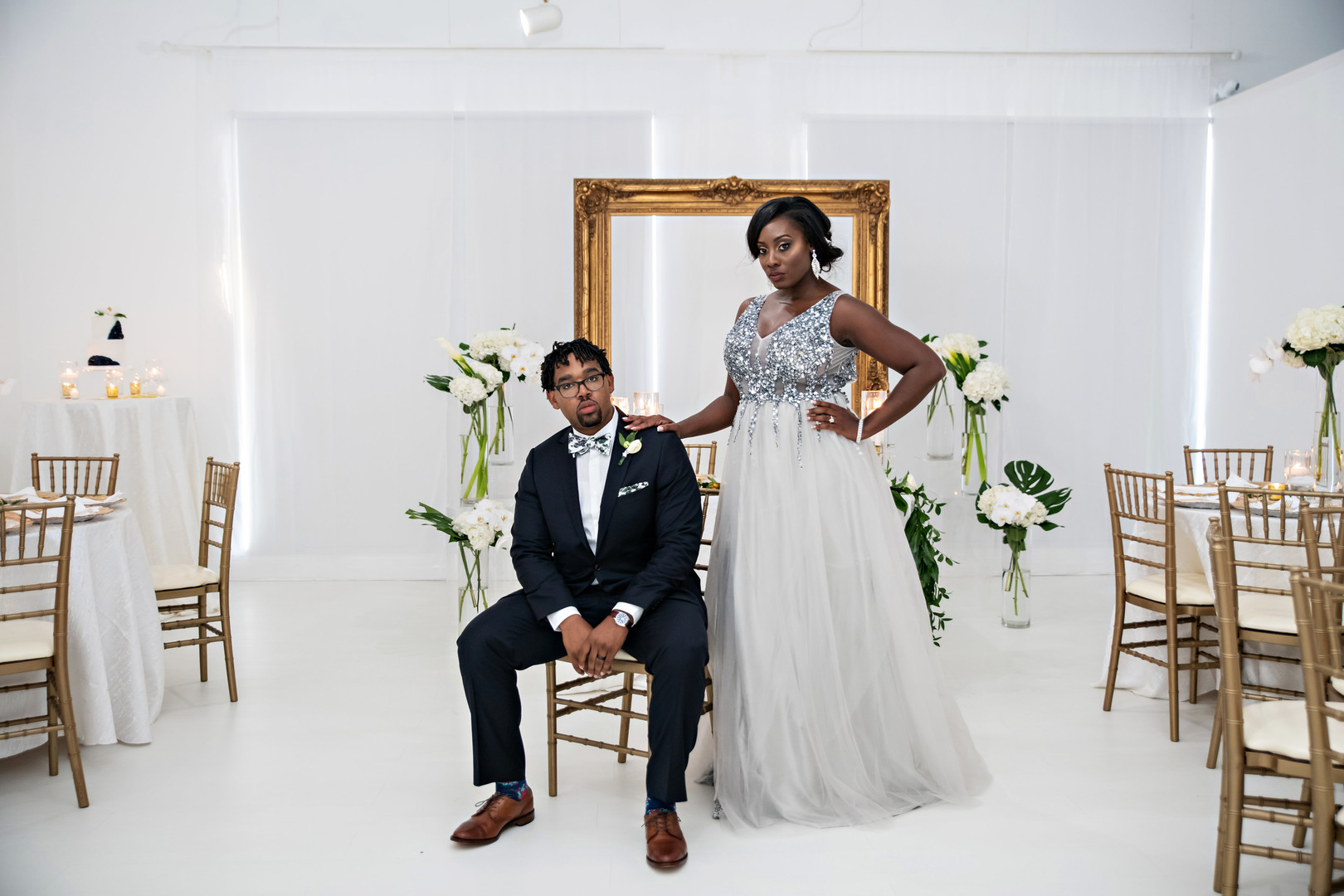 Veronica & Phillip's Intimate White & Gold Wedding
Veronica & Phillip
July 20, 2018
Atlanta, GA
A Note from Shavon Hunter of La Soirée Chic Events
Phillip and Veronica wed in a small and intimate ceremony on Friday, July 20 at 6pm in Atlanta-Buckhead, GA. There was no assigned wedding party, no spectators—simply two people basking in the love of each other, along with their mothers, fathers, brothers, sisters, nieces, and nephews.
True to their personalities, Phillip and Veronica kept the most intricate details of the wedding to themselves, with their only advice to their families being….dress to impress.
Phillip and Veronica enlisted the help of Shavon Hunter owner of Elope in Atlanta by La Soirée Chic Events along with Erica Williams from PEK Designs and Events to plan their special day.
Veronica enlisted the expertise of Dallas designer Andre Terry from IMT Designs to remake a vintage gown given to her by her mother. Andre was literally given just a few days to remake the gown into a dress worthy of a princess. In fact, Andre finished the last stitch on the dress just hours before Veronica jumped on a plane and headed to Atlanta for her and Philips 'surprise' wedding.
"My first time trying on my dress in its completion was drum roll…moments before I walked down the aisle. I had never tried on the shoes, dress, veil, jewelry or any of my bridal outfit in their entirety. I literally had no idea what I looked like until after I had already walked down the aisle! The room I got dressed in didn't have a mirror, and as soon as my sisters and mom finished fluffing my dress, they were whisked to their seats and the ceremony began." -Veronica
Chef Aaron along with his wife Jin of Louis Kingsley, an Atlanta based Private Chef Catering company provided the food for our special day. Both the bride and groom had the pleasure of choosing appetizers that were a reflection of themselves as a couple and individually. Phillip chose the Smoked Pork Potstickers with Sweet Thai Chili Sauce, and Veronica chose the Shrimp 'n Grits Bites with Smoked Tomato Aioli & Fresh Lemon, to pay homage to her hometown where fresh seafood is a major staple item. Together the bride and groom chose the Southern Pan-Fried Chicken & Waffle Bites with Bourbon-Apple Syrup to showcase their playful side.
"From our very first call with Shavon I knew we had hit the jackpot! I had so much nervous energy over planning a wedding, let alone a surprise wedding in another city.  Shavon was so calm, and reassuring that I knew without a shadow of a doubt she was the perfect person to coordinate our special day. Oh, and did I mention she came with a full suite of "friendors" as she calls her vendors, who all equally contributed to our magical day! Erica, the event stylist was the absolute best! From e-mails, text, Pinterest shares, to conference calls, she did everything in her creative powers to ensure that our overall vision was captured and executed." -Veronica
Vendors
Venue: Park Studios
Planning/Coordination: Elope in Atlanta by La Soirée Chic Events
Photography: Michelle Davina Photography, Tailored Media Productions, Inner Soul Images
Floral & Décor: PEK Events
Catering: Louis Kingsley Catering
Cake: Sweet Details ATL
Chairs: BSeated
Reimagined Bridal Gown: IMT Designs
Makeup: Beauty II Behold