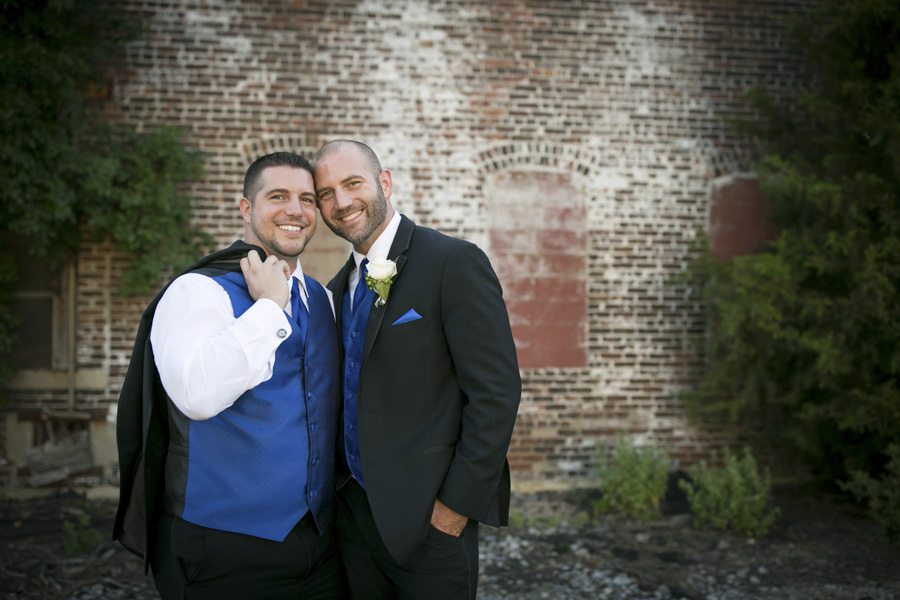 Chuck & Rob's Industrial Steampunk Wedding
Public Landing Banquets
Lockport, IL
June 10, 2017
Images by Brittany Lynn Studios
With no bride included, Rob and Chuck skipped all the extra frills at their industrial steampunk wedding. Accompanied by vibrant blue "groomsgirls" and groomsmen in matching blue vests and gray tuxes, the couple exchanges vows at All Saints Lutheran Church in Orland Park. With happiness abounding, they strolled hand-in-hand as newlyweds down the handcrafted paper flower-lined aisle. The bridal party made their way to two nearby locations for photos – both of which fit the day's theme well. At the reception, guests were greeted by the warehouse charm of Public Landing in Lockport. Rustic brick walls and exposed wood beams harmonized with dark chaivari chairs and tables draped in white. Round floral arrangements adorned with pocket watches and other trinkets took their place next to apothecary-style bottles.
"The groomsmen and ourselves sported cuff links made from reclaimed mechanical watch parts, while the women donned cogwheel necklaces and earrings." -Chuck
Stepping outside the theme, Spider-Man and Captain America action figures topped a white tiered cake alongside two mini bottles of Jack Daniels Fire, which Chuck and Rob downed after the obligatory cake-cutting photo op. The couple shared a first dance together as newlyweds before celebrating the night away with their friends and family.
Words of Wisdom from the Couple
"Right from the start, you will notice that everyone will have an opinion on what your wedding should be like. First and foremost, remember that it is your day and not theirs. So, begin by figuring out between the two of you everything that you want out of your wedding and all of the events leading up to it. Once you're past that, then you can start to fill in the holes and take bits of ideas from others to incorporate on your own terms. Do take into consideration the "lessons learned" from your friends and family. A good question to ask in those conversations is, 'what do you wish you would have known from the start?'"
---