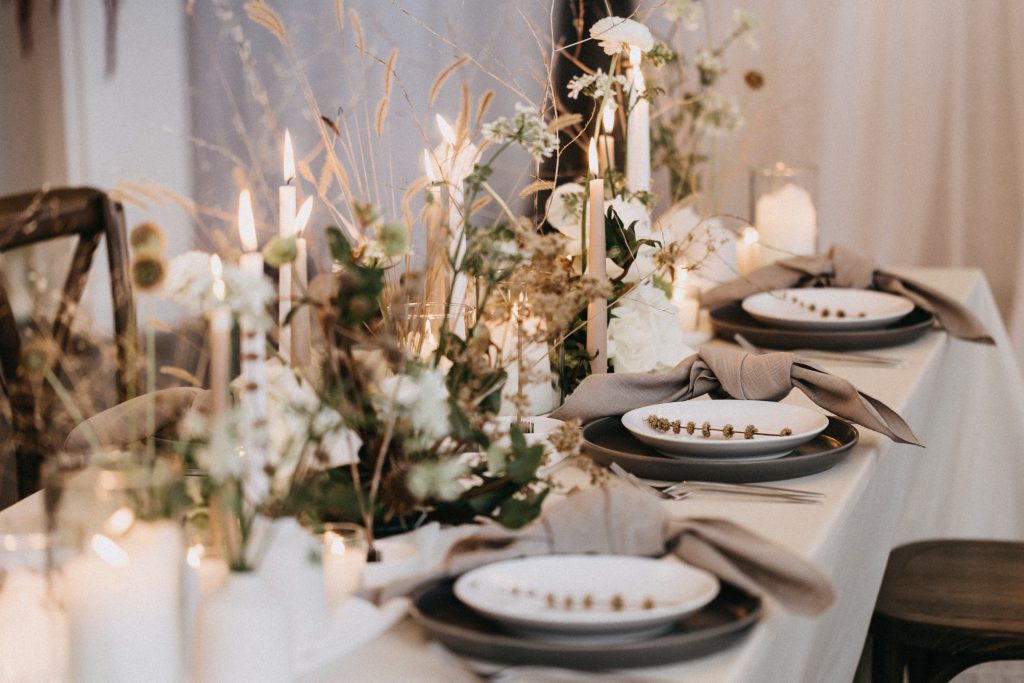 Styled Shoot Showcase: Natural Warmth at Room 1520
Step into a realm of enchantment, where Urban Allure Events unveils their full spectrum of services against the backdrop of Room 1520. Wanting to redefine the concept of a winter wedding, this collaboration unveils the often overlooked beauty of the season. Through the clever incorporation of delicate winter textures, sumptuous velvet and chiffon linens and a sophisticated color palette, this styled shoot breathes vitality into the winter wedding panorama – transcending the boundaries of time and season.
Within Room 1520's spacious, historical loft, the shoot's team transformed the venue into a welcoming wonderland. Toffee, deep wine, ivory and sage take stage as the primary color scheme, weaving a tapestry of luxury and warmth.
Channeling inspiration from the timeless art of Ikebana, the floral arrangements command attention, incorporating elements of the season. An eclectic array of blossoms and foliage, artfully arrayed in dainty bud vases, and winter branches offer a striking departure from conventional centerpieces. The juxtaposition of delicate blooms against the backdrop of wintery branches creates a poetic display. An assortment of candles placed throughout the space orchestrate an atmosphere of romance and allure. As theoretical guests journey down the aisle, they're guided by the warm flicker of candlelight leading towards the ceremony's focal point.
From the planning and coordination to the exquisite floral compositions and decor, every aspect of this shoot was meticulously curated. This styled shoot stands as an invitation, encouraging couples to embrace the charm and allure that winter often keeps veiled. It's a symphony of aesthetics that transcends the calendar's dictation, inviting all to embrace the enchantment of the season.
---
Vendors:
PHOTOGRAPHY Loren Weddings
VIDEOGRAPHY Hello Darling Films
PLANNER Urban Allure Events
VENUE Room 1520
FLORAL Urban Allure Floral and Design
STATIONERY Urban Allure Events
FABRIC & DRAPING MK Lighting + Design
LINENS F&S Linens
---
For more inspiration, check out our featured Styled Shoots
---
---