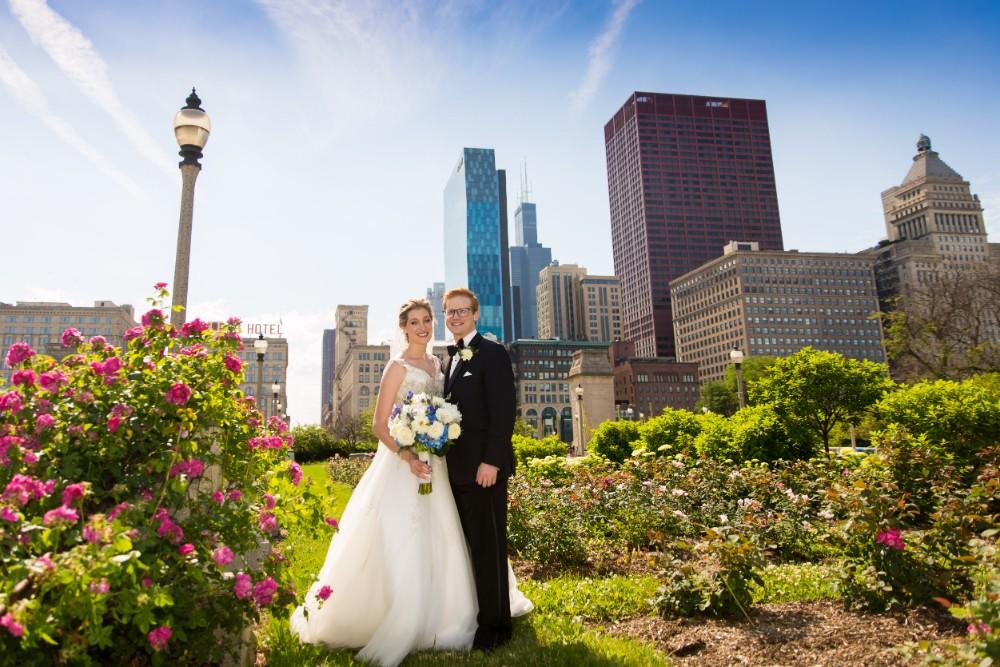 Local Love – Stephanie & Dane at The Blackstone Hotel
Stephanie and Dane met in a shared Biology class during their freshman year of high school. They were supposed to look at strands of hair under their microscopes and Stephanie asked Dane for a strand because red hair was much more exciting to look at than brown. Dane was pretty shy, so he started asking Stephanie for a piece of gum every day as a way to talk to her. Eventually, his friend (and eventual co-best man) convinced him to ask her out! Thirteen years later, Dane and Stephanie are still certain they are perfect for each other. It's never been one big moment, but rather "a never-ending series of small moments that further confirmed we were meant to be together," Stephanie said. From the early high school days of having their parents drive them to hang out and occasionally frequent Panera, their partnership and love have continued to grow.
When it finally came time to say "I do," Stephanie and Dane knew they wanted to get married in Chicago. They live in the city and knew they wanted to take photos around their favorite spots. They both loved the cosmopolitan feel of a Chicago wedding and found their ideal venue at The Blackstone Hotel. They chose to work with the colors of the ornate ballroom and incorporated accents of gray and silver into the overarching blue and white theme. Their florist worked with the couple to design a breathtaking floral installment of wisteria and orchids that framed Stephanie and Dane while they exchanged their vows. With thirteen tables, an exact match for the number of years Stephanie and Dane had been together, they chose to use a photo from each year of their relationship as a table marker. Stephanie told us that, "Having photos of our awkward teen years at every table brought a fun and sort of dorky element to the evening. It was also a great conversation piece which encouraged our guests to get up from their tables and walk around to check out the other table numbers."
With guests who traveled from all over the world to celebrate with Stephanie and Dane, the couple chose to seat random groups of people together and were thrilled when everyone bonded and had fun celebrating together. Stephanie and Dane, who really hoped their guests would enjoy the dance floor, were not disappointed— it was a boisterous party all night. The only time people left the dance floor was to swipe unattended pieces of the delicious butter and chocolate fudge layered cake with passionfruit curd and bittersweet chocolate mousse frosted with Italian meringue.
When reflecting on his favorite moment of their Big Day, Dane recalled the moment their day-of coordinator snuck them in to see the decorated ballroom before any of the guests arrived. Besides being a time for the two to be alone during the whirlwind day, "It was amazing to see the culmination of all the planning and decision-making we had undergone over the past year," Dane reminisced. Stephanie especially loved what was originally a mistake— forgetting to exchange rings before beginning their Irish hand-binding ceremony— that meant they got to sneak away for a private moment after the ceremony to officially exchange their wedding rings. "It was so special to have one little thing that was just between us, that I am actually really grateful for the error," Stephanie said. Their graceful and elegant wedding day was a heartfelt celebration of their high school love that eventually grew to a promise of forever.
Vendor List:
Venue: The Blackstone Hotel
Photography: Colin Lyons Photography
Videography: Hendzel Productions
Officiant: Joe Hornagold
Wedding Rings: Family Heirloom; MJ Metals Jewelry
Engagement Ring: Family Heirloom with stone from Gem House International
Bride's Gown: Mori Lee via Kathryn's Bridal
Bride's Shoes: Badgley Mischka
Hair: Zackery Bowen of Lumination Salon
Makeup Artist: Melanie Hart Narbutis of neapolitan collection
Bride's Other Jewelry: Nadri
Formalwear: Kathryn's Bridal
Groom's Accessories: Charles Tyrwhitt; Baume et Mercier; Cuff Daddy
Bridesmaids' Dresses: Bill Levkoff via Kathryn's Bridal
Stationery: Wedding Paper Divas; Minted; Basic Invite
Floral & Décor: Joseph's Events
Catering: The Blackstone Hotel; 5411 Empanadas
Entertainment: DJ Randall of Okyne Media Lab
Cake: Cake
---