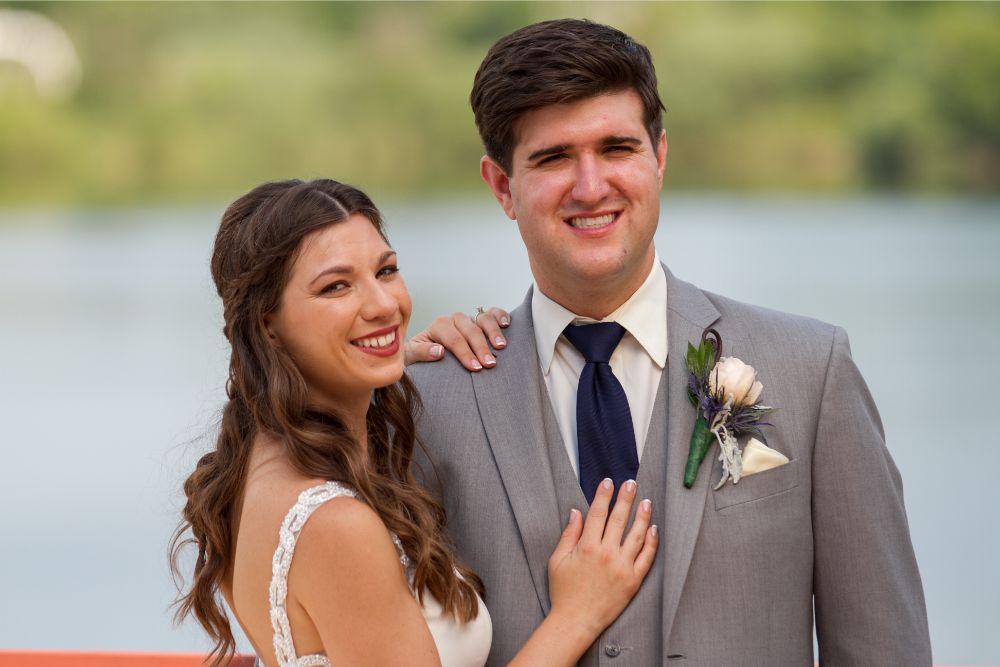 Local Love – Rachel & Alan at The Great Hall at The Onion
Rachel knew that she had met her future husband after her first date with Alan. The couple had such great chemistry that Rachel texted her sister after the date confiding, "I just had my first date with my future husband." Alan loved how supportive Rachel was and felt confident in their open and honest communication.
Once the couple was engaged, they knew they wanted to plan a wedding that felt like a big party that would leave all their guests raving for months. They wed in a traditional Jewish ceremony, standing under a beautiful Chuppah with their precious pup, Ozy. "Coming around the corner and walking down the aisle with my two favorite guys, Alan and Ozy, at the end," was Rachel's favorite part of their Big Day. She teared up when she saw their friends and family gathered to celebrate their love and commitment.
Rachel and Alan treated guests to a culinary experiment at their reception. They set up a bar containing sour foods like lemon, limes, grapefruit and sour beers and then had guests eat "miracle berries" that change sour flavors to sweet. The food didn't stop with the sour and sweet treats, the couple ordered so many Lou Malnati's pizzas at the end of the night that they handed them out like favors to departing guests. The reception was full of good food and lots of dancing. Alan said that his favorite moment from their wedding day was dancing the Hora. "Our families all hit the floor and held hands like they were one big family, like they had all known each other for years, even though most of them had just met," he shared. The couple also made sure to give their dog a turn on the dance floor. Everyone wanted a turn to dance with the pup and he loved all the attention.
Number of Wedding Guests: 130
Vendor List:
Venue: The Great Hall at The Onion
Photography: Ocken Photography
Bride's Gown: David's Bridal
Bride's Shoes: Anne Klein
Hair & Makeup: Mario Tricoci
Formalwear: Men's Wearhouse
Groom's Accessories: Men's Wearhouse
Bridesmaids' Dresses: Reddington Bridal
Floral: Flowerama
Catering: The Great Hall at The Onion
Entertainment: Music By Design
Cake & Sweets: Molly's Cupcakes; The Great Hall at The Onion
---