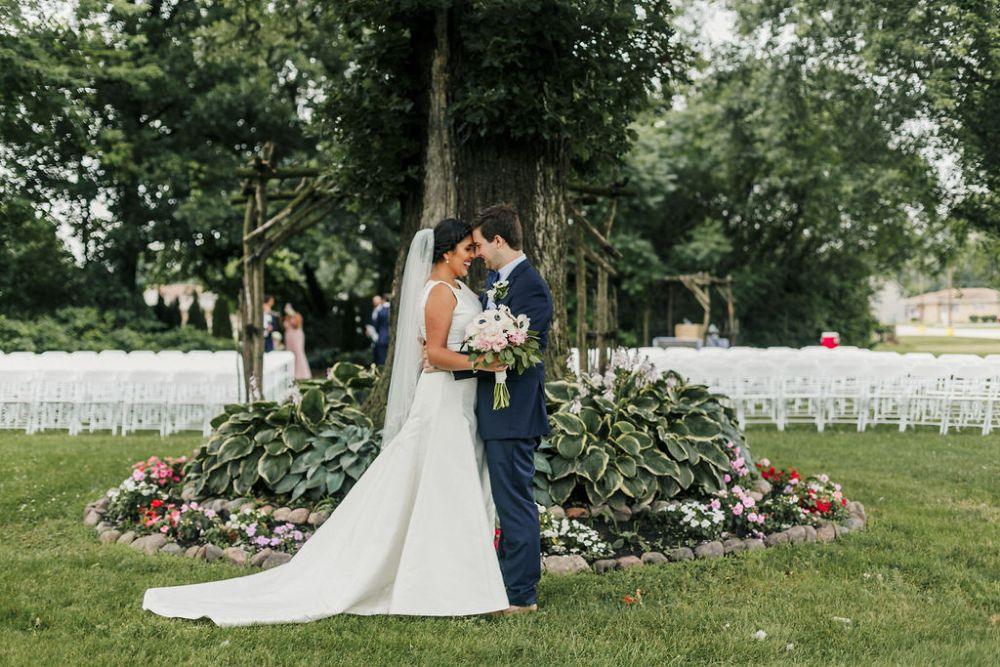 Local Love – Daisy & Warren at County Line Orchard
There's no recipe for success when it comes to love, but pastry chef Daisy and excellent home cook Warren certainly found their connection in the kitchen. The pair were introduced by a mutual friend who knew of their shared passion for food, and their relationship blossomed from there.
When planning their wedding, Daisy and Warren knew they wanted to highlight their love for each other, for food, and for nature. They chose to host their wedding at County Line Orchard, with the ceremony outdoors in the "Room of Trees" and the reception in the barn. The theme of apples was carried throughout their Big Day in creative and meaningful ways. The couple shared an apple donut with their parents during their ceremony as a symbol of the unity between the two families, while guests were treated to apple donuts and an "apple of my eye" signature cocktail featuring hard cider.
The navy and blush color palette complemented the greenery and natural wood of the rustic-chic venue. Daisy and Warren loved the natural beauty of the barn and were excited to share the charming venue with guests traveling from the city. The couple made sure their guests felt welcome and important, encouraging them to take a centerpiece home to enjoy after the wedding. The wooden accents used throughout their décor were handmade by Daisy's father, who is a carpenter, while Warren's dad provided rose gold painted wine bottles for aisle decorations and his mom contributed lovely hand-lettered signs for the reception. "With many of the decorations being created by family members, we feel that the ceremony and reception showcased not only us as a new couple, but the joining of both families as one," Daisy said.
Looking back on their Big Day, Warren shared his favorite memory: dancing the first dance with Daisy. He said, "Daisy looked absolutely stunning in her dress, and it was such a relief to both of us to have enjoyed the ceremony after months of planning." Dancing was also part of Daisy's favorite memory, though the dance she loved best was "La Víbora de la Mar." Daisy described the special moment during the traditional Mexican and Latin American dance. "We joined hands as a married couple and watched everybody participate in the festivities," she shared. This was an especially fond memory because she loved watching everybody joining in together and having a good time.
Number of Wedding Guests: 150
Vendor List:
Venue: County Line Orchard
Photography: Elena Cuellar Photography
Officiant: Reverend John Fliris
Rings: CA Jewelers
Bride's Gown:  Augusta Jones via Macy's Bridal Salon
Bride's Shoes: Nina New York
Hair: Always Beautiful Brides
Makeup: Nathalie Solis-Garcia
Bride's Other Jewelry: Kay Jewelers
Formalwear: Men's Wearhouse
Groom's Accessories: Treehut; Macy's
Bridesmaids' Dresses: David's Bridal
Stationery: Vistaprint
Floral: Kellen's Florist Inc
Catering: Jonna's Catering
Entertainment: DJ Louie Cue
Cake & Sweets: Marilyn's Bakery
Videography: Lesser James
---