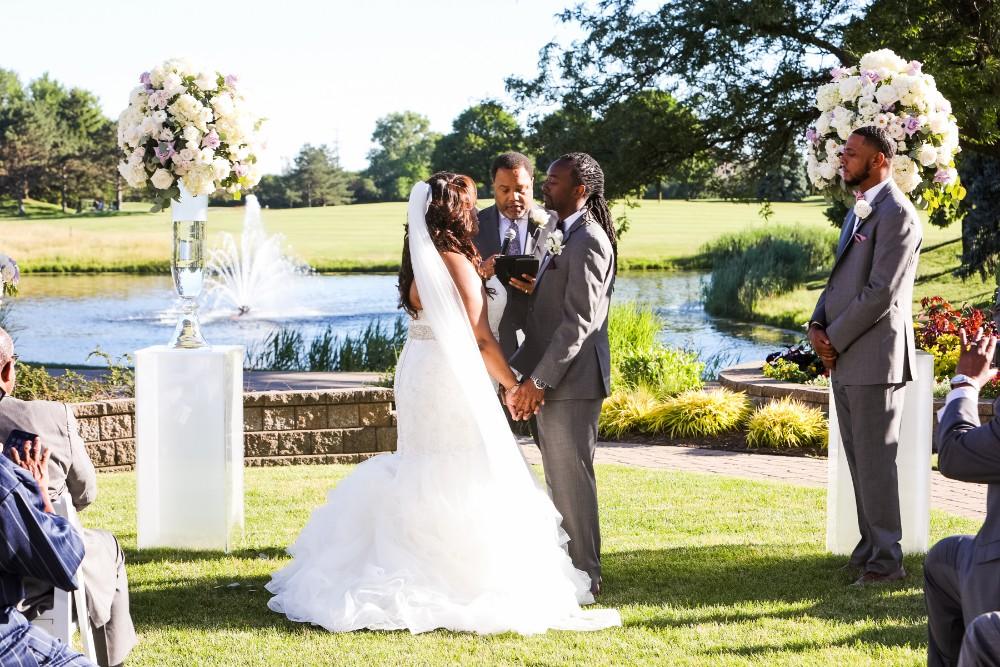 Local Love – Ashley & Terry at Hilton Chicago / Oak Brook Hills Resort
From the moment Terry saw Ashley, he was smitten. After a failed attempt to engage her in conversation, he flashed his million-dollar smile (and dimples!) at Ashley and she just couldn't resist. They spent a year as friends getting to know each other before making their relationship official. They took things slow and built up a strong foundation of trust, loyalty, and love. Once they spent some time apart while Ashley was vacationing in Hawaii, they realized what they had was something truly special and that they were perfect for each other. The couple knew they would get married in Chicago, because as Ashley said, "There's no place like home." They want to raise their family in the city, so it only made sense to start their life together here, too.
Their wedding day dawned beautiful, with plenty of sunshine and a nice breeze. The atmosphere while getting ready was full of, "Nothing but great laughs and good energy." Ashley noted that their venue, the Hilton Chicago/Oak Brook Hills Resort, made their day extra special. They chose the location because the romantic setting created the perfect vibe for their day of love. Even though their grandparents are no longer with them, Ashley and Terry both felt their presence in the warm sunshine as they said their vows in a lovely outdoor ceremony. They found their perfect balance with a spiritual wedding ceremony and a spirited party to celebrate after. The couple agrees that their favorite memory from their Big Day was being announced as "Mr. and Mrs. Terry Pickens, II" for the first time and walking out as husband and wife amid a sea of love from their friends and family who traveled near and far to celebrate their union.
Vendor List:
Venue: Chicago Hilton/Oak Brook Hills Resort
Photography: George Street Photo & Video
Officiant: Minister Cy Fields
Event Planner: Krystal Washington
Wedding Rings: Zales
Engagement Ring: Amaani Jewelers Inc.
Bride's Gown: Lillian West via Eva's Bridal of Oak Lawn
Bride's Shoes: Badgley Mischka
Hair: Mario Lemon of VIP Hair Lounge
Makeup: Tiffany Toni MUA
Formalwear: Formally Modern Tuxedo
Bridesmaids' Dresses: Bill Levkoff
Stationery: Minted; A.Abel Printing & Graphics
Floral & Décor: Yanni Design Studio
Entertainment: DJ Boogie
Cake: Allegretti's Bakery
---