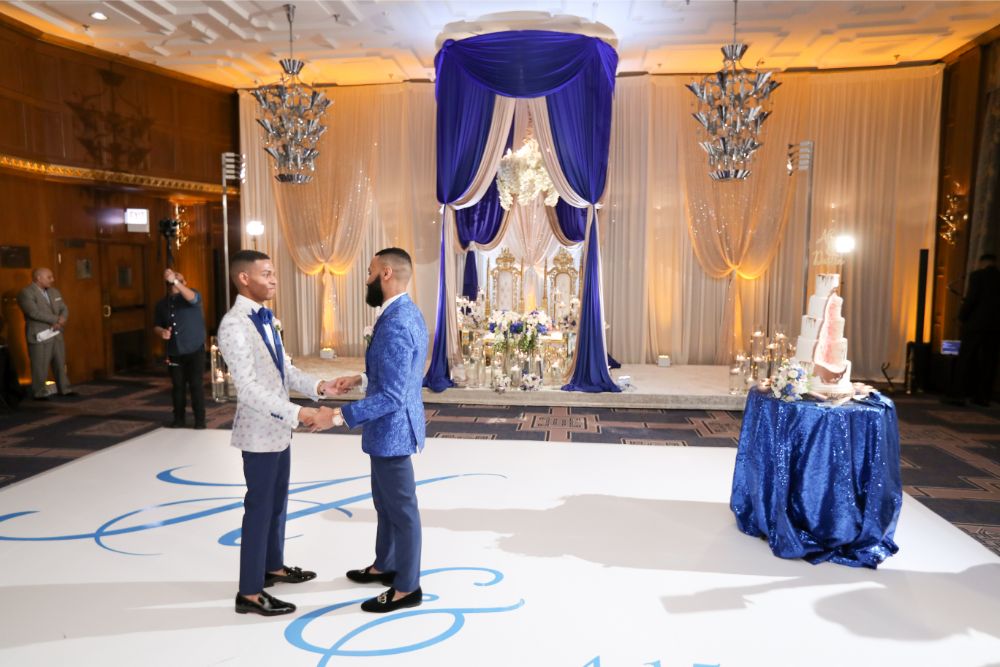 From the Beginning
After initially meeting online, Dustin and Alex immediately felt a connection between each other that allowed them to be their authentic selves. Alex confirmed he knew Dustin was the one for him the first time their eyes met. The Tennessee natives decided to host their wedding in their new hometown of Chicago in order to share the love of their new city with friends and family.
Dashing Details
The wedding's breathtaking décor showcased Dustin and Alex's endless love from start to finish. Their vision came to life with towering floral centerpieces, gleaming candelabras and a chic white and blue monogrammed dance floor. The newlyweds dined at a sweetheart table complete with gilded thrones and a luscious spray of blue and white flowers. Their reception was full of meaningful toasts, plenty of dancing and even a visit from an LED robot.
"You're the One"
Alex surprised Dustin with a performance by R&B singer Dondria to commemorate a moment early on in their relationship when Dustin stole a Dondria CD from Alex and playfully refused to give it back. This thoughtful gesture, and Alex's memory for special details, are only a few of the many reasons the couple finds themselves to be a perfect pair.
Number of Wedding Guests: 111
Vendor List:
Venue: Kimpton Hotel Allegro
Photography: Jolie Images
Videography: Windy City Production
Rings: Rogers & Hollands
Makeup: Beyoutiful Kisses Studio
Formalwear: Eaden Myles
Alex's Shoes: Versace
Dustin's Shoes: Christian Louboutin
Accessories: Meister Watches
Floral & Décor: Yanni Design Studio
Entertainment: Avi Sic; Dondria; Ray Silkman; Z BOTS LED Robots
Cake & Sweets: West Town Bakery
---